Best Water Purifiers to buy on Amazon
It is important to give yourself and your family members the best, cleanest and healthiest drinking water at home. This small step can go a long way in preventing diseases from entering your household. Normal water is full of bacteria and antigens that need to be treated and removed from the water itself. The best water purifiers do exactly that - they treat water to rid it of all its harmful components, to give you and your family safe, clean drinking water. Some of the Water purifiers for home are ideal for mi-sized families. These Water purifier ros deliver safe and clean drinking water for the whole family. Since Indian homes require large quantities of water for cooking, drinking and more, here are some of the best water purifiers for Indian homes, which you can find on Amazon. You may want to check out the water purifier price on Amazon as well. Although the prices of the products mentioned in the list given below have been updated as of 25th Apr 2022, the list itself may have changed since it was last published due to the launch of new products in the market since then.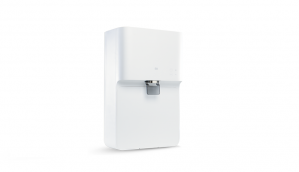 7 L Storage Capacity(litres)
The Mi Smart Water Purifier (RO + UV) makes use of a multi-stage filtration process that includes Polypropylene Cotton + Activated Carbon, Reverse Osmosis, Post Activated Carbon and In-Tank UV Sterilization to get rid of any contaminants. No longer do you have to worry about larvae, parasites, bacteria, virus and larger particulates for pure, clean potable water in your home. Some other features of the water purification system include Real-time TDS and Filter Life Monitoring - meaning you can use the Smart app to track current water quality, real-time TDS levels, filter life, and UV sterilisation status. Moreover, In-tank UV Sterilisation with bacteria-killing efficiency of 99.99% assures that all the water gets treated by the UV light, disinfecting water of any micro-organisms.
SPECIFICATION
Technology Used
:
RO + UV
Storage Capacity(litres)
:
7 L
TDS Range
:
<2000mg/L
Power Consumption
:
42W
Filters
:
PP Cotton and Activated Carbon Filter (PPC) 5 micron
Water Flow Rate
:
0.13L/min.*
Warranty
:
1 Year Limited Warranty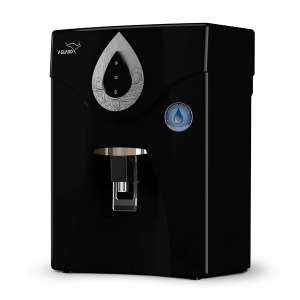 RO + UF + MB Technology Used

7 Storage Capacity(litres)
Here's a water purification system that can treat water with TDS up to 2000ppm. It is also suitable for Borewell water, Tanker water and Municipal Water and does short work of purifying the worst-quality water. This is also made possible with the help of the 8 Stage Advanced Purification system. It comes with Double Layer Protection with RO + UV so that water stored here doesn't go bad and is kept treated, ready for when you want it. It has a 7L Large Storage Tank which ensures there's enough water for everyone at any given time. Overall, this is one of the best purification systems for Indian homes.
SPECIFICATION
Technology Used
:
RO + UF + MB
Storage Capacity(litres)
:
7
TDS Range
:
2000 ppm
Power Consumption
:
36 W
Filters
:
Pre-Filter
Warranty
:
1 Year
RO + UV + MTDS Technology Used

7 Storage Capacity(litres)

RO Path - 220-250 ml / minute UV Path - 550 - 650 ml / Minute l/min Water Flow Rate
Keeping the needs of the urban customer in mind, this water purifier comes with Dual RO+UV+MTDS technology which ensures that the water you drink is absolutely safe. Equipped with an advanced TDS Regulator, it adjusts the taste of water as per the source of water. It has a Purification Capacity of 6000 L, which is quite a lot, considering the life cycle of this appliance. WIth Advanced RO+UV+MTDS purification, you get clean water. It also uses electric purification - which is suitable for areas with water shortage. The regulator lets you adjust the levels of TDS in the water manually to ensure you get healthy, safe and tasty drinking water.
SPECIFICATION
Technology Used
:
RO + UV + MTDS
Storage Capacity(litres)
:
7
TDS Range
:
2000 ppm
Water Flow Rate
:
RO Path - 220-250 ml / minute UV Path - 550 - 650 ml / Minute l/min
Filters
:
Sediment Filter- 5 Microns, Chemi Block - 20 Microns, RO Membrane - 0.0001 Microns, Mineral Cartridge, UV Disinfection Chamber,
Storage Tank Material
:
Transparent Food Grade ABS
Water Flow Rate
:
RO Path - 220-250 ml / minute UV Path - 550 - 650 ml / Minute l/min
Warranty
:
1 Year
Price
:
₹16,000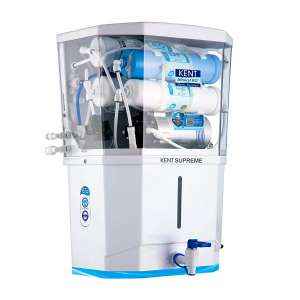 RO+UF+TDS Technology Used

8 Storage Capacity(litres)

Table top Installation Type
With Mineral RO Technology and an inbuilt TDS control system, KENT Supreme not only purifies water but also retains essential minerals. The multiple purification process of RO+UF+TDS Control makes the drinking water pure for drinking. The purification process not only removes the dissolved impurities such as chemicals, bacteria, viruses, and salts but also improves the taste of water. An inbuilt TDS Controller in the KENT Supreme allows users to retain desired essential natural minerals in the purified water. It is equipped with in-tank UV disinfection technology which keeps stored water in the tank pure for drinking for longer durations. It has a water level indicator for added convenience as well.
SPECIFICATION
Technology Used
:
RO+UF+TDS
Storage Capacity(litres)
:
8
Installation Type
:
Table top
Brand
:
Kent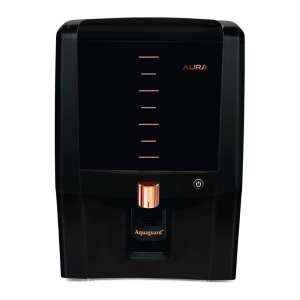 Ultraviolet Technology Used

7 Storage Capacity(litres)
An impressive design and advanced technology are what best defines Aura UV+UF. The Ultrafiltration system provides crystal clear water, free from bacterial contamination, so that your family gets safe and healthy water all round the clock. Its Active Copper Technology provides Copper elements blended in the water. It uses Mineral Guard technology that retains essential natural minerals, which give water that refreshing taste. The purification system is built to purify water from multiple sources effectively. Filtration is handled by several layers of filters, each of which has a different cleaning regimen to ensure clean water.
SPECIFICATION
Technology Used
:
Ultraviolet
Storage Capacity(litres)
:
7
Filters
:
UV+UF
Brand
:
Eureka Forbes
Filters
:
UV+UF
Warranty
:
1 Year

List Of Best Water Purifiers To Buy On Amazon (Jun 2022)
| Product Name | Seller | Price |
| --- | --- | --- |
| Mi Smart Water Purifier RO+UV | Tatacliq | ₹ 12,490 |
| V-Guard Zenora RO+UV+MB 7 Litre Water Purifie | Amazon | ₹ 8,699 |
| Eureka Forbes AquaSure from Aquaguard | N/A | ₹ 16,000 |
| KENT Supreme 2020 | Amazon | ₹ 14,799 |
| Aquaguard Aura 7L water purifier | Amazon | ₹ 10,498 |