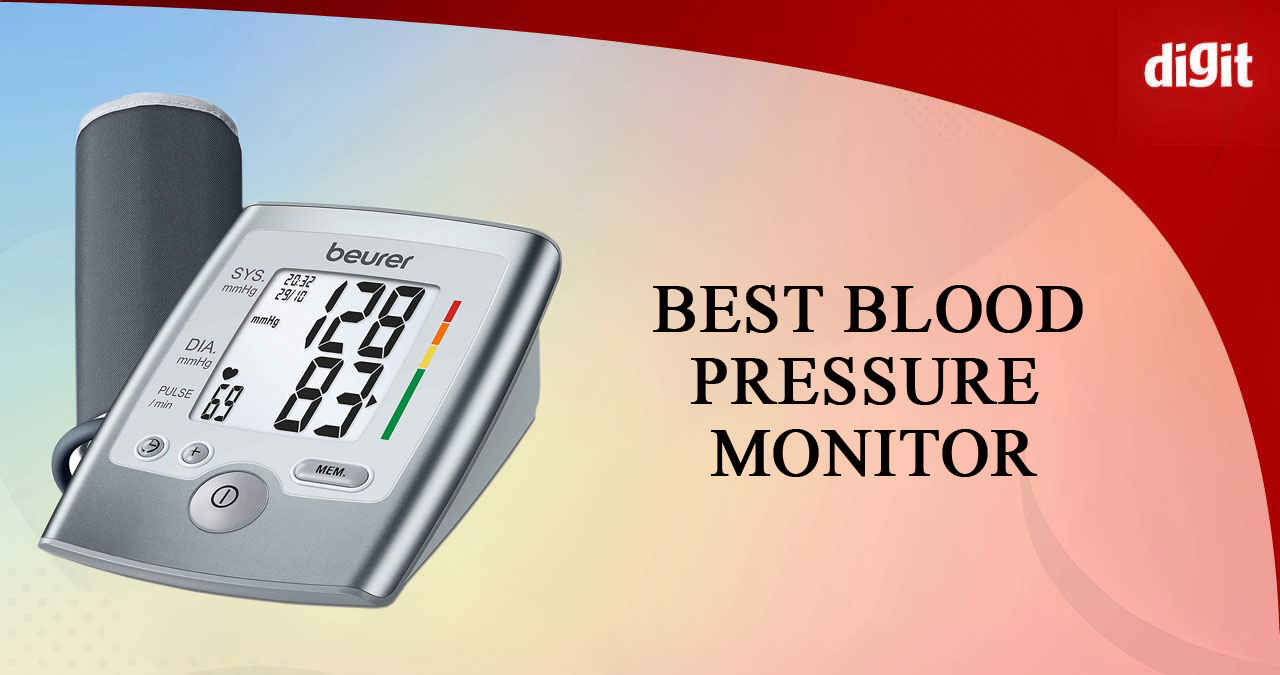 In today's fast-paced life, health conditions like hypertension have become quite common among people. In order to keep a track of your blood pressure and monitor it on a regular basis, you can either visit your doctor on a weekly basis or purchase a blood pressure monitoring machine. An accurate blood pressure monitoring machine helps measure blood pressure at any point of the day, so you can take preventive measures in time. If you are unsure about which monitor to purchase, you can refer to this list which includes some of the best BP monitoring machines one can find online.
1. HealthSense Heart-Mate BP144 Monitor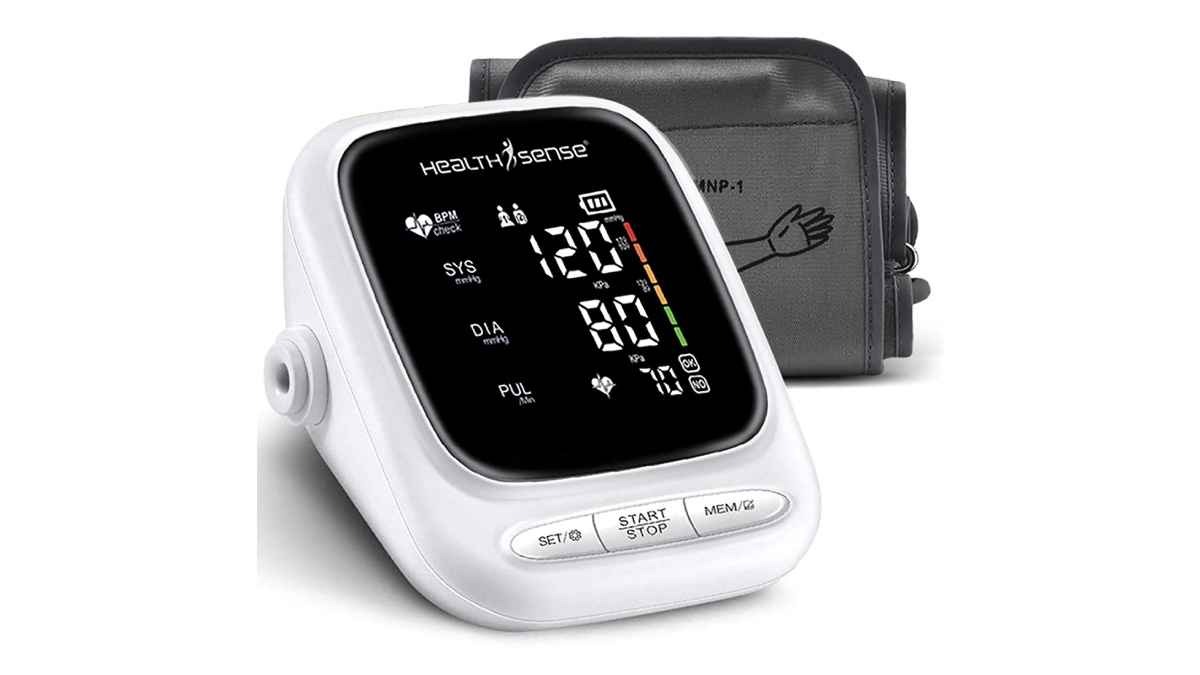 HealthSense aims to provide the utmost care for your heart by assisting you in maintaining the BP levels, with their classic Digital Blood Pressure Monitor BP-144. The makers claim that this device is highly accurate in monitoring hypertension which is quite common among people these days and is a major risk factor in heart diseases. It has a unique design which makes it stylish yet easy to carry around. Furnished with the latest Oscillometric technology, this BP monitor is user friendly, as the results are easy to read, thanks to the large bright LED display. It also has a "Hypertension Indicator" that lets you access your result with globally specified parameters. Its talking function broadcasts instructions, BP results with WHO BP level abidance and Pulse in English. It provides precise measurement with the help of its pressure sensing technology. The monitor has two power modes, so you can either use batteries or use the type-C USB cable to charge it from your power bank, laptop or phone charger! Last but not least, it has a power-saving feature that is automatically enabled and shuts down the monitor after 60 seconds of inactivity.
2. Omron HEM 7120 Digital Blood Pressure Monitor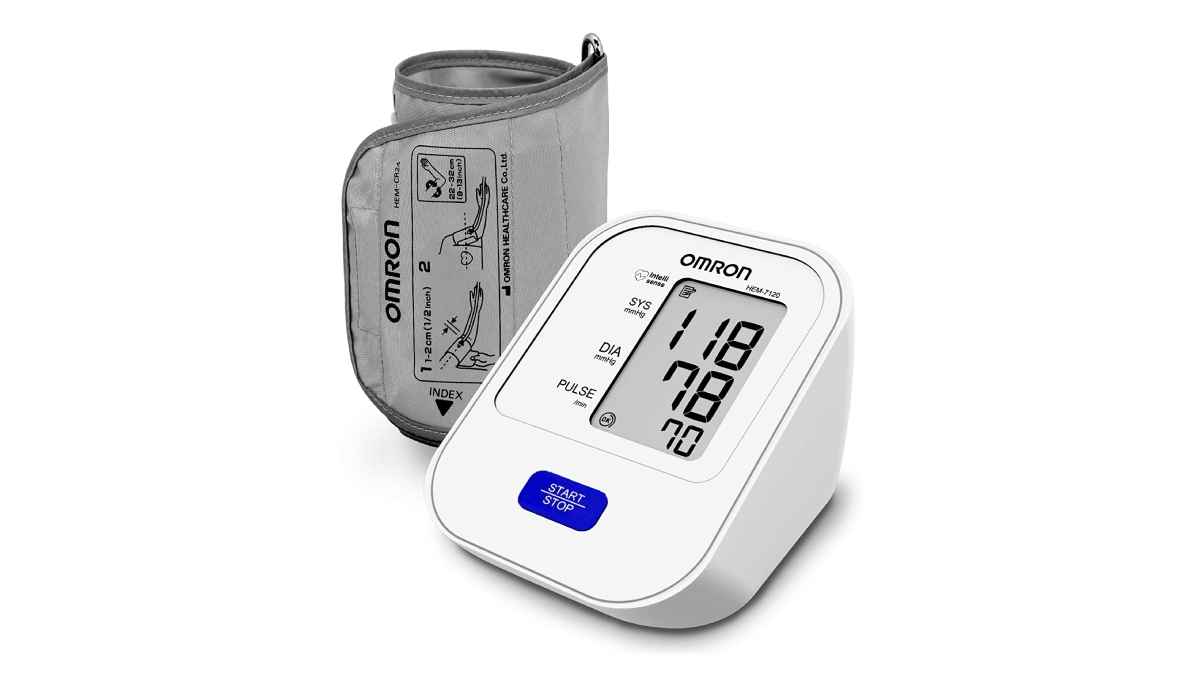 Omron HEM 7120 is a fully automatic battery-powered digital blood pressure monitor that has dimensions of 12.8 x 20.3 x 12.2 cm and weighs approximately 0.73 pounds. This device is designed to measure blood pressure easily and quickly so you don't have to spend tons of money on clinic appointments. It utilises the oscillometric principle and the advanced "IntelliSense" technology, which ensures that you get the most accurate measurements by detecting even the slightest change in pressure. The monitor comes with a cuff size of 22 x 42 cm to fit in the arm circumference. In case it is required to take repeated measurements then it is advised to take 3 measurements with a gap of 10 minutes.
Moreover, the BP monitor machine comes with a body movement indicator and blinks in case your systolic (above 135 mmHg)/diastolic (above 85 mmHg) pressure falls below or above the standard range.
3. Dr. Trust Goldline Blood Pressure Monitor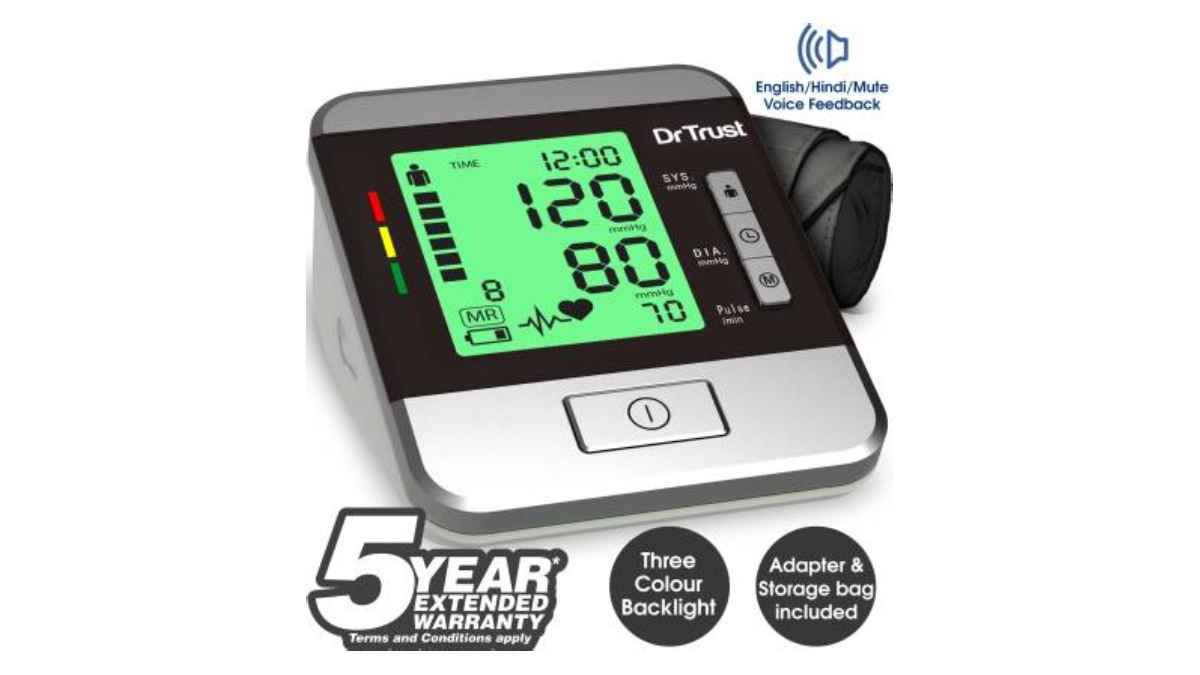 Dr. Trust Goldline Blood Pressure Monitor comes with a three colour hypertension backlight technology and has a dual talking guidance feature in both Hindi and English language or mute mode. Detects irregular heartbeats and pulse irregularities with utmost accuracy. Also accommodates an adapter, a storage bag, battery and a cuff of 22×42 cm in size to easily fit your arm circumference. Its large screen LCD makes the results easily readable for the users. Also, the screen colour changes based on the individual readings; green colour shows that the blood pressure is in range, a slight increase in blood pressure changes the colour to yellow and for high BP readings the light turns red. Its inflation technology measures both systolic and diastolic blood pressure making monitoring pain-free, quick and accurate in turn making it comfortable for the users.
4. Dr Trust Digital Blood Pressure Monitor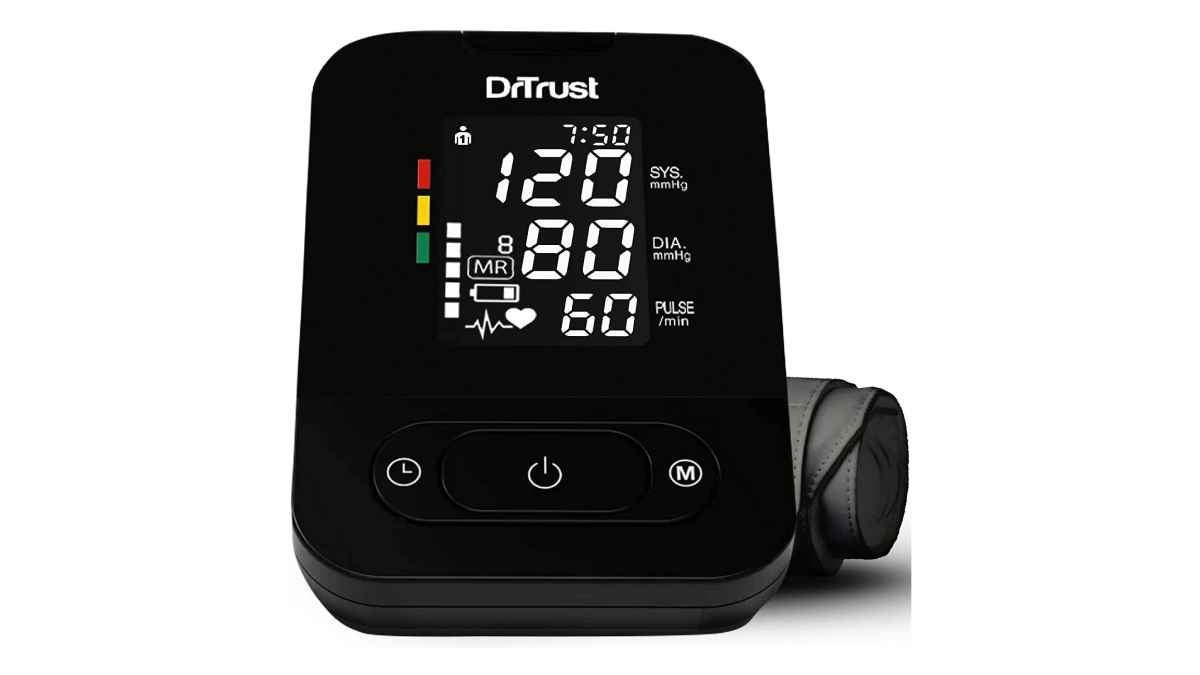 Nowadays many new diseases have cropped up but one of the most common issues is high blood pressure. This has led to many of us investing in a blood pressure monitor to keep a track of our BP without booking an appointment with the doctor every single time.
To avoid this the Dr Trust company has launched a smart digital blood pressure monitor which has an extra-large black colour LCD for ease of reading the metrics. The fact that the monitor has an LED indicator as well makes it easier to use! It can also talk-back (you can select the language of your choice whether Hindi or English and it will speak in the selected language). It also has the capability to store the measurement of blood pressure with date and time in its memory so you can later use them for reference and comparison. It can record up to 120 readings. This BP monitor device supports USB port connectivity (which means you can charge it by connecting it with a laptop, phone charger, or any other power source) or you can also use 4 AAA batteries. It also has a low battery indicator and auto power-off feature for better usage and clarity.
5. Carent BP-51 Digital Blood Pressure Machine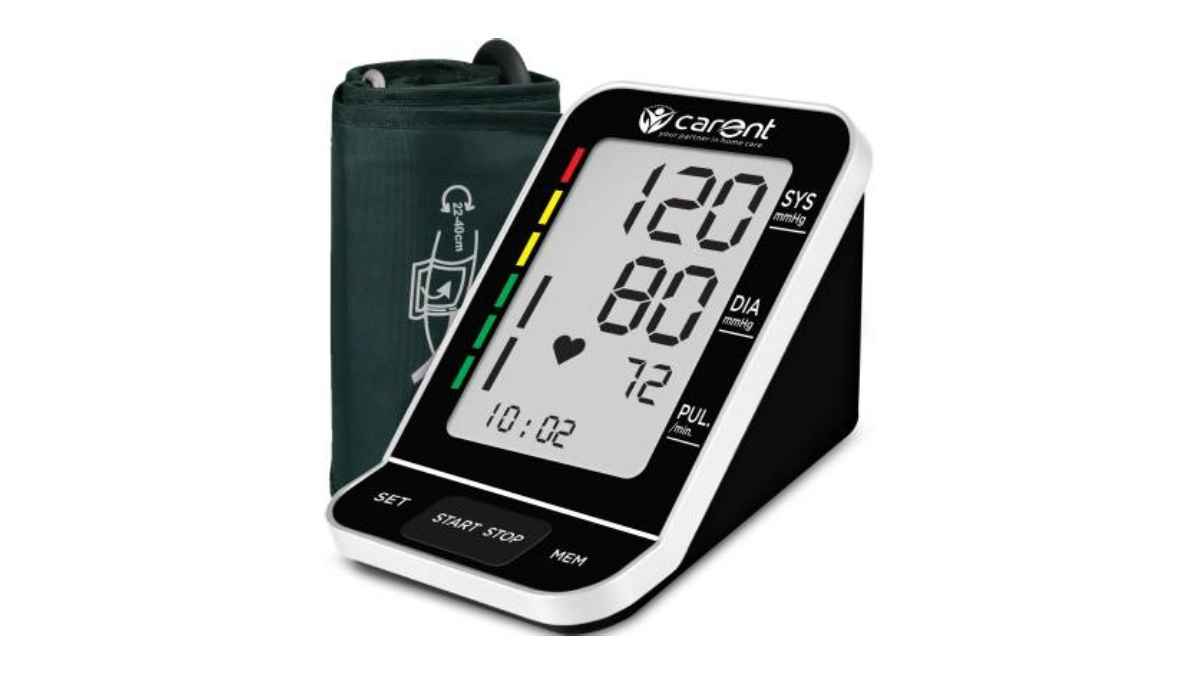 The Carent -51 is a blood pressure measuring machine that can help in accurately measuring your blood pressure at any time of the day. It employs the Intellisense technology that inflates the cuff to ensure peak pressure as per your blood pressure level which results in precise readings. It can prove to be a useful addition to your medical kit if you have elderly members at home whose vitals need to be checked regularly. It is powered by four AAA batteries and has an LCD screen that shows digital readings of the blood pressure. It can measure pressure in the range of 0 mmHg to 280 mmHg and can also measure the pulse in the range, 40 beats per minute to 199 beats per minute.
Moreover, it has a universal size cuff (22 x 40) that can fit over different arm sizes and has a long air hose pipe for easy usage. Last but not least, it can memorise the last 240 memories and can also be charged via a phone charger, power bank or even a PC as it has a USB port also.
6. NISCOMED Digital Blood pressure monitor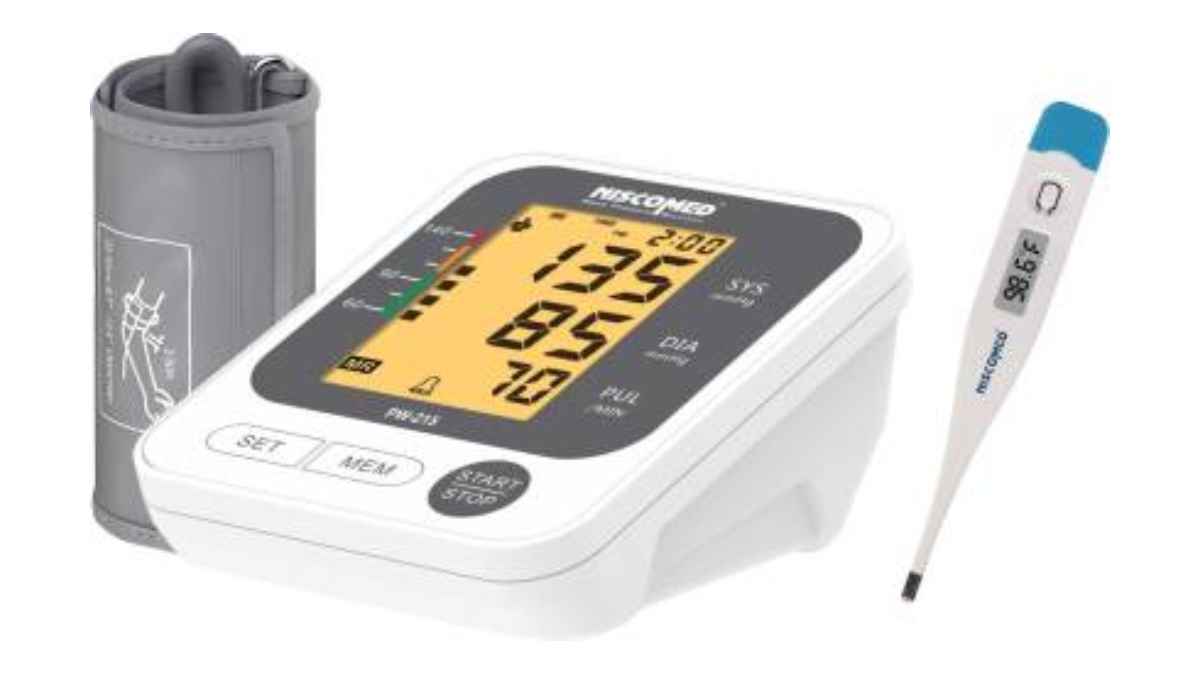 NISCOMED Digital Blood pressure monitor is one of the top-rated brands and well known for its reliable equipment which provide accurate measurements. It has a big LCD screen which also has an indicator feature that is its screen turns red if blood pressure is high, yellow if blood pressure is accurate, and green if blood pressure is perfect so anyone can interpret the reading at a single glance. It has an auto shut down system which saves its battery when not in use. One of the best features of this monitor is that it can detect an irregular heartbeat and can automatically apply the right amount of pressure for fast, accurate, and more comfortable measurements. It stores the recorded memory of the blood pressure with the time and date for better tracking and easy comparison. Moreover, it also has a talking feature which can help in case the user can't read or has weak eyesight. Last but not least, it includes a blood pressure monitor, arm cuff, a carry bag, thermometer, and 4 AAA batteries.
7. Beurer Automatic Upper Arm Blood Pressure Mon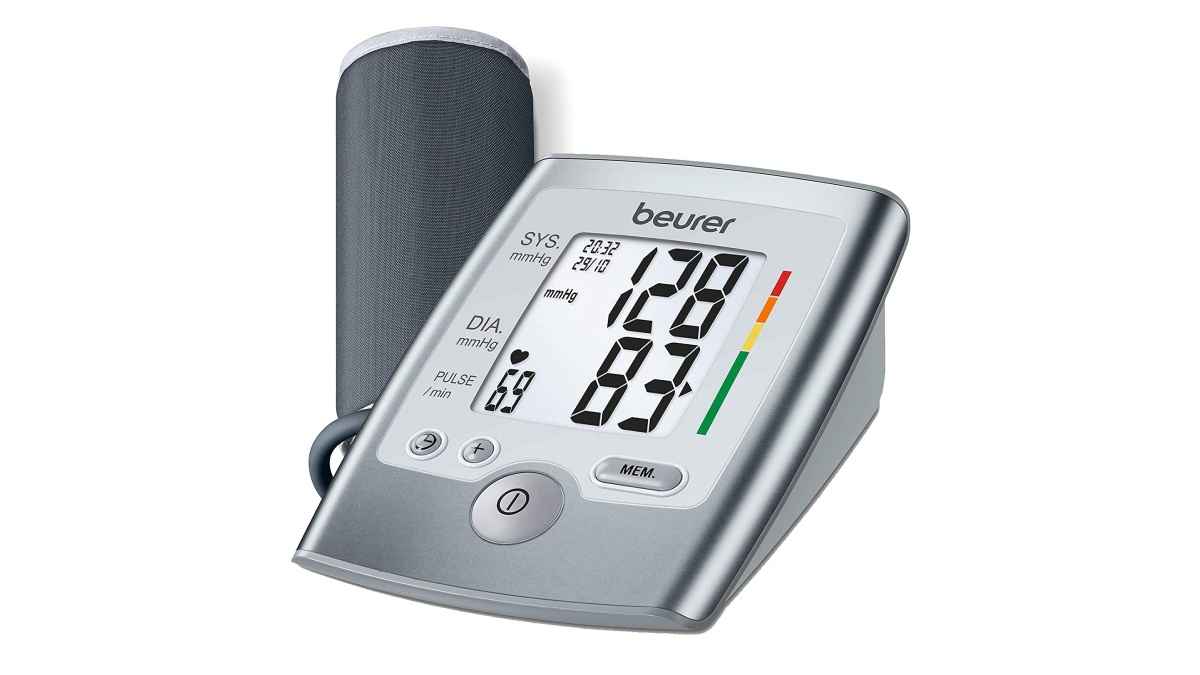 If you are planning to invest in one due to health concerns or for the well-being of the elders in your family. The Beurer Upper arm blood pressure monitor has a sleek silver body that is compact and highly portable. It sports an easy-to-read LCD display that shows readings such as blood pressure and pulse rate.
This automatic monitor shuts off if not being used and can also display an error message if the reading is being taken incorrectly. All you need to do is place the cuff around the arm (the cuff even has reading printed on it for easy reference, ranging from 22 to 36 cm) and you can also get the average of the reading of the entire week as it can record previous readings. It can also detect irregular heartbeats (and inform the user using a symbol on the display) and also has a haemodynamic stability display to show whether the user is at rest or not so that the results aren't inaccurate, which makes it one of the best BP monitor devices available online.
8. Omron HEM 7124 Fully Automatic Digital Blood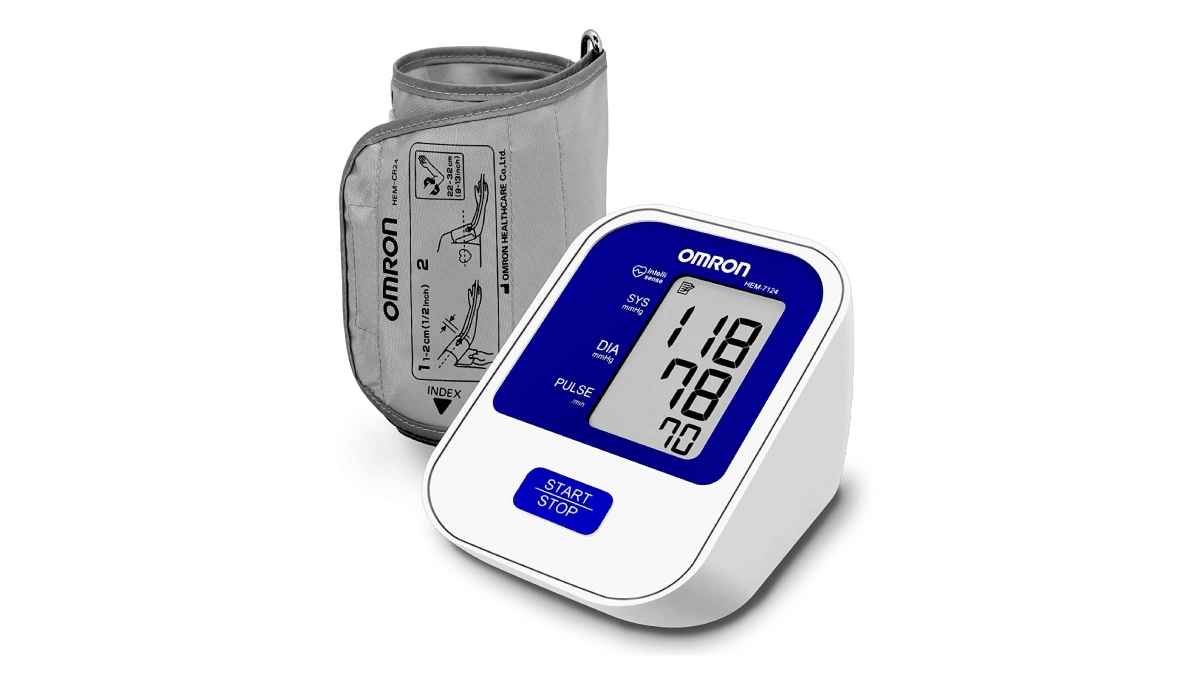 Omron is one of the oldest medical equipment manufacturers in the world and this digital blood pressure monitor from the brand proves the point. Omron HEM 7124 is a fully automatic upper arm blood pressure monitor that can measure your blood pressure as well as heart rate accurately. It has a blood pressure measurement range of 0 to 300 mmHg and can even display systolic and diastolic pressures with ease. The Cuff Wrapping Guide technology makes sure that the cuff is properly wrapped for accurate and precise readings.
Omron has equipped with a number of indicators and sensors that help in the easy detection of readings that are above/below the normal range. The IntelliSense technology helps in measuring your blood pressure and heart rate easily and comfortably. It has a large LCD that can display your blood pressure and pulse readings with utmost clarity. This compact (12.8 x 20.3 x 12.2 cm) and lightweight BP monitor (0.57 kilograms) can record multiple readings for easy comparison and can be stored easily without any trouble.
9. Dr. Morepen BP-09 BP 09 Fully Automatic BP Mo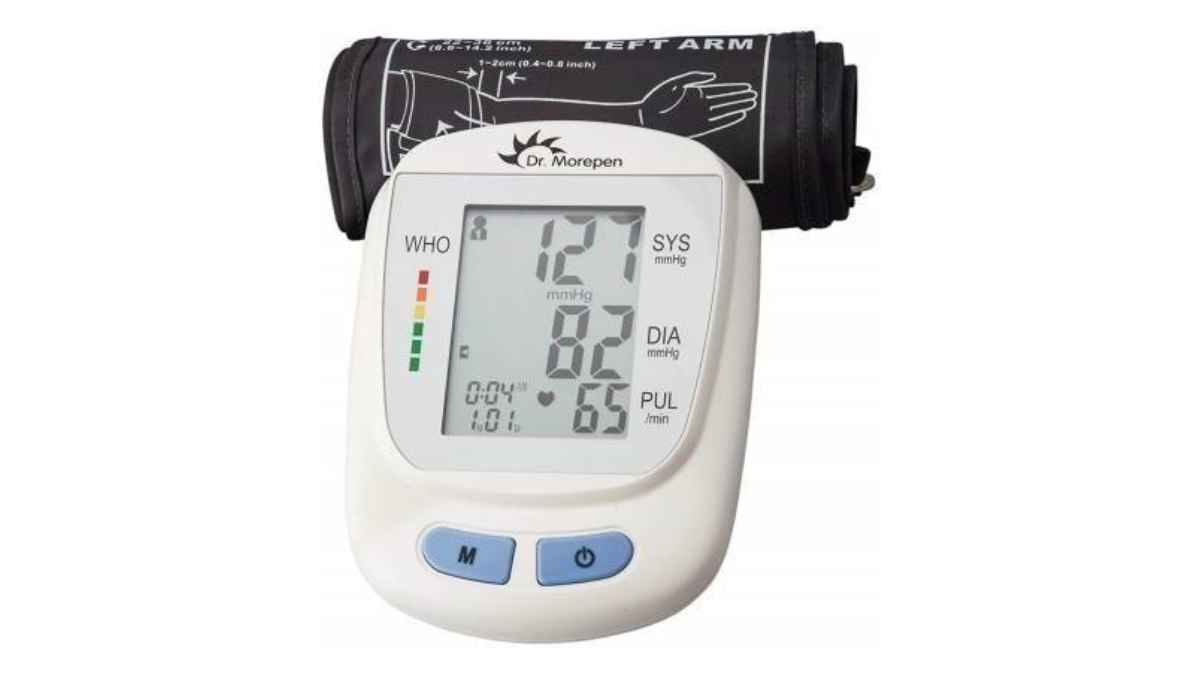 Here is another great bp monitor device from a reputed medical equipment manufacturer. Dr. Morepen BP-09 is one of the best options out there in the market thanks to Smart Inflation technology which minimizes the pain that people experience during inflation letting the user measure his/her blood pressure and pulse comfortably. It has a blood pressure measurement range of 0 to 300 mmHg and can even display systolic and diastolic pressures. You can even use it to measure your heart rate in the range of 30 to 180 beats/minute.
This upper arm blood pressure monitor from Dr. Morepen has a large LCD that displays the readings after averaging out the last 3 readings. It has a large memory that can store up to 120 readings, so you can easily compare your recent results to previous ones. Its user interface is designed to cater to the needs of 4 users. It even has irregular heartbeat detection and a blood pressure classification indicator that alerts the user if the readings aren't in the normal range.
10. Dr. Morepen BP02 BP02 Bp Monitor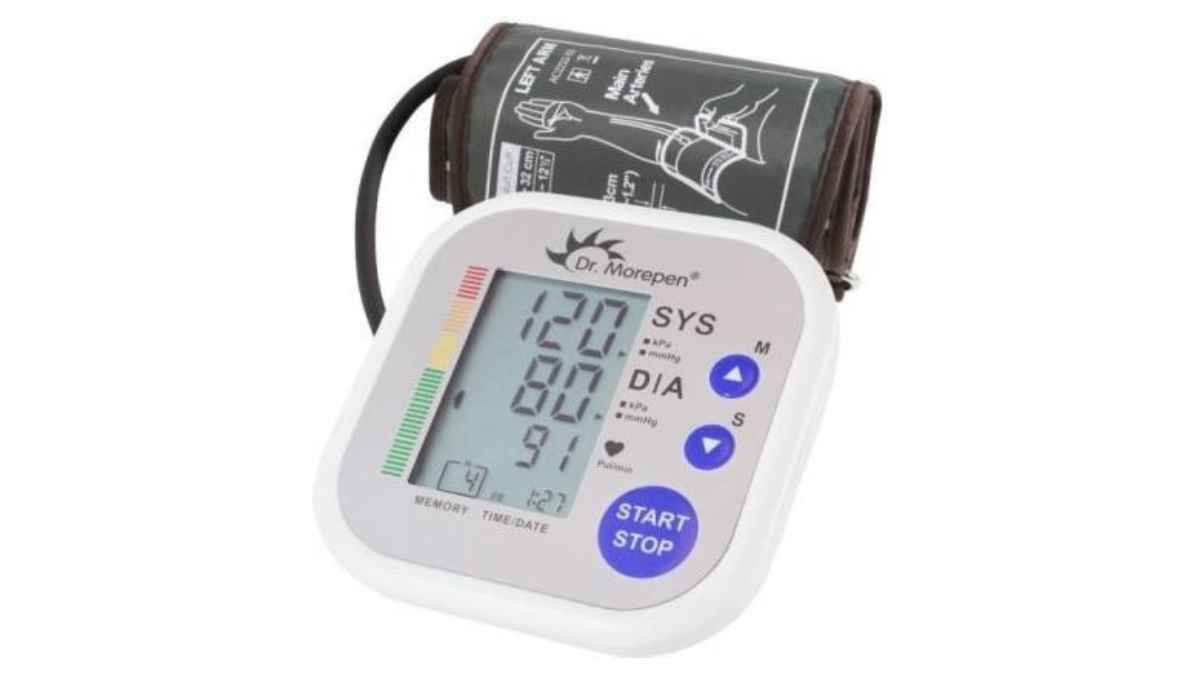 If you are looking for a budget-friendly blood pressure monitor then look no further as Dr. Morepen BP02 is one of the best bp monitor devices out there in the market. This upper arm bp monitor machine comes with a digital display that's large enough that even people with bad eyesight can read clearly. Dr Morepen has even equipped it with a memory that can keep up to 120 readings so you can compare readings whenever you want without the need to write them down.
It has a pressure measurement range of 40 mmHg to 230 mmHg and it can also measure pulse ranging from 40 beats/minute to 199 beats/minute. It has a high-low classification indicator as well as an irregular heartbeat detection system. This digital bp monitor device from Dr. Morepen requires 4 AAA batteries to work properly. The Comfort Inflation technology helps the user to measure his/her blood pressure and pulse comfortably. It is pretty easy to use and requires little to no expertise making it a good choice for personal as well as medical use.
Disclaimer: Digit, like all other media houses, gives you links to online stores which contain embedded affiliate information, which allows us to get a tiny percentage of your purchase back from the online store. We urge all our readers to use our Buy button links to make their purchases as a way of supporting our work. If you are a user who already does this, thank you for supporting and keeping unbiased technology journalism alive in India.