MiniLyrics v7.0.615 [Download of the Day] detailed review
MiniLyrics is 'the' plugin if you are looking for time-stamped lyrics. For noobs, time-stamped lyrics move along with any music that you play, more like subtitles or karaoke, and are a must have for any music lover.
This nifty little plugin automatically integrates with your favourite media player (check the list below), and downloads the lyrics automatically. Had the software done, just this, we would have loved it. But MiniLyrics goes many steps further, due to its superb interface. Minimize the application, and the lyrics keep scrolling as they were in the application, minus the background. You can keep working, and even click through the moving text. Check out the image below, as MiniLyrics displays lyrics for a song being played in foobar.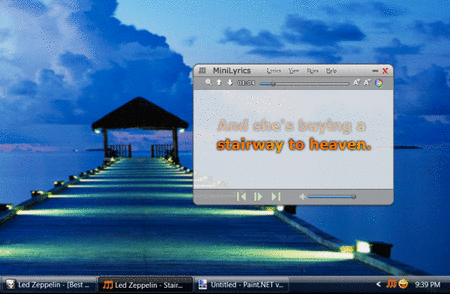 You can also edit and adjust the syncronisation of these lyrics. The lyrics, and the changes, are saved for offline use later. The integration of the application with media players is so good that you can also pause the songs through the application itself.
For the extensive database, time-stamps, and amazing interface, MiniLyrics is a must have, and can be downloaded here.
MiniLyrics supports the following players: Winamp, Windows Media Player, iTunes, MediaMonkey, Spotify, Zune, Album Player, Helium Music Manager, JetAudio, Foobar2000, RealPlayer, Songbird, AIMP2, The KMPlayer, Yahoo! Music Engine, J. River Media Center, J. River Media Jukebox, Quintessential Player, BSPlayer, Silverjuke, XMPlay, VLC Media Player, Media Player Classic Home Cinema.