7-Zip v4.65 [Download of the Day] detailed review
Sick of the evaluation period warnings of WinZip? Or the poor interface of WinRar? 7-Zip is a good alternative to ease all your compression worries, with its clean interface, multiformat support (including the excellent .7z format) and sinless open-source licensing.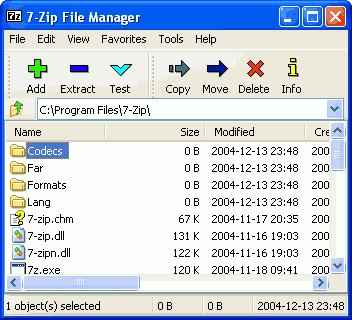 7-ZIP supports Packing / unpacking of various formats like 7z, ZIP, GZIP, BZIP2 and TAR. It also supports (unpack only) the following additional formats: ARJ, CAB, CHM, CPIO, DEB, DMG, HFS, ISO, LZH, LZMA, MSI, NSIS, RAR, RPM, UDF, WIM, XAR and Z. Clearly, format support is not a problem with 7-Zip.
As far as compression is considered, 7-Zip compresses to its 7z format 30-70% more than the zip format. 7-Zip also compresses to zip format 2-10% better than most of other zip compatible programs. Strong encryption, AES-256(256-bit) can be used to password protect files in 7z and ZIP formats.
All this in a tiny 1MB package makes this utility a must have. A command line version will appeal to many. You can download 7-zip here
Linux/Unix lovers can use a port of the command line version of the software available here.