Lenovo ThinkCentre M73 detailed review
The Lenovo ThinkCentre M73 is a really tiny form factor PC primarily meant for business use, where things like saving space, operating cost (by reducing electricity bills) and clutter (or the absence of it) matters. Coincidentally, if these things matter to you, too – as an ordinary consumer who wants to buy this for their home use – no harm done. Let's just see how good the diminutive PC really is.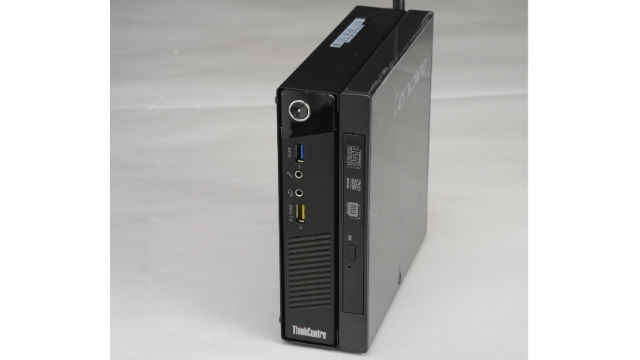 Build and design
Its dimensions are extremely small, close to that of a golf ball and almost similar to the Mac mini, with a volume of just 1 litre. Of course, it isn't as cute as the Mac mini, but the ThinkCentre M723 is built quite well and feels rugged. It comes with VESA mount support, which lets you fix it on the back panel or stand of any compatible monitor. Also, it has an optional DVD bay, which you may or may not choose to purchase, depending on whether it works for you or not. But the review sample we got came with a DVD drive fitted in, raising the weight and overall profile of the ThinkCentre M723 ever so slightly.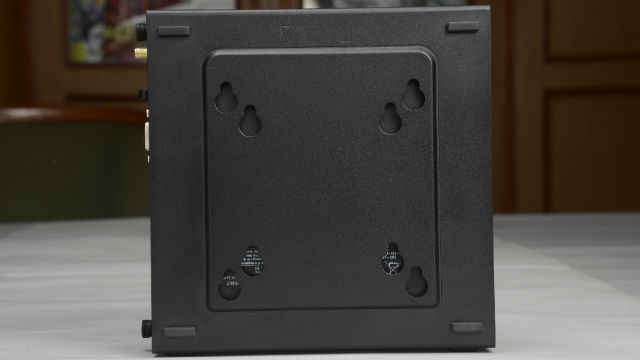 However, like we said above, the extra DVD drive accompaniment doesn't feel like a mediocre snap-on, the product still looked and felt very well put-together. And whether you propped it up straight on its side, or lay it flat, or mounted it behind a monitor, the Lenovo ThinkCentre M73 tiny PC just worked like a charm without any issues. Weighing just a tad over 1.3 kg, the chassis feels reliable and durable. In traditional Lenovo business fare, this tiny desktop comes in an all-black industrial look, and offers no colour customization options. The only thing we don't like about its design is its external power adaptor brick – it's not huge or anything, but its inclusion definitely takes away from the ThinkCentre M73's clutter-free mantra a bit.
Just to mention some neat attention to detail and the level of thought gone into designing the use-case for this product, you can turn on the Lenovo ThinkCentre M73 PC by just hitting "Alt + P" on its keyboard, and it churns into life. This saves you the trouble of reaching behind a monitor, if the device is VESA mounted. Nice thought, right?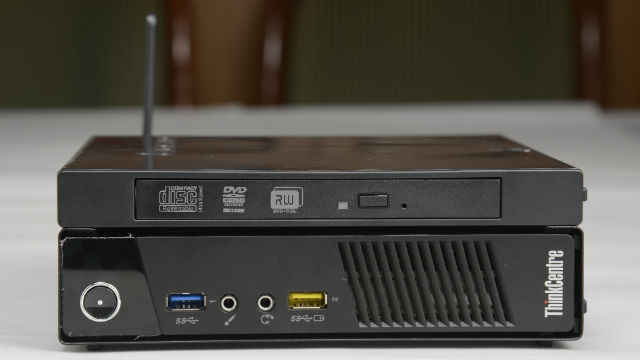 Features and performance
The ThinkCentre M73 packs an assortment of connectivity ports on its tiny frame: Two USB 3.0 ports and audio jack on the front; three additional USB 2.0 ports, Ethernet, VGA, DisplayPort, and an optional USB port are available on its rear panel. There's built-in Wi-Fi and a detachable DVD drive which latches on to the chassis' frame, adding two more USB ports. Like the ThinkCentre M72e before it the M73, too, lacks an HDMI port, which is disappointing – however, a DisplayPort and VGA exists to cushion the blow. LED activity indicators are present on the ThinkCentre M73's front which tells you if the device's Wi-Fi, Bluetooth, and hard drive are on or not.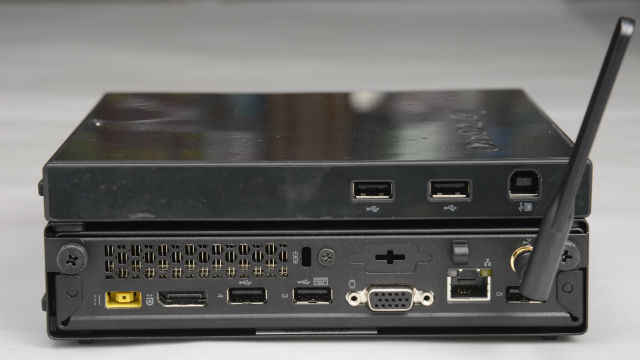 The M73's performance is slightly above average. Everyday multitasking with several apps is a breeze, do the occasional PhotoShop and video editing, and so is watching HD movies. However, this machine isn't built for any sort of gaming, so don't even think about it. The ThinkCentre also consumes lesser power than traditional desktops, helping you save on your electricity bill. The PC comes pre-installed with Lenovo ThinkVantage suite, which is a great tool to simplify managing the PC, and this is especially useful when you think of deploying this machine in an office scenario. The bundled keyboard and mouse are very good as input devices. The keyboard's keys offer just the right amount of feedback, while the plain jane mouse is easy to grip and manoeuvre.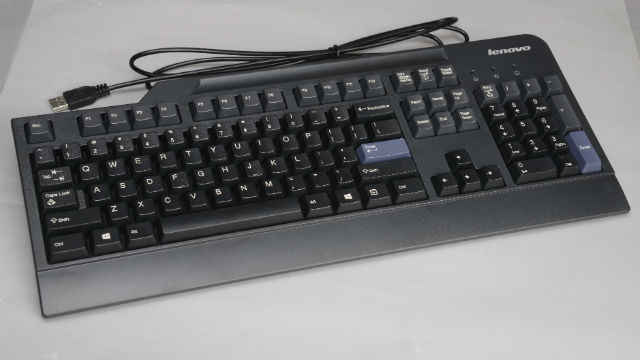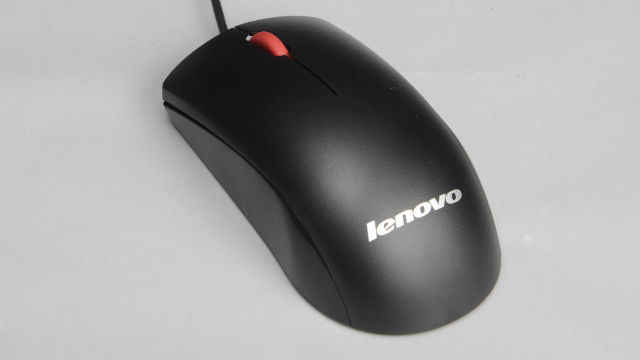 Verdict
Even though it's sold as a business machine, there's nothing stopping you from buying one of these for your home (however, that lack of an HDMI port is going to hurt for sure). Yes, assembling a rig will cost lower, but it won't be as tiny as the ThinkCentre M73. We checked with Lenovo, and they only sell the ThinkCentre M73 with a 19.5-inch monitor (which Lenovo didn't send us with the review sample), that's why its perceived high cost.