GIGABYTE GTX 1060 G1 Gaming detailed review
NVIDIA has probably been sweating hard every since the AMD RX 480 came out to conquer the mid-range segment so it was only a matter of time for the GeForce GTX 1060 to make an appearance and it's finally here to give AMD's RX 480 a good fight. Priced at Rs.22,999 the NVIDIA GeForce GTX 1060 is no longer hitting the sweet spot in India, but it is priced to combat the AMD RX 480 which costs Rs.22,990. What stands to be seen is how well the NVIDIA GeForce GTX 1060 performs against the AMD RX 480. And for our GTX 1060 review we have a GIGABYTE GTX 1060 G1 GAMING graphics card which is priced at an MRP of Rs.25,499.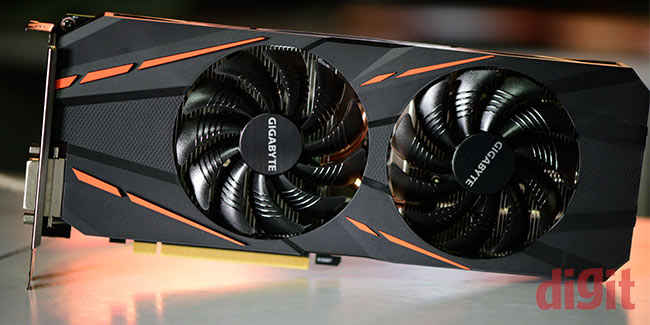 NVIDIA GTX 1060 feat. Pascal GP106
Pascal brought a great deal of performance increment to the NVIDIA line-up. The GTX 1080 and GTX 1070 have both turned out to be powerful beasts with the GTX 1070 being the clear winner when it comes to price/performance in the flagship segment. And the GP106 based GTX 1060 aims to eat into the GTX 1070's market share. NVIDIA claims that the GTX 1060 provides the same performance as that of a GTX 980 for a lot less money. Those who'd invested upwards of Rs.50,000 for a GTX are sure going to be pissed with the GTX 1060 if that is indeed the case.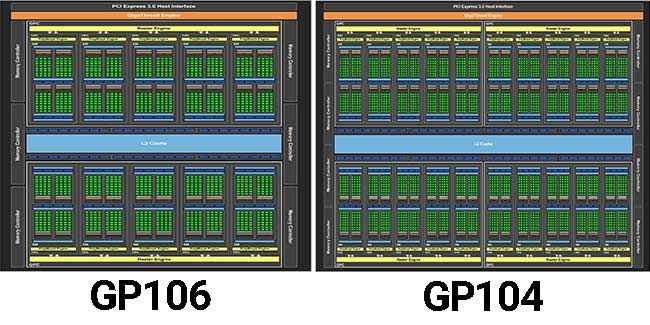 The GP106 is a scaled down version of the GP104 that powers the GTX 1080 and the GTX 1070. And just like the GTX 960, where the GM206 was half of the GM204, with the GTX 1060 the GP106 seems to be exactly half of a GP104 as well. So we're getting 2 GPCs with 5 Pascal SMs in each GPC. Given that there are 128 CUDA cores within each SM, in total we are getting 1280 CUDA cores, 80 Texture units and 48 ROPs. There are six 32-bit memory controllers with eight ROPs per controller and all six controllers combine to provide a net bandwidth of 192 GB/s.
As for the memory, the GTX 1060 comes with 6 GB of GDDR5 VRAM. While this may be a little less than the 8 GB RX 480, it is priced to compete with the 4 GB RX 480 SKU, thus giving NVIDIA a slight advantage. However, if you happen to be one of those few lucky ones with a 4 GB RX 480 SKU that can be flashed to unlock the whole 8 GB, then you can start your victory dance now. The stock GTX 1060 is clocked at 1506 MHz with a bloost clock of 1708 MHz. This is, of course, a Founders Edition card so higher clocked after market cards are right around the corner. Or like in our case, they arrive before the Founders Edition cards do.
GTX 1060 Specifications
GTX 1060
GTX 1070
GTX 1080
TITAN X
GTX 980
CUDA Cores
1280
1920
2560
3072
2048
Texture Units
80
160
160
192
128
ROPs
48
64
64
96
64
Core Clock
1506 MHz
1506 MHz
1607MHz
1000MHz
1126MHz
Boost Clock
1708 Mhz
1683 MHz
1733MHz
1075MHz
1216MHz
TFLOPs (FMA)
4.4 TFLOPs
6.5 TFLOPs
9 TFLOPs
7 TFLOPs
5 TFLOPs
Memory Clock
7Gbps GDDR5
7Gbps GDDR5
10Gbps GDDR5
7Gbps GDDR5
7Gbps GDDR5
Memory Bus Width
192-bit
256-bit
256-bit
384-bit
256-bit
VRAM
6 GB
8GB
8GB
12GB
4GB
TDP
120 W
150 W
180 W
250W
165W
GPU
GP106
GP104
GP104
GM200
GM204
Transistor Count
4.4B
7.2B
7.2B
8B
5.2B
Manufacturing Process
TSMC 16nm
TSMC 16nm
TSMC 16nm
TSMC 28nm
TSMC 28nm
Launch Price
$249
$379
$599
$999
$549
The GIGABYTE GTX 1060 G1 Gaming graphics card we're reviewing comes with a factory overclock of 1595 MHz going all the way to 1810 MHz under boost. We did notice it go all the way to 1999 MHz while running Unigine Heaven 4.0. This extra juice is thanks to GPU Boost 3.0 which pushes your graphics card over the manufacturer rated boost clock till either a temperature or power threshold is hit.
GIGABYTE GTX 1060 G1 Gaming
If you take a look at GIGABYTE's graphics offering for each GPU, then you first have the Founders Edition card, then there's the WINDFORCE series with a slight overclock, then comes the G1 Gaming series which we have here and lastly there's the XTREME Gaming series that is the best from GIGABYTE's stables. Aside from these, there are one-off special SKUs like the GTX 1080 XTREME Gaming with a water cooling setup.
The GIGABYTE GTX 1060 G1 Gaming features a moderate overclock with three modes – ECO , Gaming and OC Modes. The clock speeds increase with each mode as per the table below.
GIGABYTE GTX 1060 G1 Gaming Clock Speeds
GIGABYTE GTX 1060 G1 Gaming Clock Speeds
Mode
Base Clock
Boost Clock
Memory Clock
ECO
1506
1721
2002
Gaming
1595
1810
2002
OC
1621
1836
2002
The card comes with the Gaming Mode enabled by default but for benchmarks we ramp it up to OC Mode.
The GIGABYTE GTX 1060 G1 Gaming features GIGABYTE's WINDFORCE cooling solution and in particular the WINDFORCE 2X because of the two fans we see here. Each 90mm fan has protruding streaks to cut down on noise levels. Moreover, like all cards featuring Maxwell and Pascal architecture, these fans only switch on when the temperatures hit 60 degrees celsius. While the cards are silent till it hits this threshold, the sudden ramp up generates a noticeable sound level during gaming.
Underneath the plastic shroud lies the heatsink assembly which consists of two aluminium blocks held together by two copper heatpipes which supposedly feature a composite design. Why supposedly? Well, we didn't chop it off to look inside but we've a good amount of confidence that it has said design feature.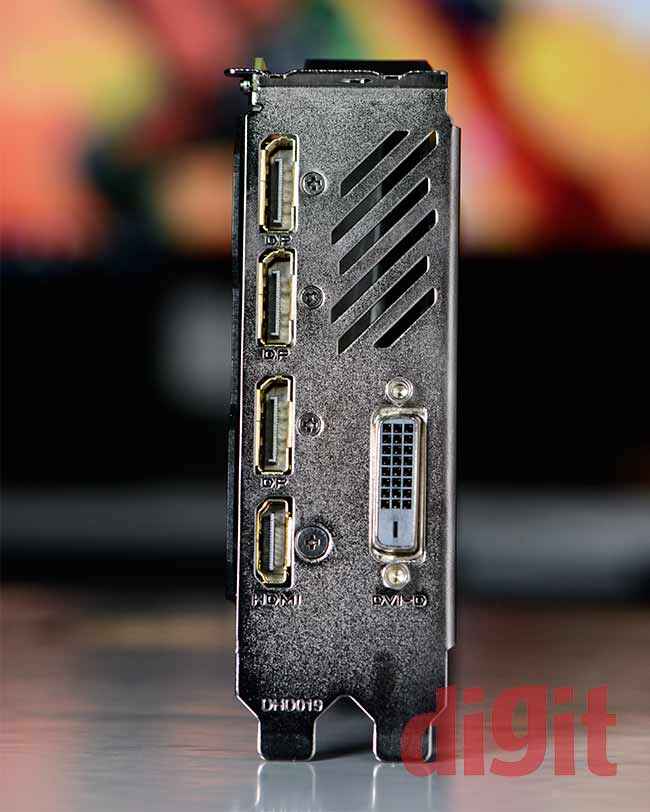 Coming to the connectors, the GIGABYTE GTX 1060 G1 Gaming features the standard set of connectors which we've seen since the GTX 980 which include – 3x DisplayPort 1.4, 1x HDMI 2.0 and 1x Dual-link DVI-D. The bracket is not completely sealed off and there are vents as you can see in the image above.

The GIGABYTE GTX 1060 G1 Gaming is a dual-slot graphics card. Dual-slot cards were essential towards ensuring an easy SLI configuration but since the GTX 1060 does not feature SLI, we can only look at this as a space saving design decision. The GIGABYTE GTX 1060 G1 Gaming uses an 8-pin PCIe power connector giving it a plenty of headroom to seek power should it require so. One difference that the GIGABYTE SKU differs from the Founders Edition is that it has an 8-pin connector instead of a 6-pin connector. While the reference card is designed for a TDP of 120 W, AIB cards with factory overclocks consume a lot more and hence the need arises for a better cooling solution and also for more wattage to handle those overclocks. In our benchmarks, we were able to extract 80% of the TDP from the GIGABYTE GTX 1060 G1 Gaming graphics card.
The GIGABYTE logo and FAN STOP label are both illuminated by RGB LEDs. GIGABYTE's EXTREME ENGINE software is what you can use to play around with the lighting. If you've played around with LEDs on cards before then you know the drill. You can get it to pulse, flash, breath and other funky effects. While the whole RGB trend is starting to get a little stale, it exists because a good segment of the demographic still wants 'em. Aside from this, there is a white LED underneath the power connector to indicate if it has been properly connector.
And lastly, we have the aluminium backplate which covers the entire card. Backplates are always a welcome feature and this one is no different.
Performance
We start off with the all favourite 3DMark FireStrike: (IN PROGRESS)
3DMark Fire Strike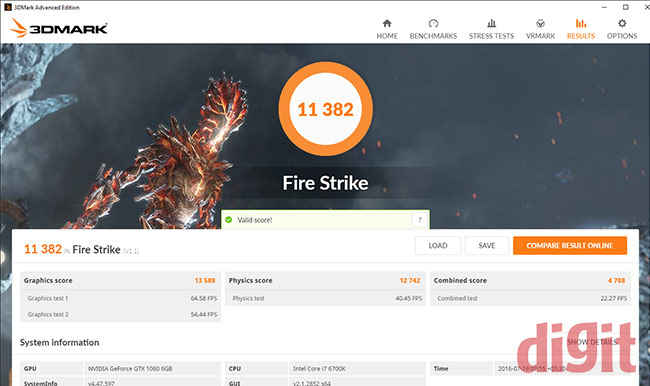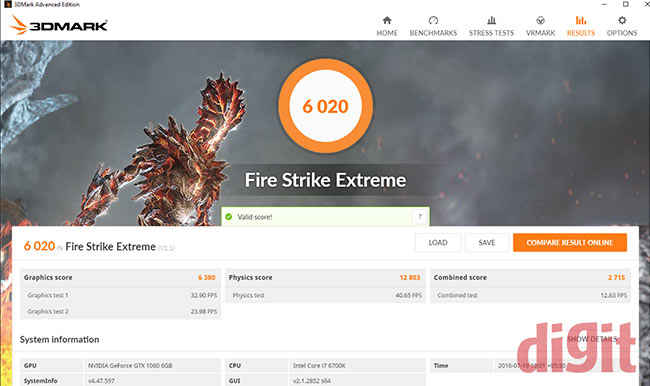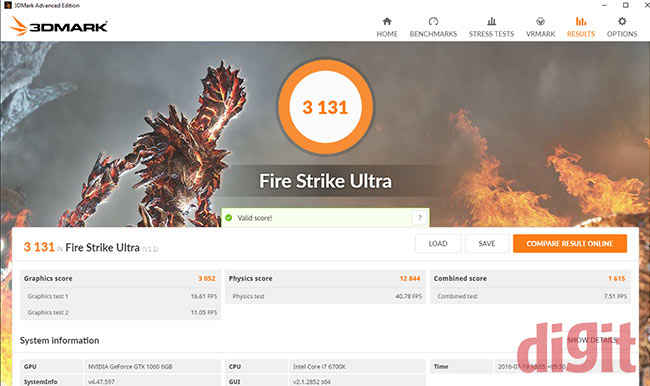 The GIGABYTE GTX 1060 G1 Gaming clearly is better than the AMD RX 480 which scored 2691 points in FireStrike Ultra and 5201 points in Fire Strike Extreme.
3DMark API Overhead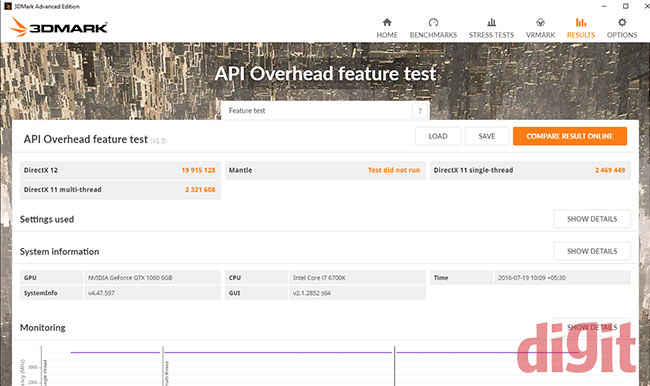 3DMark Time Spy DirectX 12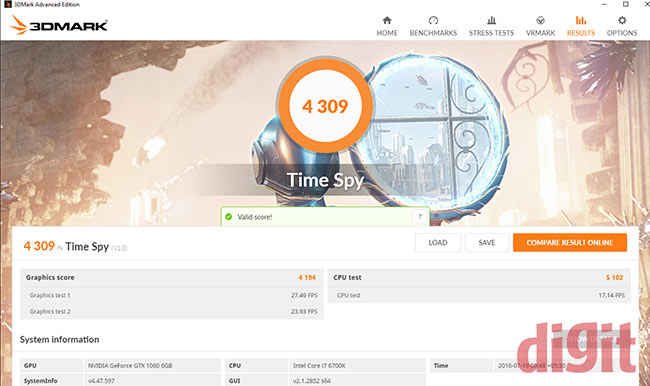 Time Spy is 3DMark's latest DirectX 12 benchmark and the scores peg the RX 480 to be neck and neck with the GTX 1060.
CompuBench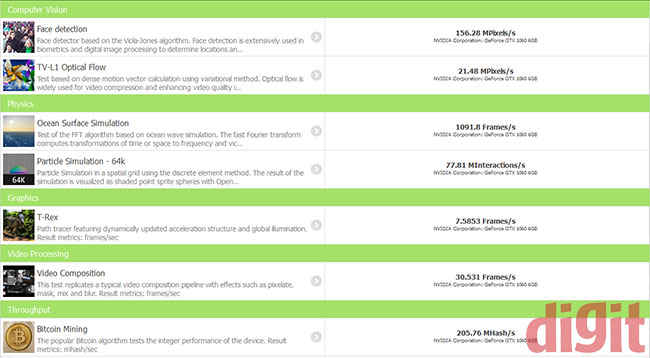 We've discarded our multi-software compute testing benchmarks in lieu of CompuBench which covers pretty much every single benchmark we used to test earlier. We are in the process of testing the RX 480 using the benchmark as well. Stay tuned for a comparison.
Gaming Benchmarks
And here are the gaming benchmarks which you have been waiting for.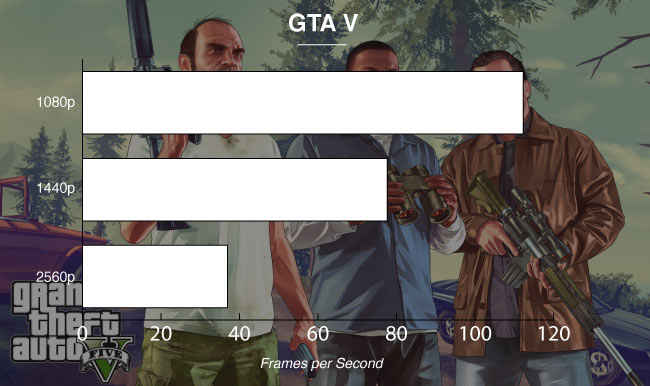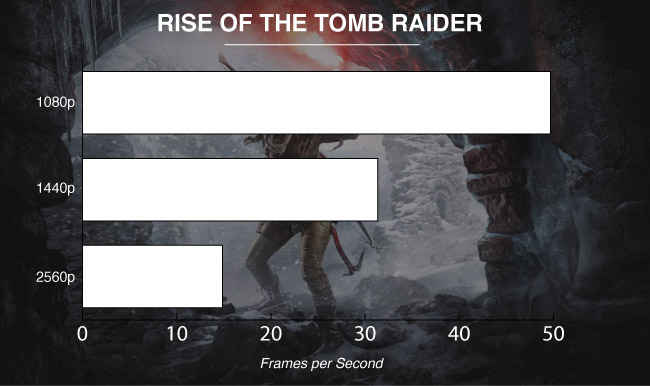 The NVIDIA GTX 1060 seems to be the better performer in Rise of the Tomb Raider.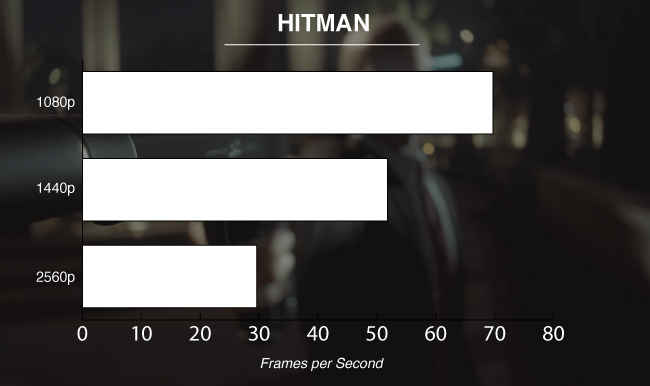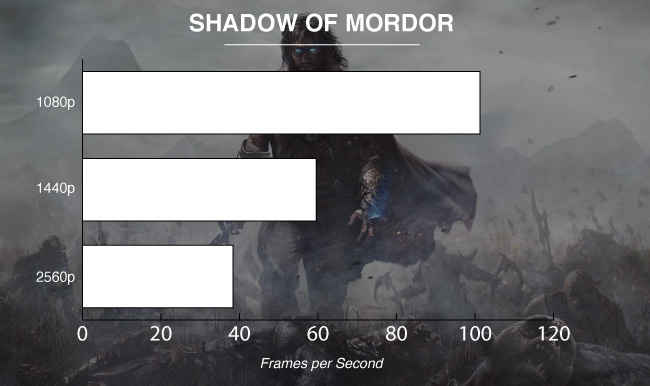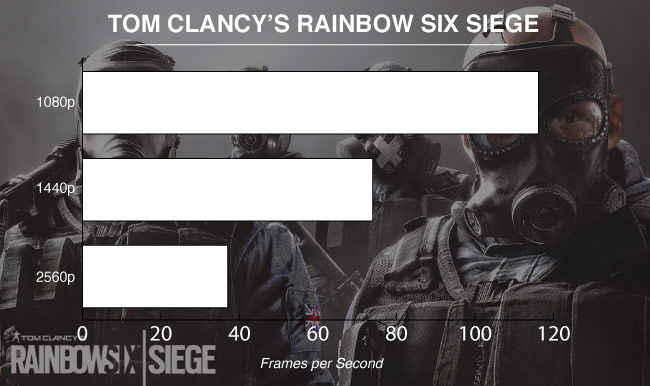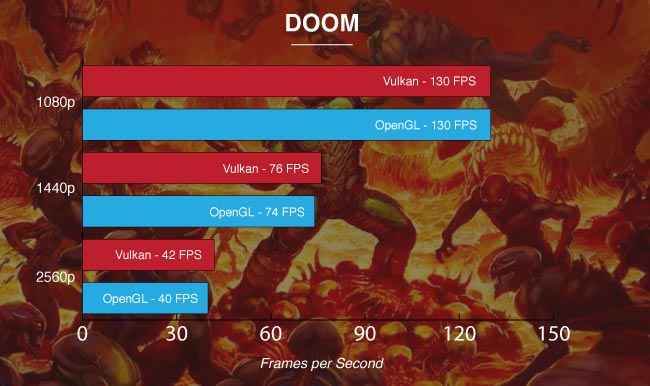 DOOM is a completely different story with the NVIDIA GTX 1060. We noticed hardly any difference while switching between APIs on the GTX 1060. While with the RX 480, there was a tremendous 35% performance difference. Between the two, the AMD RX 480 was the better performer across all screens except on 4K resolution with the OpenGL API.
SteamVR Performance Test

Verdict
The NVIDIA GeForce GTX 1060 sure is a good performing card and with AMD RX 480 in the battlefield, NVIDIA needed a good product and they've delivered that with the GTX 1060. It's got more memory than the RX 480 for the price (unless you have a unit that can be flashed to get the fill 8 GB) and it performs slightly better than the RX 480 in pretty much most games. The RX 480, however, makes the best use of Vulkan API and DOOM runs much better on the AMD RX 480 with the GTX 1060 gaining a minor lead at 4K resolution using OpenGL. This holds true if the cards are equally priced. However, AIB cards will be priced in the vicinity of the Founders Edition in India and in all likelihood the AMD card might end up being a better deal if NVIDIA partners don't price the card right in India. One major loss with the GTX 1060 is the lack of SLI and for a price conscious market like India, that definitely matters.
Coming to the Gigabyte GTX 1060 G1 Gaming, it's a pretty good non-reference card given the improved cooling solution i.e. the WINDFORCE 2X and the factory overclock. If you're in for some RGB goodness then GIGABYTE has you covered on that front as well. What you need to keep in mind is that there are three overclocking profiles and should you ever need a little extra juice then using the provided software – XTREME ENGINE – should suffice. Also, you can always overclock the card further. Overall, the GIGABYTE GTX 1060 G1 GAMING is a pretty feature packed graphics card with a slightly higher price of Rs.25,499.