Cooler Master Notepal U Stand detailed review
Laptops are fast out-selling desktop PCs for at least 2-3 years now. And as more people are buying laptops as their preferred primary computing device (for home or office), there's a need to keep these mobile workhorses cool. Cooler Master's Notepal U caters to this need. It calls itself a laptop stand but it doubles up as an efficient cooling pad with a bunch of interesting features. Let's take a closer look.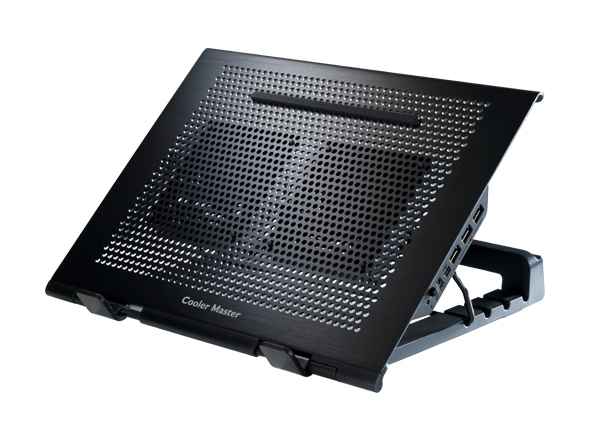 Build & Design
The Cooler Master Notepal U stand has an aluminium front with a perforated grill design that kicks back on an adjustable photo-frame like stand design. When I say perforated grill, don't imagine a thin, flimsy wire gauze front -- the front of the stand is actually quite sturdy and well-built. The Notepal U's surface has a characteristic metallic sheen on it -- no gloss, mind you, which is great because it also means no fingerprint smudges. Two movable anti-slip holders are placed strategically towards the front edge of the stand to prevent a nestled laptop from sliding off and crashing on the desk.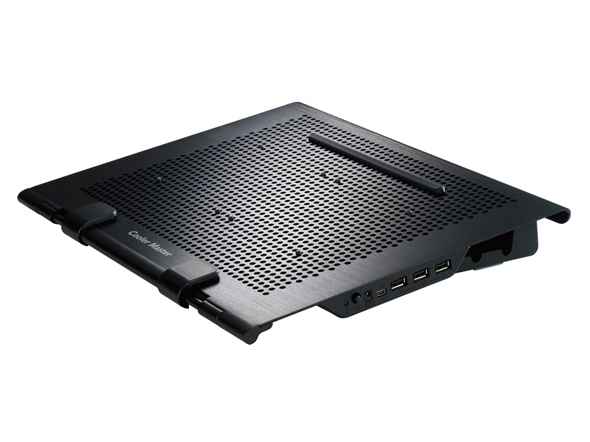 The stand's front is large enough to accommodate a 17-inch laptop and the anti-slip holders can keep in place a 10-inch netbook as well. The stand's frame can be adjusted from a 20-degree to 45-degree angle range, giving users plenty of options to find the position they're most comfortable using. The whole thing is very well built like a premium product, it doesn't feel flimsy in any way, and it weighs about 600 gm without the fans attached. Though it may be light, the Cooler Master Notepal U may not be easy to carry around because of its wide frame -- it can't just go into any laptop bag, for instance.
Visit next page to read Cooler Master Notepal U Stand's features
Features
The Notepal U has a convenient USB hub along the right edge of its frame which has three USB 2.0 ports, a microUSB port (for a wire that attaches to the laptop for powering the Notepal U), an On-Off toggle switch, and a blue LED activity indicator. The Cooler Master laptop stand's perforated grille design at the front allows two large 100mm fans to attach themselves to pretty much anywhere on the perforated area -- there's no fixed position for the fans, which is nice, you can adjust their location depending on your laptop's hot spots. The fan design and placement is patented by Cooler Master. The fans are rated at 1.8 W in total.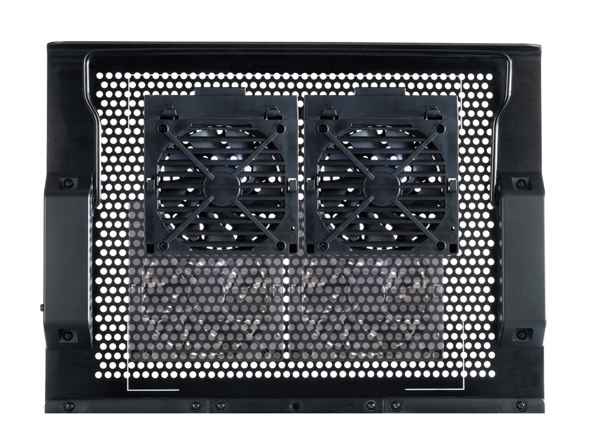 The fan latches on to the back of the front stand through small pointed stands that punch through the Notepal U's grille design perfectly. You can tell the guys over at Cooler Master really gave this a long, hard thought and the results are there to be seen with the Notepal U's design -- it's a very well thought out product.
Visit next page to read Cooler Master Notepal U Stand's performance and our verdict
Performance
Unboxing the Cooler Master Notepal U stand and getting it up and running took less than five seconds. You don't even need to read the user manual to get started (although, it's recommended that you do). From attaching the fans to hooking up the laptop and firing up the cooling system, everything was easy, nothing complicated with the Cooler Master Notepal U. If anything, we thought the bundled fan cables could have been of a better quality -- they came across as flimsy.
&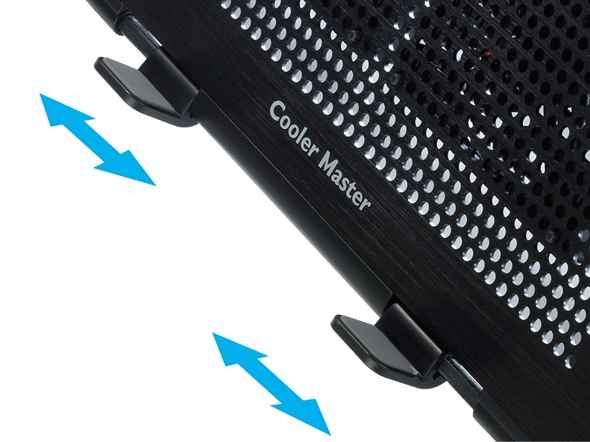 We tested it using the Lenovo IdeaPad Y570 laptop we recently reviewed. The 15.6-inch laptop is quite thick and heavy yet it sat nicely on the Cooler Master Notepal U's perforated aluminium front. The anti-slip holders kept a firm grip on the laptop's front, preventing it from sliding off the Cooler Master Notepal U. Generally, in our usage, we preferred the angle of inclination to be lesser while sitting and using the laptop on the stand, and if we were standing and working on a raised table, we liked the angle of inclination to be steeper.
| | |
| --- | --- |
| | |
We used Pirifom Speccy to test CPU temps, while stress tested it with Prime95. The Lenovo laptop was at 46-deg-C while being idle with no fans on, and once we turned on the fans on the Cooler Master Notepal U, the CPU temps dropped down to 40-deg-C. Similarly, at full-load (with Prime95 working), the Lenovo laptop showed its CPU temperature at a whopping 86-deg-C with the fans off, but once they were on the laptop's temp plummeted down to 77-deg-C within minutes. The air flowing through the fans is very mild, it isn't a strong current or a breeze.

| | |
| --- | --- |
| | |
We should mention that the two adjustable fans on the Cooler Master Notepal U stand operate by throwing wind on to the laptop's bottom panel, not taking hot breeze away from its base. The two fans are almost silent while operating, there's absolutely no noise of the Cooler Master Notepal U whirring in the background when you work on it. We wonder if Cooler Master might've sacrificed the fan's effectiveness for a bit of extra silence. Nobody would've complained if the cooling was more effective, but even as things stand now, the Notepal U does a good job of preventing laptops from overheating.
Verdict
The Cooler Master Notepal U is priced at Rs. 2,500. At that price, you get a premium, well-built laptop cooler which has adjustable fans running silently, five tilt angles, and a sleek aluminium top to place your laptop on. It's not expensive if you consider the host of features the Notepal U stand provides, but if you want a cheaper laptop cooler, plenty of options are available in the market. If money isn't a problem, though, we highly recommend the Cooler Master Notepal U stand to go with your laptop.
Contact: www.coolermaster.in or sanket_naik@coolermaster.com
Visit next page to read Cooler Master Notepal U Stand log sheet
| | |
| --- | --- |
| Brand | Cooler Master |
| Model | Notepal U Stand |
| Available Color | Black |
| Material | Aluminum, Plastics, Rubber |
| Dimension (W / H / D) | 1.37 kg, 3.0 lbs |
| Weight | 1.37 kg, 3.0 lbs |
| Operation degree | 1200( -15%) R.P.M. |
| Power | USB 2.0/1.1 x3, Mini USB x1 (For Power Input) |
| USB Port | 0.36A, 1.8W |
| Compatibility | Support up to 17 laptops |
| Fan Dimension (W / H / D) | 100 x 100 x 15mm fan x2 |
| Fan Speed | Single Speed |
| Fan Noise Level (dB-A) | USB 5V DC |
| Fan Speed Adjustment | 70 CFM |
| Fan Airflow | 21 dBA |
| Price | Rs 2500 |
| Warranty | 1 year |