VERDICT:
The Xolo Era 2X is an average smartphone overall. It's not the fastest out there and has an average camera. There's a lot of work to be done.
On paper, the Era 2X doesn't seem that impressive, considering it has inferior specifications. However, that doesn't always make for a weaker smartphone. The Xolo Era 2X didn't impress us on first impressions, but can it change the game? Here's the review.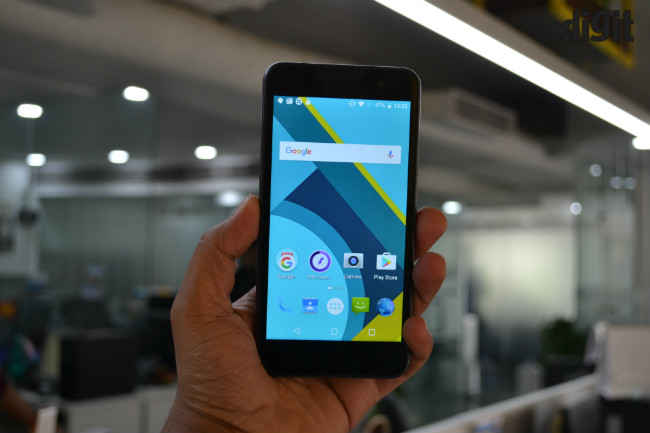 Build and Design
The first things to notice about the Xolo Era 2X are its shape and size. Xolo's design language is rather old school. It has the same rounded edges, a matte-ish back, with thick bezels on the front, that we have seen on older devices. The utilitarian approach to design may have worked at one time and some may still like it, but it is not what you would call "moving with the times". That being said, like other 5-inch budget devices the phone is ergonomic.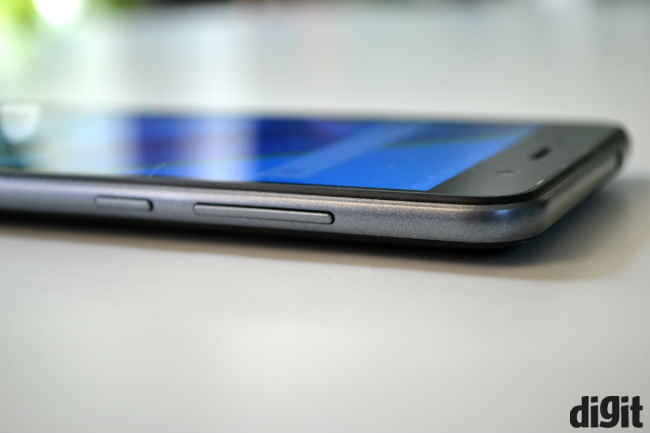 Its build quality is also a little behind its time with plastic on all fronts. So, it does not feel as sturdy as other metal-clad smartphones in the same price category. It doesn't necessarily feel like a "cheap" phone, but it's not up to the standards set by a Xiaomi Redmi 3S etc.
Two things that stick out are the slippery back and the rear speaker slot, which gets muffled very easily.
Display and UI
It is hard to make a bad display these days and the Xolo Era 2X does not have one either. The rather small 5-inch display offers good colour saturation and decent touch response. Viewing angles are not good, with a visible colour shift from not very wide angles. Sunlight visibility is also better than most devices in this price and can be considered amongst the better displays in the category. It has a max luminescence of 550 lux at the centre of the display.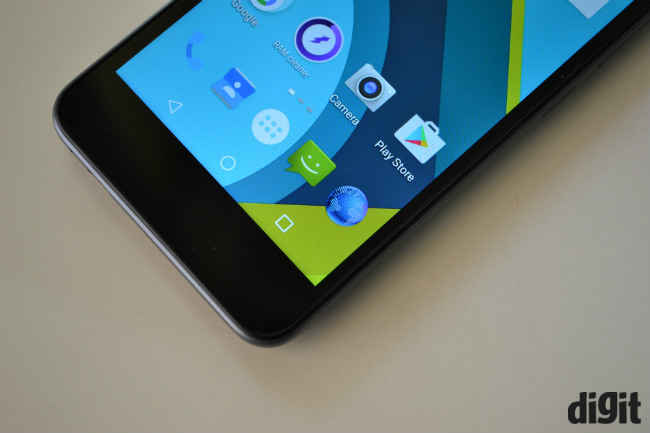 As for the UI, nothing has changed since the Xolo Era 1X and we like the fact that it hasn't. Unlike most budget smartphones, the Era 2X does not have a heavy UI on top of the OS. Instead, the whole interface looks almost like stock Android. The custom Hivelauncher runs in the foreground, which looks and almost exactly like the Google launcher. As for the pre-loaded apps, you get the entire JIO app suite, a third party dialer, and some more additional apps, which you can uninstall. Also, the rear mounted fingerprint scanner does a good job and can be used to lock apps.
Performance
The phone is powered by a relatively new MediaTek MT6737 SoC, which shares its DNA with the much used MediaTeK MT6735, which was seen on the Meizu M2 back in 2015. The new SoC is coupled with 3GB of RAM and 16GB of on-board storage.
The Xolo Era 2X is slow, with slight stutters on regular tasks. To be clear, you can get by with this level of performance, but you can also get much better. With about a dozen apps in the background, the phone really starts lagging, and often even feels like it's not responding to touches. Further, load times on games are higher, and while games like Asphalt 8 do run, frame drops are evident and frustrating. Asphalt 8 remained lower than 30fps regularly.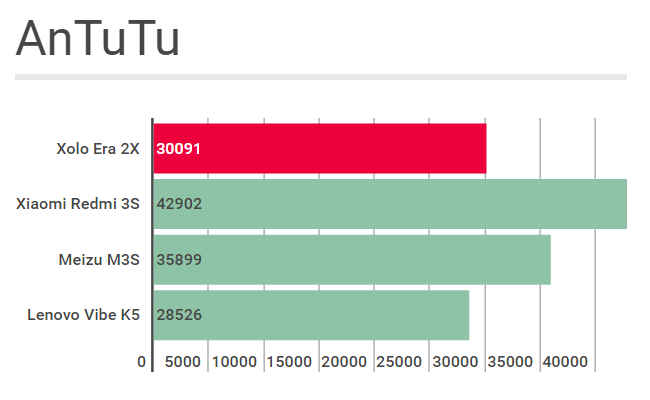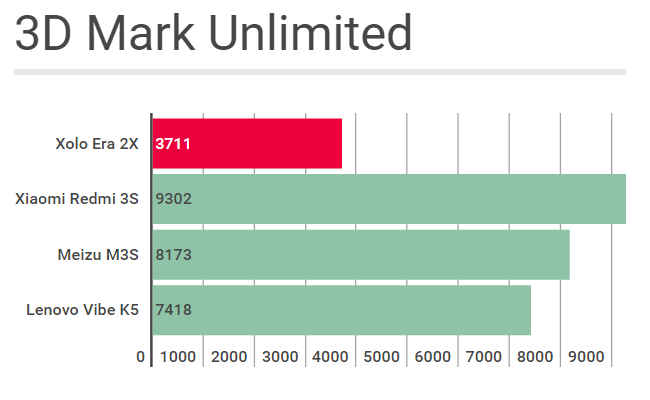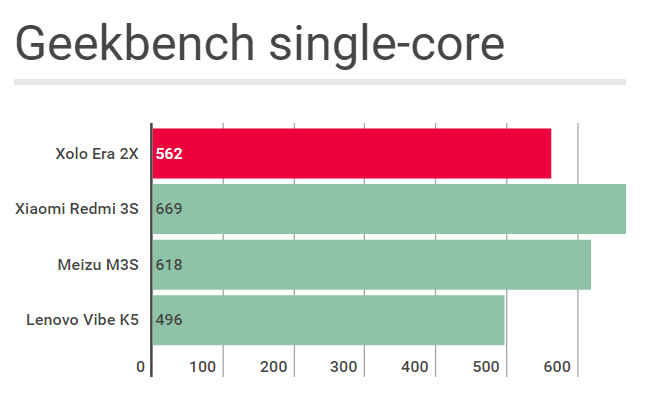 Battery
Powering the entire setup is a 2500mAh removable battery, which is average. In the PCMark battery test, the phone scored 4 hours and 21 minutes on a single charge. Using the phone as a daily driver, with only essential apps like Gmail, Youtube, chat applications, calling, music streaming and a couple of hours of browsing, brought the battery down to 20 percent in about 6 hours of usage.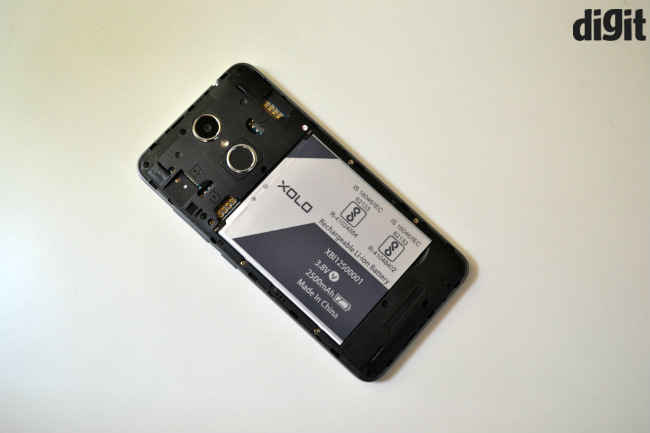 Gaming on the phone further deteriorates the battery and we recorded a battery loss of 22-25 percent in an hour of gaming. Now all these scores are pretty average and there are better devices in the market.
Camera
The Xolo Era 2X features an 8MP rear camera, which again is average. Photographs captured by the smartphone, especially in ample light conditions have decent colour saturation, but details are still somewhat missing. Images aren't very sharp, but edges are distinct enough for sharing on social platforms. There is too much noise in photographs, which become even more apparent under low light.
In addition, the slower focusing speeds make it even more difficult to take a steady shot under darker conditions. Further, the camera application is very basic – you get your essential panorama and beauty features, but no manual mode as we are starting to see on other devices in this category.
Bottomline
The Xolo Era 2X is an average smartphone overall. It's not the fastest out there and has an average camera. The design is pedestrian, and you can get better battery life from its competitors as well. The display and UI are still likeable, but overall, the smartphone doesn't really make a very good case for itself. Phones like the Xiaomi Redmi 3s would make for better choices.