Wynncom OGO O-77 Konnect � QWERTY social-networking phone detailed review
Wynncom OGO O-77 Konnect is a dual SIM (GSM GSM), QWERTY phone with push-email support for Gmail, Yahoo and Hotmail services powered by Synchronica - a popular mobile gateway messaging service. Including support for instant messaging and a fully integrated social networking hub with support for web news feeds, the O-77 Konnect packs an interesting feature set. Let us find out how the O-77 Konnect fares amidst the likes of Byond Q99, LAVA B8, iBuzz i-Q3, and Micromax Q66...
Look and Feel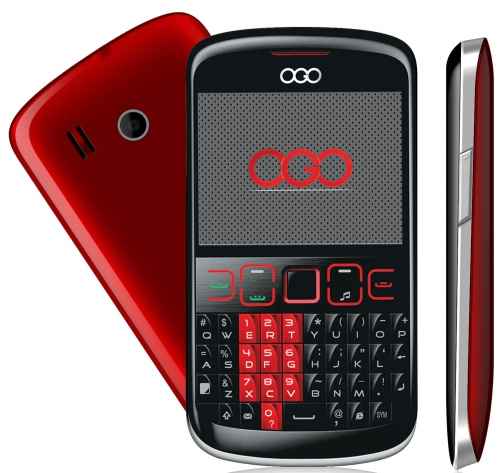 The O-77 Konnect comes with a typical Blackberry style front panel design, coupled with an optical trackpad, and usefully colour coded number keys on the QWERTY keypad. The glossy black finish on the rest of the keypad and the bezel gives it a classic look, while the glossy red back panel makes it stand out in crowd. A more sedate black interchangeable back panel has also been providel. The phone has decent build quality, however, we were not pleased with its smudge prone surface with the exception of the screen, which is well protected by a smudge-resistant sticker.
The keypad design doesn't give a positive first impression, due to its lack of responsiveness and cramped key-spacing. We have no complaints with registering the inputs correctly, while typing at a normal rate. For an SMS fanatic, the keys aren't responsive enough to enable faster typing and could be a hindrance. A little wider key-spacing might have been the clincher. Just like the screen, its camera lens comes with a sticker, which is a neat plus for a budget phone. The volume rocker button on its side adds to the phone's usability and ergonomics. The home menu comprises of four menu screens also known as widget menus similar to the full-fledged touchscreen phones. The menu UI supports the swipe function through the optical trackpad, which is intended for smooth and quick navigation. The trackpad is quite responsive and its sensitivity can be customised through the phone settings, which is a big plus.
Features
The 3.5mm audio jack, quick access multimedia button, volume rocker and the optical trackpad constitute the noteworthy hardware features on the O-77 Konnect. Lets not forget the bundled phone pouch and interchangeable back-panel, which add value for money. On the software front, it comes preloaded with some interesting apps like Private menu, Docviewer, Synchronization, Melody composer, Photo editor, OGO zone, and News hunt, as well as motion sensor-based games.
On the social networking front, you have access to a common hub called "Snaptu", which connects you to Facebook, Twitter, Flickr and Picasa. In addition, it provides you access to news feeds, blogs and entertainment. Riding on Snaptu's web services, the user has the privilege to get access to websites optimized for mobile browsing. Also, the user no longer has to install the individual applications on the mobile, since Snaptu runs the applications from its native server. The O-77 Konnect will bring you the taste of both the social-networking and need-based customization at your fingertips. You could protect your personal data by securing it with a password using the private menu, while synchronization allows you to effortlessly migrate e-mails from one account to another. If you are a music buff you will enjoy the idea of composing your own music tracks with melody composer and play your favorite tracks or switch FM stations by just shaking the phone.
Read on to know the performance, our take, specifications, ratings and test results on the next page...

Performance
The O-77 Konnect performed well in all our call clarity tests, without any instances of dropped calls or broken conversation. However, we noticed slight drop in voice clarity across areas with lower signal reception. To our surprise, the earpiece audibility and clarity was much better than the feeble handsfree output on both ends (earpiece and microphone). On the downside, the loudspeaker audio gets distorted at volume levels higher than 50%, which negates its use in noisy environments.
[RELATED_ARTICLE]The snapshots taken of lacked in detail and revealed some noise even in broad daylight conditions. However, both the still and video camera delivered satisfactory colour accuracy and sharpness, which is good enough for a budget phone with a sensor of its size. The music playback on both the handsfree and loudspeaker sounds good, owing to its excellent bass and treble control with minimal distortion even at medium to high volumes. The display is surprisingly crisp and delivers decent colour accuracy, which is quite a rarity on 65K colour screens. The video playback delivered stunning visuals characterised by stutter-free frames and appealing sharpness. Another desirable trait that we could not miss, is its sufficiently wide viewing angles. However, the font rendering lacks crispness and is limited to very narrow viewing angles.
The phone's battery usage included about 1 hour of talk-time, half-an hour of music playback, about 72 hours on standby and it still managed to retain 75% of its single charge, which is quite extra-ordinary. If unused, the battery could easily last about a week in standby mode.
Our Take
The O-77 Konnect makes a strong statement with a good social-networking platform to integrate multiple networking apps like Facebook, Twitter, Flickr and Picasa under one roof. Its ability to produce appealing music with both the handsfree and loudspeaker makes it more appealing to the music buffs. Adding a good optical trackpad, display and a decent camera into the mix, the O-77 Konnect becomes a good multimedia phone. At a price point of Rs. 4,499, we have very little to complain except for the ordinary QWERTY keypad. We have not seen a phone with better feature set in this price bracket. However, if you want a better QWERTY phone with similar specifications then you should get the Samsung Chat 322 or the Nokia X2-01 around Rs. 3,500. If you are not too much of a messaging maniac then the O-77 Konnect is definitely worth buying.
Specifications: SIM (GSM GSM); Display: 2.4-inch, Screen resolution: 240x320; Memory: microSD expandable up to 8GB; Battery: 1050mAh, Talk-time: up to 6 hours, Standby-time: about 168 hours; Dimensions: 114x60x12.6 mm; Weight: 69 grams;
Ratings
Features: 7
Performance: 6
Build Quality: 6
Value for money: 7.5
Overall: 6.5
Price: Rs. 4,499
Test Scores Log Sheet

| | |
| --- | --- |
| Brand | Wynncom |
| Model | OGO 0-77 connect |
| Price (MRP, Rs) | Rs. 4,499 |
| Features | |
| Physical Specs | |
| Form Factor | Candy Bar |
| 2G Network Bands (MHz) | GSM 850 / 900 / 1800 / 1900 |
| 3G Network Bands | N/A |
| Screen Resolution | 240x320 |
| Screen Size (inches) | 2.4-inch |
| Maximum Screen colours | 65K |
| Touchscreen / Dual Screen (Y/N) | N |
| Battery Rating | 1050mAh |
| Dimensions (L x W x H) | 114x60x12.6 |
| Weight | 69 grams |
| Expandable Memory Type | microSD |
| Hot Swappable (Y/N) | N |
| Available Colours | Black with red, White and Steel Grey |
| Other Features | |
| Operating System | Proprietary |
| Charging via USB (Y/N) | Y |
| Hardware Keypad (Regular/QWERTY) | QWERTY |
| Accelerometer (For auto rotate) (Y/N) | N |
| Address Book Capacity | 1000 |
| No of calls in register | Unlimited |
| Talk Time * | up to 6 hours |
| Standby Time * | about 168 hours |
| No of Profiles # / Customisable (Y/N) | 7/Y |
| Offline Operability (Y/N) | Y |
| Inbuilt GPS / A-GPS support (Y / N) | N |
| Connectivity | |
| Browsing (GPRS/EDGE/3G) | Y/N/N |
| EDGE max speed | N/A |
| 3G max speed | N/A |
| Connectivity (WiFi/Bluetooth/IR/USB) | N/Y/N/Y |
| Bluetooth Version/A2DP support (Y/N) | v2.1/Y |
| Camera Specs | |
| Camera Resolution (Mega Pixels) | 3MP |
| Video Capture Resolution | 240x320 |
| Dual Cameras / Auto Focus / Flash (Y/N) | N/N/N |
| Mirror for self portrait (Y / N) | N |
| Camera Settings (So 10) | 6 |
| Zoom (Optical/Digital) | Digital |
| Multimedia | |
| Music Formats supported | MP3 |
| Video formats supported | MP4, 3GP, RMVB |
| FM Radio (Y/N) | Y |
| Accessories | |
| Bundled Accessories | charger, handsfree, USB cable, phone pouch, Aircel SIM card, spare ear tips |
| Size of memory card provided | None |
| Build and Ergonomics (So 10) | |
| Surface materials used | 6 |
| Overall build and in-hand feel | 6.5 |
| Quality of moving parts | 6 |
| Design and ergonomics | 6 |
| Keypad design (on-screen or hardware) | 6.5 |
| Menu and interface | 6.5 |
| Settings and ease of navigating menus | 6 |
| Camera menu options | 6 |
| Performance | |
| Signal Reception and Voice Clarity (So 10) | |
| Zone 1 | 7 |
| Zone 2 | 6 |
| Zone 3 | 5.5 |
| Handsfree Clarity | 6 |
| Loudspeaker Clarity | 5 |
| Earpiece Clarity | 7 |
| Handsfree Volume | 6 |
| Loudspeaker Volume | 5 |
| Earpiece Volume | 6.5 |
| Bluetooth test (in kbps) | Failed |
| Imaging and multimedia tests | |
| Captured Photo Colour | 6 |
| Captured Photo Crispness | 6 |
| Captured Photo Detail | 5 |
| Captured Video Quality | 5.5 |
| Effectiveness of integrated flash | N/A |
| Music Quality (loudspeaker) | 7 |
| Music Quality (handsfree) | 6.5 |
| Volume levels (loudspeaker) | 7.5 |
| Volume levels (handsfree) | 6 |
| Display (So 10) | |
| Crispness | 7 |
| Colour | 6.5 |
| Font rendition | 5 |
| Legibility in bright sunlight | 5 |
| Video playback | 8 |
| | |
| * Manufacturer Rated | |
Contact: Wynn Telecom Ltd.
Phone: 91-1244987400
E-mail: info@wynntelecom.com
Website: http://www.wynntelecom.com/