Vivo V3 Max detailed review
When Vivo launched the V3 Max smartphone, the company laid claim to the device being uber fast. It also put emphasis on the overall build, an integrated fingerprint sensor that is really, really fast, and the company's presence in offline channels that it hopes to capitalise upon. Recently, Vivo has also made it to the top 5 smartphone vendors as per an IDG report, and has grown by 45.5% globally, year-on-year.
For a company growing at this pace, a device like the V3 Max has massive potential to establish its reputation in the mid-tier smartphone market. It even has the makings of a potential game changer, becoming the first smartphone in India to be powered by Qualcomm's Snapdragon 652 chipset. On paper, it seems to have everything to become successful.
India, however, runs on the efficacy of money and value. For every penny paid, users have grown to expect more, buoyed by the high price-to-performance ratios brought to the forefront by the likes of Xiaomi and OnePlus. For a brand like Vivo that does not have an established legacy in the nature of Motorola or Apple, mastering the art of good pricing could be the key to lay a strong foundation for its journey in India.
Is Vivo overcharging for the V3 Max, or does it justify itself with what it delivers? Here's what I found.
Performance: Snapdragon 652 is really fast
The Qualcomm Snapdragon 652 serves as the noble second-in-command to the flagship, the Snapdragon 820. We explained the difference that it creates between itself and the hexa-core Snapdragon 650 in this performance analysis. When it comes to the Vivo V3 Max in particular, the device performs fast enough for you to appreciate.
In terms of everyday performance, the Vivo V3 Max is a sheer delight. There is seldom any lag in terms of daily usage. Apps and menus open instantly, and there are no blank screens that precede the opening of apps. I loaded the device with apps that I use on a regular basis, including the Flipboard aggregator, Google's Snapseed photo editor, Facebook, WhatsApp, Instagram, Amazon, Apple Music and YouTube. The convenient bit here is that even with multiple of these apps open, there was no sign of strain on the processor. For instance, even with up to eight apps running in the background, I could open Apple Music to stream music, or even open Asphalt 8 in a breeze.
You can easily update apps in the background, talk on call, edit a photograph on Snapseed and message on WhatsApp, all at the same time. The Vivo V3 Max suffices more than enough in terms of everyday usage. When it comes to gaming, the Vivo V3 Max displays no blank screens, loads options instantly and runs heavy duty games without breaking a sweat. For almost every type of usage, the two extra Cortex-A73 cores on the Vivo V3 Max's Snapdragon 652 is an excellent processor that will take care of almost every single performance requirement.
Attached below are the benchmark scores, that reflect how the Vivo V3 Max fares against its competition:
Display and UI: A lot good here
The 5.5-inch 1080p LCD display panel is a standard that most devices come with these days, and the display panel on the Vivo V3 Max is a pleasant surprise. To begin with, the touch response is sublime. The display is highly responsive, and there are no missed touches and swipes. In terms of colour reproduction, the Vivo V3 Max does a very good job, relaying sharp content with high contrast. Colours look reasonably true to source, although content does appear slightly oversaturated.
There is also a slightly accentuated sense of warmth that makes the display look more pleasant, and the higher contrast and sharpness compliments it. There is no major colour shift, either. At very acute angles, you can notice a slight shift in hue, but that is almost negligible in terms of usual usage.
Vivo's FunTouch UI 2.5 stands out with its level of customisation. The 'My House' theme is a neat concept, although it does take some strain on resources. While the My House theme does not massively slow down operations, it still hinders the free-flowing performance that the Vivo V3 Max offers. Vivo has also arranged the Settings in a certain order of priority that they deem should ease usage, but in reality, you actually need to spend some time with the device to get used to.
On an overall note, Vivo's FunTouch UI is an attempt at presenting something new to the user, and Vivo succeeds in doing it decently well. For instance, the iPhone-mirroring 'Search' option, that you can use by swiping down on the screen is very useful, even if it is heavily 'inspired' from iOS. So is the Control Center, where by swiping up on the screen, you get almost every quick setting that you would need to access. If you have used, or are using iOS, you will find both of these very helpful. However, Vivo misses out on tiny aspects such as facilitating easy screenshots (combining the capacitive Home key with the physical unlock button is not the best idea), or displaying music shortcuts on the lock screen. Also, there are no app drawers when you're on one of the Classic FunTouch themes, but on the intuitive Scene mode, the adorable sheep depicts the app drawer in case you wish to quickly jump to an app or a setting instead of having to identify pictorial depiction of apps on the home screens.
There are a few rough edges, but the excellent display coupled with the intuitive UI makes the phone quite fun to use.
Camera: Rather mediocre
It is here that Vivo delivers a very mediocre experience. While on the display, the photos appear reasonably bright, putting it on a display that you are used to shows what the photos are in reality. Colour tones are reasonably true to source, although photographs are slightly undersaturated. There is a lack of contrast in photos, and the level of noise is rather high. If you're clicking photos by properly framing your shot, you might be able to obtain a reasonably decent photograph, but for everyday, instantaneous usage, the Vivo V3 Max delivers very mediocre imaging performance.
Low light photography lags behind even further, as the low chrominance levels lead to photographs appearing even darker. The 8-megapixel front camera performs better on a relative term, and in reasonably decent ambience (tungsten light in pubs, for instance), you should be able to take decent self portrait photographs. (Click images to enlarge)
The camera app is fast, and both touch response and shutter response is smooth. Even if you had apps running in the background, you can snap open the camera to take an instant shot. The smartphone takes slightly longer to focus than other devices in this price range (like the Xiaomi Mi 5), which is a rather notable deterrent.
Build and Design: Nothing exceptional
The Vivo V3 Max is based on a metal unibody design, which has somewhat become standard of late. Despite UI optimisations to facilitate one-handed usage, the bulk of the device will almost certainly prohibit so. At 7.6mm, it is not among the slimmer devices, and at 168 grams, it is rather heavy a device. Not only is it heavy, it actually looks and feels heavy, when you keep it on your palm or in your pockets.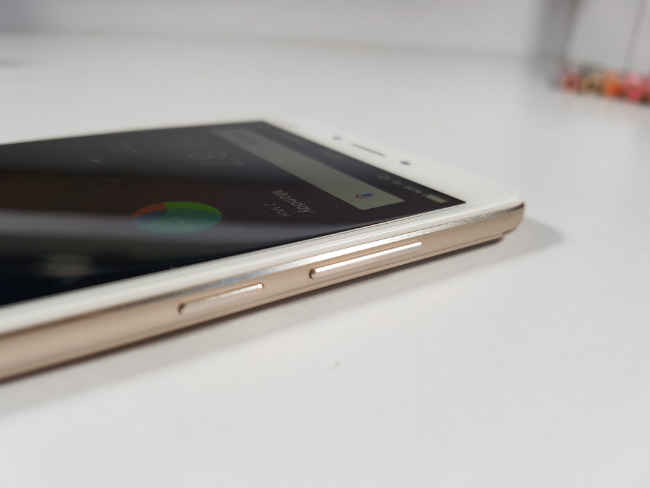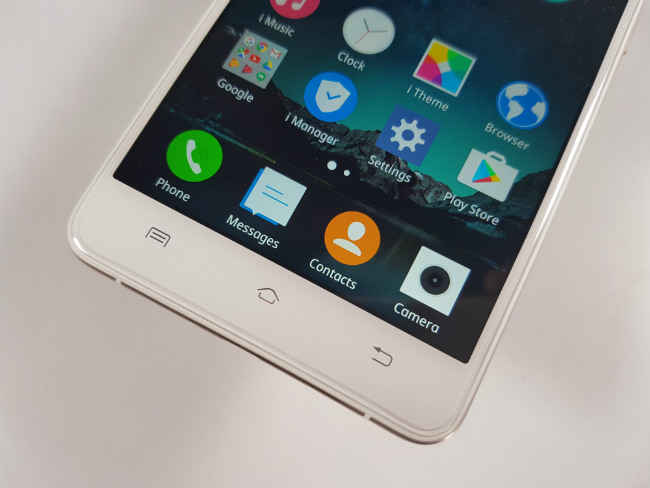 The Vivo V3 Max looks conventional in every sense, with the dual-SIM slot and hybrid memory card slot to the left of the device, the buttons to the right, audio port at the top, and speaker grille and USB port at the bottom. The fingerprint sensor at the rear is blazing fast, and is quite as Vivo had advertised it to be. There isn't much about the design that you can really say: It is not bad in any way, but neither is it anything extraordinary.
Battery Life: Almost survives the day
The 3000mAh battery pack that powers the octa-core processor and the vibrant display on the Vivo V3 Max is not the most powerful. It lasts for a little over six hours and thirty minutes on the Geekbench 3 battery benchmark test, and on daily usage, this will last for about ten hours with ample WhatsApp/Messenger messages, thirty minutes of gaming, an hour of music streaming and other apps. The Vivo V3 Max supports Quick Charge and comes with the Quick Charge travel adapter, so for about an entire day, you would ideally require one full charge, and another short span towards the end of the day, to juice it up to about 30-35%.
Bottomline: Almost there, but not quite
The Vivo V3 Max is a good smartphone, and is quite enjoyable (apart from its massive size and lacklustre camera), but the main question here is its pricing. The device is priced at Rs. 23,980, while the Snapdragon 820-powered Xiaomi Mi 5 is priced at Rs. 24,990, only about Rs. 1,000 more expensive than the V3 Max. With the Mi 5, you get better performance, a tried-and-tested UI, a good display, better battery life, better camera and much better looks and form factor. The device would have made more sense had it been at least Rs. 5,000 less expensive, but at this price, it is hard to be recommended before the Xiaomi Mi 5.