Pine prince - affordable dual-SIM phone detailed review
As we gear up to witness the flood of dual-SIM phones in the Indian market, yet another dual-SIM cellphone from Pine mobiles called the "Pine prince" stirs up the competition against the likes of Pine Executive and Movil MC10, which we have reviewed earlier. It incorporates an all-plastic body, with a pre-dominant silver metallic finish decorating the body contours of the cellphone.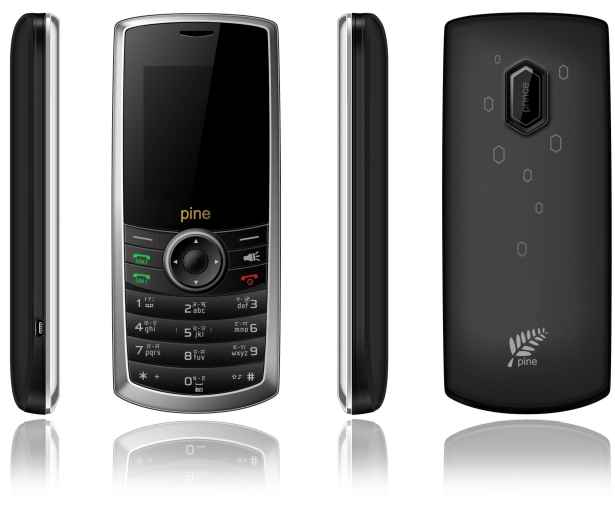 The ring-structured dial includes the navigation controls and the centre select button, which is placed right below the LCD screen. The keypad layout includes 7 strips of keys arranged in 7 successive rows, where each row is separated from the other by a characteristic narrow ridge. These ridges enable comfortable finger navigation across the keypad layout and support ergonomic typing. Although the keypad incorporates hard-touch keys, it provides consistent tactile feedback and accurate response while typing.
The battery cover is of ordinary build quality and lacks flexibility, which often hurts the fingers while removing it. Removing the battery cover and the battery reveals two GSM SIM slots and a microSD memory slot. The LCD screen ships with a scratch proof sticker, which is a neat plus. On the flip side, the Pine price includes neither an USB cable nor the Bluetooth functionality, which is a major drawback. Further, the lack of integrated camera, leaves a lot to be desired.
Performance
[RELATED_ARTICLE]The Pine prince had no apparent weak points in the signal reception and voice clarity test and yielded decent scores across all the tests in this category. The however loudspeaker tends to distort a lot at volumes higher than 60%, resulting in choppy vocal sounds. The voice clarity dropped considerably under noisy environments across zone 3, while zone 1 and zone 2 remained satisfactory. The loudspeaker audio quality was just average, as it lacked the bass boost and also suffered with choppy sound reproduction at volumes higher than 60%. The bundled earphones came in handy to overcome the obvious shortcomings of the loudspeaker, while delivering good lows and mids sans distortion with volumes up to 75%. The display quality was unimpressive, particularly the legibility under bright sunshine being very ordinary. The video playback revealed grainy particles with mild stuttering at some points, leading to reduced frame rates and choppy sound quality.
Conclusion
The Pine prince is just another dual-SIM budget cellphone, that is rich on basic features and average on performance. The lack of integrated camera and PC connectivity (no USB cable and Bluetooth), remain the major drawbacks. If you are looking for a budget dual-SIM phone sans camera and connectivity, then this one is for you. At a price of Rs. 1,795, there is very little we could bargain for and settle for what it is worth!
Specifications: Dual-SIM (GSM GSM); Display: 1.8-inch TFT, Resolution: 128 x 160, Colours: 65K; Memory: microSD expandable up to 4GB; Battery: 1000mAh, Talk-time: up to 7 hours, Standby-time: up to 240 hours;
| | |
| --- | --- |
| Brand | Pine |
| Model | Prince |
| Features | |
| Physical Specs | |
| Form Factor | Candy Bar |
| 2G Network Bands | GSM 900/1800 |
| 3G Network Bands | NA |
| Screen Resolution | 128 x 160 |
| Screen Size (inches) | 1.8-inches |
| Maximum Screen colours | 65K |
| Touchscreen / Dual Screen (Y/N) | N |
| Battery Rating | 1000mAh |
| Dimensions (L x W x H) in mm | 111 x 47 x 14 |
| Weight | - |
| Expandable Memory Type | microSD |
| Hot Swappable (Y/N) | N |
| Available Colours | Black |
| Other Features | |
| Operating System | Proprietary |
| Charging via USB (Y/N) | Y |
| Hardware Keypad (Regular/QWERTY) | Regular |
| Accelerometer (For auto rotate) | NA |
| Address Book Capacity | 1000 entries |
| No of calls in register | - |
| Talk Time / Standby Time * | Up to 7hrs / Up to 240hrs |
| No of Profiles # / Customisable (Y/N) | 7 / 7(Y) |
| Offline Operability (Y/N) | Y |
| Inbuilt GPS / A-GPS support (Y / N) | N |
| Connectivity | |
| Browsing (GPRS/EDGE/3G) | Y/N/N |
| EDGE max speed | NA |
| 3G max speed | NA |
| Connectivity (WiFi/Bluetooth/IR/USB) | N/N/N/N |
| Bluetooth Version/A2DP support (Y/N) | NA |
| Accessories | |
| Bundled Accessories | Charger, Hands-free headset |
| Size of memory card provided | None |
| Overall Build Quality (So 10) | 6.5 |
| Overall Ergonomics (So 10) | 7 |
| Keypad Design (So 10) | 7 |
| Camera Specs | |
| Camera Resolution (Mega Pixels) | NA |
| Video Capture Resolution | NA |
| Dual Cameras / Auto Focus / Flash (Y/N) | NA |
| Mirror for self portrait (Y / N) | NA |
| Camera Settings (So 10) | NA |
| Zoom (Optical/Digital) | NA |
| Multimedia | |
| Music Formats supported | MP3/MIDI/AMR/WAV |
| Video formats supported | MP4/3GP/AV |
| FM Radio (Y/N) | Y |
| Performance | |
| Signal Reception and Voice Clarity (So 10) | |
| Zone 1 | 7 |
| Zone 2 | 6.5 |
| Zone 3 | 5.5 |
| Device Earpiece Volume | 7 |
| Device Loudspeaker clarity | 6 |
| Handsfree Clarity | 7 |
| Speaker Volume (on call) | 7 |
| Bluetooth Transfer Speed (MB/s) | NA |
| WiFi signal strength (Zone 2) | NA |
| Captured Photo Quality (So 10) | |
| Captured Photo Colour | NA |
| Captured Photo Crispness | NA |
| Captured Video Quality | NA |
| Loudspeaker Audio Quality | 6 |
| Bundled Earphones Quality | 7 |
| Display | |
| Quality of display | 6 |
| Viewing angle of display | 6 |
| Legibility in bright sunlight | 5 |
| Video Playback Quality (So 10) | 6 |
| Price (MRP, Rs) | Rs. 1,795 |
| | |
| * Manufacturer Rated | |
Ratings
Features: 5.5
Performance: 6
Build Quality: 6.5
Value for money: 6
Overall: 6
Contacts: Pine Mobiles Pvt. Ltd.
Phone: 91-11-46252222
E-mail: support@pinemobiles.com
Website: www.pinemobiles.com
Price: Rs. 1,795