MTS Alive aka Micromax E390 - Alive and kicking detailed review
This phone came as a surprise to us. The first look made us believe that its going to be like any other budget touch screen phone with a choppy interface and a tough to handle resistive display, but Micromax came through for MTS by bringing out a rather good quality phone that is not at all uncomfortable to use with regards to its touch interface. However it does have its kinks like the lack of a hardware volume up and down button and no physical call receive/end buttons. So if by any matter of chance your touch screen fails to respond you will not be able to receive or end calls at all. That could be a potential problem.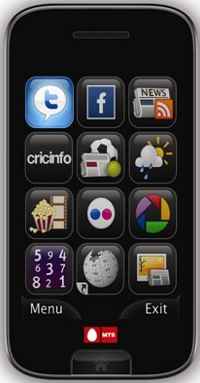 [RELATED_ARTICLE]Besides that the overall build quality of the phone was slightly above average. Everything fits nicely on the device including the stylus that comes with it. It has a nice little slot on the lower right corner just under the back cover and fits tightly. Even the back cover once placed does not creak. It has two physical buttons. One is the 0home key and the other is the power/standby key which turns the display on/off to conserve battery.The sound quality over the phone was very unsatisfactory, inside a building the voice kept cracking and the call kept getting interrupted, once outside the sound was clear but on the other side the person could hear a lot of distortion. Even the loudspeaker wasn't all that impressive in noisy conditions - it wasn't audible and had a lot of distortion in it. Also it's important to notice the front bezel of the phone has really sharp edges and the ear piece has been placed in such a way that the edges dig into the ear and can be very uncomfortable, even painful if used for too long. The earphones aren't of much help either, they muffle the sound as if a thick cloth were blocking all the sound. Also while listening to music it messes up a lot of sounds, 30 seconds into listening to a song I ended up with a headache. They should really improve upon the quality of earphones that they ship with these devices as they can cause serious harm to the user.
Read on to know more about the phone's performance and our verdict...
[RELATED_ARTICLE]The OS is built around a Java based proprietary design which has one home screen with no customization options and has 3 menu screens with different applications. Thanks to a better quality resistive touch display and a better designed UI it was pretty easy to navigate through the various options and menus. So actions like changing the volume in the music payer or scrolling down a lot of contacts or messages was easy even without the use of a stylus.
It comes with a basic 1.3MP camera which provides a more or less average quality of photographs, even the video recorder is just ok and it records at a resolution of 320 x 240 pixels. What's to be noticed is that there is no judder or lag while recording so that's a good thing. The camera interface is pretty informative and it offers a lot of custom settings for the still camera with options like continuous shooting, different scene settings, delay time etc. The phone also comes bundles with a lot of useful applications like a world clock, memo pad, voice mail service, and for networking and chatting it comes with Nimbuzz and Snaptu also pre installed.
It has about 40 mb of internal memory and the option of expanding it using a micro SD card. What's good is that you can transfer any mp3 file to the phone and use that as a ringtone, so you are no longer stuck with the old polyphonic ringtones. That adds a bit of personalization to the phone.
Conclusion
Overall the phone has good quality components but its failings were its audio quality and ergonomics. A slight improvement on those and we would be able to justify its Rs, 6,999 price tag which seems to be pretty steep for a phone with such a small display. Other companies like Samsung and even Nokia offer much better quality phones for lesser price.
Specifications : 2.8 inch resistive display, 1000mAh lithium ion battery, 1.3MP camera with video recording, CDMA handset.
| | |
| --- | --- |
| Brand | MTS/micromax |
| Model | Alive/ E390 |
| Features | |
| Physical Specs | |
| Form Factor | Bar |
| 2G Network Bands | CDMA 800 MHz |
| 3G Network Bands | |
| Screen Resolution | 240 x 400 |
| Screen Size (in inches) | 2.8 inches |
| Maximum Screen colours | 65K |
| Touchscreen / Dual Screen (Y/N) | Y/N |
| Battery Rating | Lithium Ion 1000 mAh |
| Dimensions (L x W x H) (in mm) | 98.1 x 50.5 x 15.3 |
| Weight (in grams) | 84 Grams |
| Expandable Memory Type | Micro SD |
| Hot Swappable (Y/N) | N |
| Available Colours | Black |
| Other Features | |
| Operating System | Proprietary |
| Charging via USB (Y/N) | Yes |
| Hardware Keypad (Regular/QWERTY) | No |
| Accelerometer (For auto rotate) | No |
| Address Book Capacity | 2000 |
| No of calls in register | 20 |
| Talk Time / Standby Time * (hrs, min) | 220 Hours / 330 hours |
| No of Profiles / Customisable (Y/N) | 5 and 1 |
| Offline Opearability (Y/N) | Y |
| Inbuilt GPS / A-GPS support (Y / N) | N |
| Connectivity | |
| Browsing (GPRS/EDGE/3G) | GPRS/N/N |
| EDGE max speed | N/A |
| 3G max speed | N/A |
| Connectivity (WiFi/Bluetooth/IR/USB) | N/N/N/N |
| Bluetooth Version/A2DP support | 2.1/N |
| Accessories | |
| Bundled Accessories | Handset, Battery, Charger, Earphone, USB Cable, User Manual, Warranty Card |
| Size of memory card provided | N/A |
| Overall Build Quality (So 10) | 7 |
| Overall Ergonomics (So 10) | 6 |
| Keypad Design, ergonomics, usability (So 10) | 5 |
| Camera Specs | |
| Camera Resolution (Mega Pixels) | 1.3 Mp |
| Video Capture Resolution | 320 x 240 |
| Dual Cameras / Auto Focus / Flash (Y/N) | N/N/N |
| Mirror for self portrait (Y / N) | N |
| Camera Settings (So 10) | 4 |
| Zoom (Optical/Digital) | N/N |
| Multimedia | |
| Music Formats supported | MP3, Polyphonic, MIDI |
| Video formats supported | 3gp |
| FM Radio / RDS (Y/N) | No |
| Performance | |
| Signal Reception and Voice Clarity (So 10) | |
| Zone 1 | 4 |
| Zone 2 | 5 |
| Device Earpiece Volume (on call) | 5 |
| Device Loudspeaker clarity (on call) | 4 |
| Handsfree Clarity (on call) | 4 |
| Loudspeaker Volume (on call) | 5 |
| Bluetooth Transfer Speed (in kbps) | 116 |
| WiFi signal strength (Zone 2) (%) | N/A |
| Captured Photo Quality (So 10) | 5 |
| Captured Photo Colour | 5 |
| Captured Photo Crispness | 6 |
| Captured Video Quality | 5 |
| Effectiveness of integrated flash | N/a |
| Loudspeaker Audio Quality | 6 |
| Bundled Earphones Quality | 4 |
| Display | |
| Quality of display | 6 |
| Viewing angle of display | 7 |
| Legibility in bright sunlight | 7 |
| Video Playback Quality (So 10) | 6 |
| Price (MRP, Rs) | Rs. 6999 |
| | |
| * Manufacturer Rated | |
Rating
Features: 6
Performance: 5
Build: 6
Value: 5
Overall: 5
Contact: Micromax informatics Ltd.,
Phone No.: 011-45082591/92
E-mail: Info@micromaxinfo.com
Website: www.micromaxinfo.com
Price: 6,999