Motorola Moto G (3rd gen) detailed review
Before I get on with this review, I must notify the reader that I've been a huge Motorola fan for ages now. One of my first phones was a Moto Flip while I also drooled incessantly over the Moto Razr. Up until very recently, my daily driver was a Moto X (1st Gen), and I still believe that the form factor of that device hasn't been beaten since.
With that said, you would know what it means, when I say that Motorola's argument about providing "customer experience" is fast failing. When the first Moto G was launched, it was the best performer in its segment. What presumably happened was that Motorola cut costs to a level that it was comfortable with, hence providing the best performer at a low price point. It would have worked, but for a certain Xiaomi, and then others, cut them further, selling similar phones at 30% lesser price. Now, the age old veteran is in a quandary. On the one hand, it can't, or at least, doesn't want to cut its margins further, while on the other, it needs to deal with the price sensitive market that India offers.
Hence, the company cooked up a marketing term — customer experience. Motorola says customer experience is more important than benchmarks and octa-core processors, and we completely agree. In fact, we agree so much that we went ahead and didn't use any benchmarks for this Moto G (3rd Gen) review. We did run them, but they played no part in the review. So, here goes nothing!
Build and Design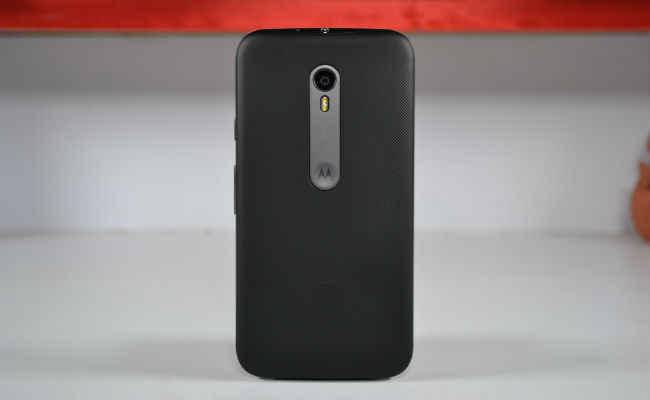 If the Moto G (1st Gen) had its merits in performance, the Moto G (3rd Gen) is all about build and design. Giving credit where it's due, while this may not be the best looking phone, it's a very functional design. Also, it's not easy to make a phone that is heavier and thicker than its predecessor, feel lighter and thinner. Motorola has done this. How? For one, while the older Moto Gs had fully curved backs, this one has a flattened back, with curves towards the edges. As a result, the phone sits at the bottom of your palm, making it feel thinner than it actually is. Of course, it helps that the Moto G (3rd Gen) is only 0.6 mm thicker than the earlier version. It is also only six grams heavier.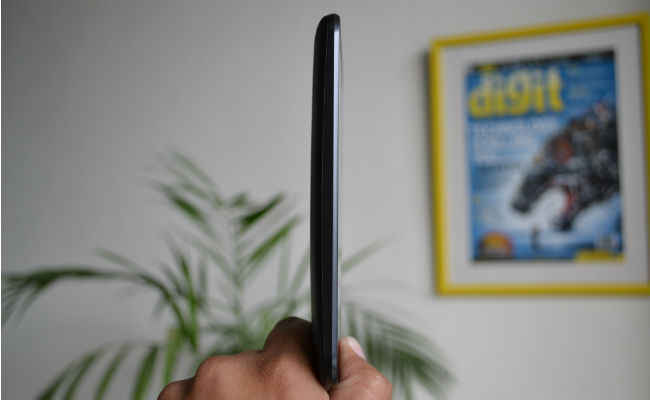 Here's the thing though, while the Asus Zenfone 2 may not have as functional a build, can anyone deny that it feels more premium? Even better, the Xiaomi Mi 4i is thinner, lighter and smaller, and may look more premium to many. Of course, premiumness and looks depends on personal preference, but at the very least there's not much separating the Moto G from the Xiaomi Mi 4i in terms of build quality and looks.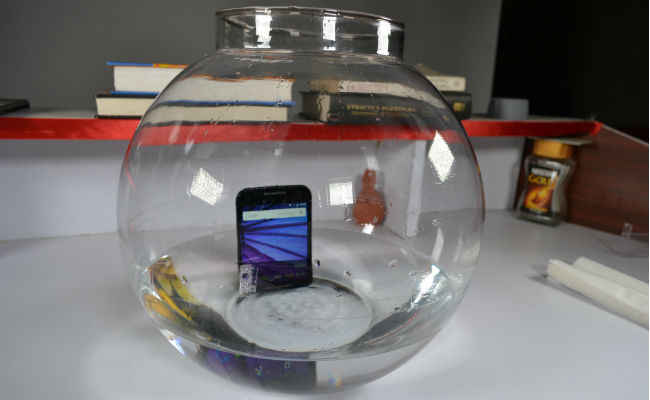 What makes this phone all about the build though is its water resistance. Motorola has had a nano-coating on its phones for some time now, but it's flaunting the IPX7 resistance this time. What this means is that the phone can withstand three feet of water for 30 minutes. While we've often ignored the water-proofing that Sony offers on its phones, it makes a much bigger difference on a sub-15k smartphone. More importantly, it actually works, and here's the proof.
To clarify, the X here means that the phone hasn't been tested for dust resistance. Note that it may still be dust resistant, but hasn't be tested for the same.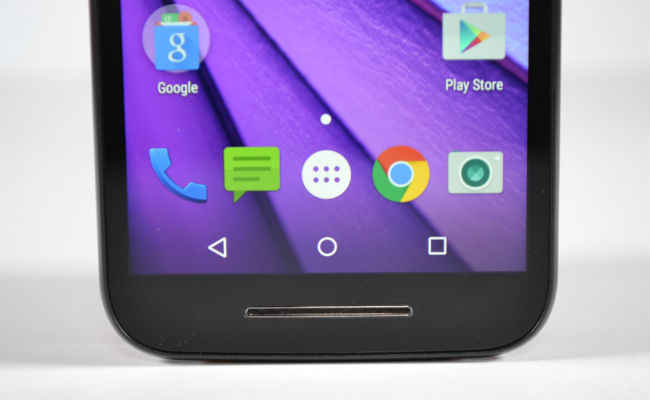 Display and UI
Now this is where Motorola's claims of customer experience start falling apart. First, let's try and define customer experience — it's about how you feel when you're using a device, whether you have to face issues, and whether your phone feels premium or not. Right? Motorola wants us to overlook the 1080p resolution on competitors like the Asus Zenfone 2 and the Xiaomi Mi 4i, but is that really fair? While on the one hand, a 720p HD display on a 5 inch panel is not bad, it just doesn't belong in this generation.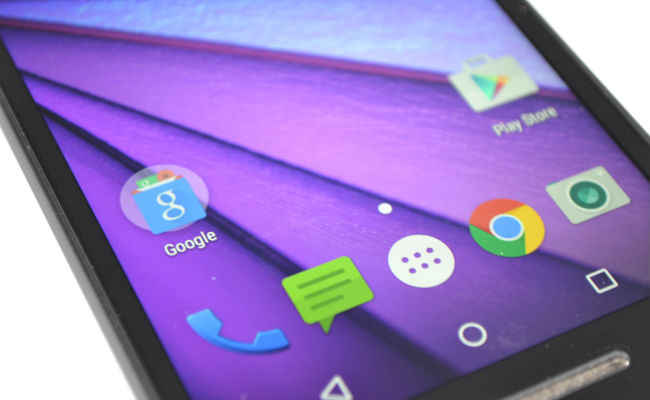 Moreover, half the user experience on the Xiaomi Mi 4i is covered by its screen and design. The display on that phone is bright, colourful, and rich. Placing them side by side, it's pretty easy to discern the difference between the Moto G (3rd Gen), and the Xiaomi Mi 4i. Even individually, the Mi 4i just feels so much more premium, as does the Asus Zenfone 2's display. If that wasn't enough, there are phones like the Yu Yureka Plus and Lenovo K3 Note, which have better displays at a lower price point.
What Motorola is essentially telling you is that while the Moto G's display is adequate, and you should choose this over competitors, even though they're better.
Performance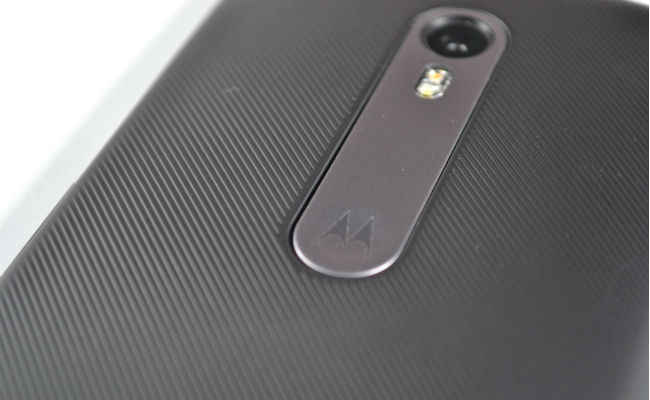 That last bit continues in the performance part. You would have read a lot of reviews by now that tell you how specs are over-rated today. Well, indeed they are. But here's the thing, if a competitor can provide better specifications at the same or lesser price, while also achieving better performance, then you're simply not living up to your promise of customer experience. Period.
I promised no benchmarks on this one, and that's what it's going to be. Motorola's saving grace here is that the Snapdragon 615 is no great shakes, but unfortunately, the Intel Z series processor on the Asus Zenfone 2 is, there's also the formidable MediaTek MT6752 SoC. We're talking real world performance here, not numbers. Motorola's argument seems to be that the Snapdragon 410 is all the power you need, while everything else is just specs.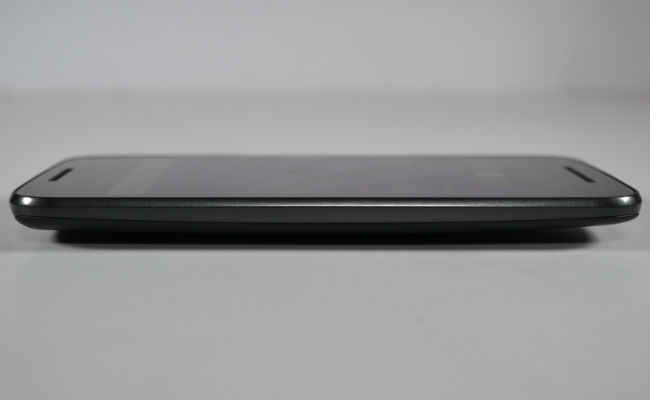 Is all the work companies like Qualcomm, MediaTek. and Intel are putting into their processors fruitless then? Or should you simply settle for 'just fine' when you can get better? The fact is, the Asus Zenfone 2 doesn't show the lags that high end games do on the Moto G (3rd Gen). I can't just ignore the fact that Injustice: Gods Among Us lags on this phone, or that Marvel: Contest of Champions shows jitters while running. You can play Subway Surfers though, enjoy!
Yes, the lags on the Moto G aren't exceptionally detrimental to using the phone, but they're there, there's no denying that. Hence, even if we don't take benchmarks, the 'customer experience' isn't exactly the same, let alone better.
It's actually funny how many reviewers didn't find lag on this device. It's most likely because their review devices never saw a SIM being inserted into them, or more than a few apps being downloaded, or maybe, they just forgot to mention them. When using it as your daily driver, while the Moto G (3rd Gen) does the job, it doesn't do it as well as its competitors. Once again, if you want the 'just fine' customer experience that Motorola is providing, then go for the Moto G. The fact is, it's competitors can do just fine and then some.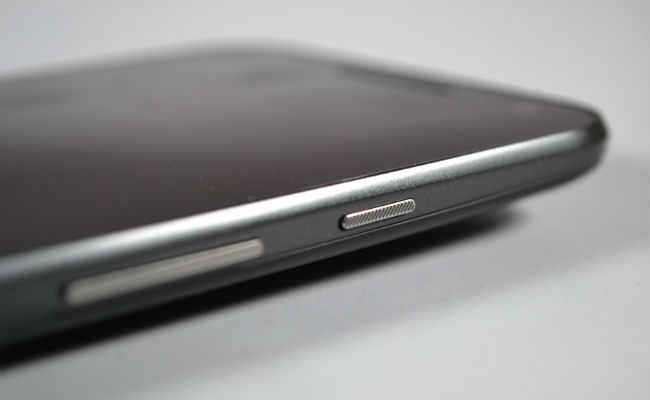 'Yes, specs don't matter, experience does, and experience depends on performance. Whether you can deliver the performance from 2 cores or 10, the customer is surely looking for performance. Apple needs just 2 cores to deliver better performance than phones with 8 or 10 cores. But, can we say the same about Motorola? Nah! Customer experience is all about good performance and that's where Motorola does sort of drop the ball, once you go past the pure Android experience and start filling up the device with apps and games that you'd really want to enjoy on the device, the performance starts to take a dip, in comparison to similar phones in terms of price range. And, so does the 'Customer Experience'. In fact, the first gen Moto X made some headway in this direction, using a dual-core SoC, but delivering performance at par with its competitors, the same can't be said here.
Camera
Moving on, it's funny how a company that shuns the specs race, still chose to mention that the new Moto G has a "13MP rear camera with the same sensor as the Nexus 6." Like its predecessors, the camera on the third generation Moto G is better than its previous models, but doesn't compare to competition. Perhaps the only situation where this camera can give you respectable images is in bright sunlight, that is, the optimal conditions for imaging.
Moto G (3rd Gen)
Not only is the Moto G (3rd Gen)'s camera sub-par, it's quite slow. Images taken lack colour depth, and are dull. The stock Android UI means that you will have few options in terms of what you can do with the camera as well. By default, you can just touch to shoot, but you can also change it to the touch-to-focus mode.
Battery
Perhaps the only area where the new Moto G is really strong is its battery. On a regular day's usage, with quite a few calls, the phone breezes through easily. While gaming, the Moto G (3rd Gen) drops about 7% battery in half an hour. Even with the screen turned to full brightness, the Moto G can easily last a full day, and I didn't have to do much to get it to last longer either. For practical purposes, you'll realise that if you charge the Moto G (3rd Gen) before leaving from home, you can easily get through your work day and more. By about 11pm, the phone was usually on 30-40% charge.
Bottomline
So that's it, the rant of a disgruntled Motorola fan. I can not, will not, deny that the Moto G (3rd Gen) is a decent smartphone, but I wouldn't be caught dead buying it, simply because there are better phones out there. Both Asus and Xiaomi offer doorstep service as well, just like Motorola, and they have said almost the exact same things that Motorola does about customer service. What I fail to understand is what's different now. Perhaps the only thing Motorola can actually boast is the fact that it has more service centers that Xiaomi, but the market has proved time and again that this is becoming less important every day.
So, while buying a Moto G wouldn't be a bad idea, it wouldn't be the best value for your money either. You would make a better buy with both the Xiaomi Mi 4i and Asus Zenfone 2, or if you want to save some money, the Lenovo K3 Note and Yu Yureka Plus are also better options. Oh, and in case you're planning to buy the 8GB version, don't.
Lastly...
After all that, if you're still looking for the benchmarks, here they are.
Motorola Moto G (3rd gen) Key Specs, Price and Launch Date
| | |
| --- | --- |
| Expected Price: | |
| Release Date: | 15 May 2017 |
| Variant: | 8GB |
| Market Status: | Discontinued |
Key Specs
Screen Size

5" (720 x 1280)

Camera

13 | N/A MP

Memory

8 GB/1 GB

Battery

2470 mAh