Intex in2020 Vision - Budget dual SIM phone for the visually impaired detailed review
Intex in2020 Vision is a low cost dual SIM phone with very basic feature set. It is specially designed for the visually impaired, wherein the text to speech application reads aloud the dialled numbers on the phone. It comes with a Braille keypad with large number keys and an emergency SOS key, which are its main USPs. It can also be used by anyone to whom the large key form factor appeals. Let us find out how good is its performance and if it is truly worth buying later in the review.
Look and Feel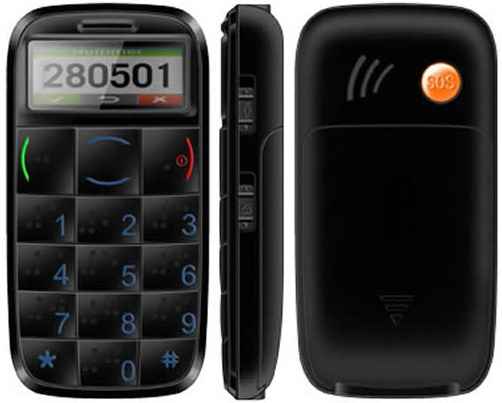 On first glance, one might be forgiven for mistaking the Intex in2020 Vision for an arithmetic calculator. But, if you look closely you will realize it is a phone with a monochrome display. It is well built with harder than normal plastic, which gives it a solid feel. In spite of the solid build, its lightweight design makes it comfortable in the hands. Its front and rear panels come with a matte black finish, making the phone immune to scratches and smudges. However, the glossy display sans sticker makes it vulnerable to fingerprints. The Braille keypad with large dot-pattern keys aids the visually impaired people to identify the keys by touch. However, the keys lack good tactile feedback and responsiveness.
Features
[RELATED_ARTICLE]The in2020 Vision comes with a very basic yet useful feature set. The key features include the specially designed Braille keypad with large dot-pattern keys, which aid the visually impaired. The preloaded text to speech application further enhances the usability factor by reading aloud the dialled numbers on the phone to the user. Also, the one touch SOS key on the rear panel serves as a panic button for people in trouble by enabling them to send emergency messages to up to four predesignated numbers. In addition, the 3.5mm audio jack is a neat plus on such a basic phone. The hardware switches for torch, FM and keypad lock enhance usability and ergonomics. Meanwhile, the volume rocker button is a nice value add for such a basic phone.
Read on to know the performance, our take, specifications, ratings and test results on the next page...
Performance
[RELATED_ARTICLE]Being a very basic cellphone, it did surprise us by delivering loud and clear calls across all test locations. However, one major sore point in the call test is the mediocre loudspeaker audio quality even at medium volume levels. The music playback test yielded mixed results with the handsfree headset and loudspeaker, wherein the former delivered satisfactory audio quality while the latter sounded tinny even at medium volume levels. We were disappointed with the monochrome display, as there was no way we could test video playback or view images on it. The display font rendition looked dull and unimpressive, while it also lacked crispness.
Our Take
The in2020 Vision is a very basic dual SIM phone specially designed for the visually impaired. It is aimed at the low budget consumer, who wants a good phone to make calls. The Braille keypad with large fonts, the emergency SOS key and the text reader app are its other desirable traits. Overall, its average performance and lack of a camera might be forgiven, since its positive traits far outweigh the negatives. Owing to its credible selling points, the in2020 Vision makes a good buy at Rs. 2,850.

Specifications: SIM(GSM GSM); Display: 1.6-inch Monochrome screen; Battery: 800 mAh, Talk-time: up to 3 hours, Standby-time: up to 460 hours; Weight: 82grams; Memory: microSD, expandable up to 2GB;
Ratings
Features: 6
Performance: 5.5
Build Quality: 6
Value for money: 6.5
Overall: 6
Price: Rs. 2,850
Test Scores Log Sheet

| | |
| --- | --- |
| Brand | Intex |
| Model | in2020 VISION |
| Price (MRP, Rs) | Rs. 2,850 |
| Features | |
| Physical Specs | |
| Form Factor | Candy Bar |
| 2G Network Bands (MHz) | GSM 900/1800 |
| 3G Network Bands | N/A |
| Screen Resolution | N/A |
| Screen Size (inches) | 1.6-inches |
| Maximum Screen colours | Black and white |
| Touchscreen / Dual Screen (Y/N) | N |
| Battery Rating | 800mAh |
| Dimensions (L x W x H) | 104x49x15 |
| Weight | 82 grams |
| Expandable Memory Type | microSD |
| Hot Swappable (Y/N) | N |
| Available Colours | Black |
| Other Features | |
| Operating System | Proprietary |
| Charging via USB (Y/N) | N |
| Hardware Keypad (Regular/QWERTY) | Regular |
| Accelerometer (For auto rotate) (Y/N) | N |
| Address Book Capacity | 1000 |
| No of calls in register | 20 dialed, 20 missed, 20 received |
| Talk Time / Standby Time * | up to 3 hours / up to 460 hours |
| No of Profiles # / Customisable (Y/N) | 5/Y |
| Offline Operability (Y/N) | N |
| Inbuilt GPS / A-GPS support (Y / N) | N |
| Connectivity | |
| Browsing (GPRS/EDGE/3G) | N/N/N |
| EDGE max speed | N/A |
| 3G max speed | N/A |
| Connectivity (WiFi/Bluetooth/IR/USB) | N/N/N/N |
| Bluetooth Version/A2DP support (Y/N) | N/A |
| Camera Specs | |
| Camera Resolution (Mega Pixels) | N/A |
| Video Capture Resolution | N/A |
| Dual Cameras / Auto Focus / Flash (Y/N) | N/A |
| Mirror for self portrait (Y / N) | N/A |
| Camera Settings (So 10) | N/A |
| Zoom (Optical/Digital) | N/A |
| Multimedia | |
| Music Formats supported | MP3 |
| Video formats supported | None |
| FM Radio (Y/N) | Y |
| Accessories | |
| Bundled Accessories | Charger, headphones |
| Size of memory card provided | None |
| Build and Ergonomics (So 10) | |
| Surface materials used | 6 |
| Overall build and in-hand feel | 6.5 |
| Quality of moving parts | 6 |
| Design and ergonomics | 5 |
| Keypad design (on-screen or hardware) | 5.5 |
| Menu and interface | 6 |
| Settings and ease of navigating menus | 7 |
| Camera menu options | N/A |
| Performance | |
| Signal Reception and Voice Clarity (So 10) | |
| Zone 1 | 7 |
| Zone 2 | 6 |
| Zone 3 | 5 |
| Handsfree Clarity | 6 |
| Loudspeaker Clarity | 5 |
| Earpiece Clarity | 7 |
| Handsfree Volume | 6.5 |
| Loudspeaker Volume | 5.5 |
| Earpiece Volume | 7 |
| Bluetooth test (in kbps) | N/A |
| Imaging and multimedia tests | |
| Captured Photo Colour | N/A |
| Captured Photo Crispness | N/A |
| Captured Photo Detail | N/A |
| Captured Video Quality | N/A |
| Effectiveness of integrated flash | N/A |
| Music Quality (loudspeaker) | 5 |
| Music Quality (handsfree) | 6.5 |
| Volume levels (loudspeaker) | 5.5 |
| Volume levels (handsfree) | 6.5 |
| Display (So 10) | |
| Crispness | 5 |
| Colour | N/A |
| Font rendition | 6 |
| Legibility in bright sunlight | 4 |
| Video playback | N/A |
| | |
| * Manufacturer Rated | |
Contact: Intex Technologies (INDIA) Ltd.
Phone: 1800 10 38822
E-mail: info@intextechnologies.com
Website: www.intextechnologies.com/