Intex Cloud FX detailed review
Claiming to be the most affordable smartphone available in the market, the Intex Cloud FX runs on the newly announced Firefox OS for mobiles. Now you don't get your Snapdragons or 13MP cameras, but a feature rich handset for a very low price. But can it replace your regular Android or Windows Phone smartphone? Let's check it out...
SPECIFICATIONS
-Display: 3.5 inches with 480x320 resolution (164 ppi)
-Battery: 1250mAh
-Storage: 46MB, 4GB expandable
-Camera: 2MP rear
-SoC: Spreadtrum SC6821
-CPU: 1GHz
-RAM: 128MB
-Operating system: Firefox OS
-Connectivity: Wi-Fi, Bluetooth, Dual-SIM
BUILD AND DESIGN
The handset has a bit of a nostalgia going for it as it takes you back to smartphones from the year 2008. The build quality does seem unimpressive but when you think about the price tag, it is actually worth it. You get a 3.5-inch display with a 480x320 pixel resolution which is bright but viewing angles go for a toss as there is massive colour shift when it's viewed from different angles. The touchscreen response is decent however it gives a plastic feel and there is a gap between the LCD panel and the top glass which means that it doesn't feel very smooth. There is a single capacitive button below the display and the earpiece above it.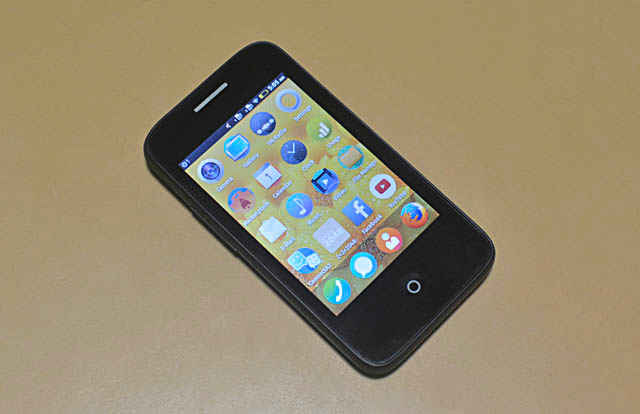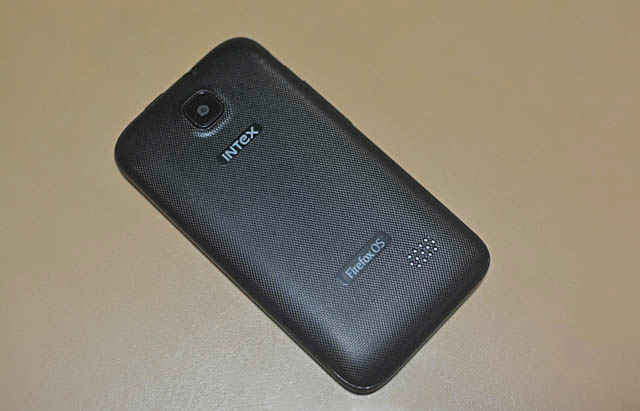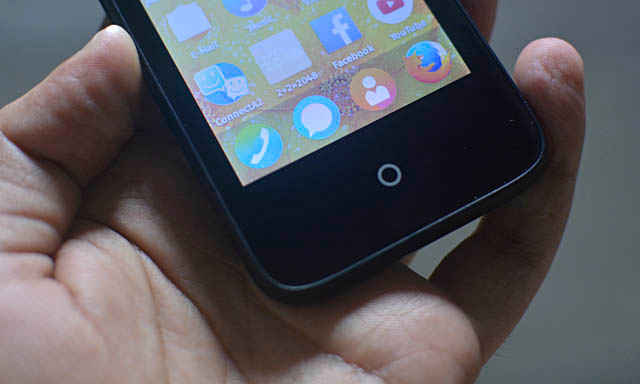 The top has the power/lock button and the 3.5mm audio jack, the left side has the microUSB port and the volume rocker keys. The back panel is removable and has a textured finish and you will also find the 2MP camera along with some Intex and Firefox branding and the loudspeaker. Removing the back panel reveals the battery under which there are two SIM card slots and a microSD card slot. The Cloud FX comes with standard features that you would expect from a smartphone, but one thing that really pinched us was the lack of 3G. With the adoption of 3G on the rise it has become a very important feature in any mobile phone.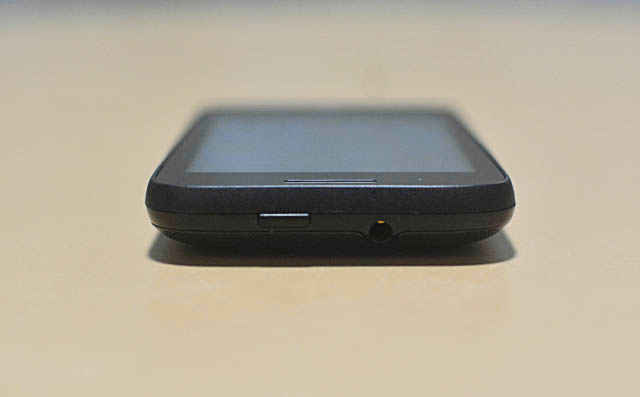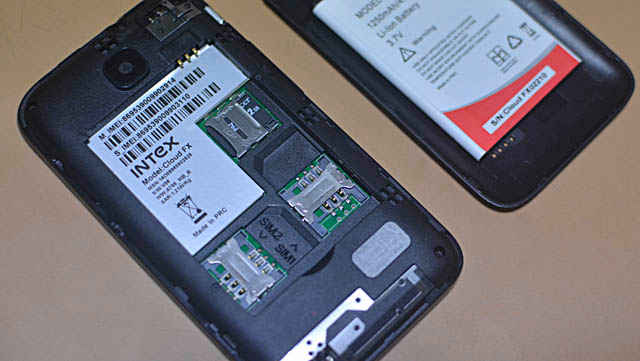 The overall design and feel of the Cloud FX is pretty average and the plastics used are obviously of low quality. However, most handsets in the price segment of Rs. 2,000 offer a similar or even lower quality of build. For someone looking for very basic handset, this is actually a well built device, and on top of that you get a capacitive touchscreen.
OS, UI AND PERFORMANCE
The new mobile OS from Mozilla has been tailored for devices with low hardware specs when compared to Android or Windows Phone. It feels like a mixture of Android and iOS so it wont take you long to understand the whole UI. You get homscreens carrying all your app icons along with a dock at the bottom. The top status bar includes your time, battery, network, sound and notification icons and swiping down reveals the notification bar which also includes some toggles for quick access to your settings.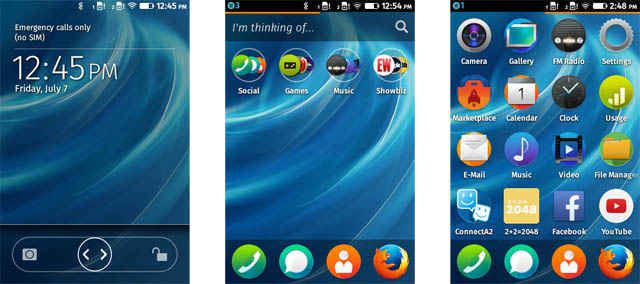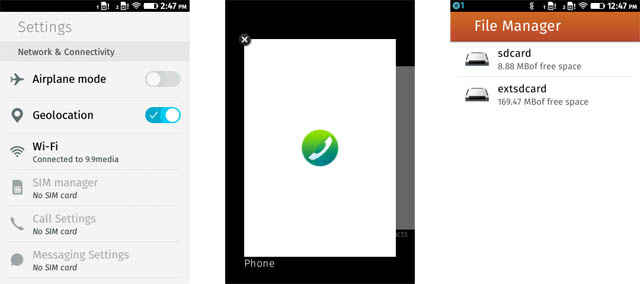 The first homescreen gives you a search bar and some folders which organize your apps according to categories like Social, Music, Games, etc. The lockscreen offers a slide to unlock feature and swiping to the left opens the camera.
Long pressing the home key opens the multitasking option which looks like something on iOS with large cards, although most of them appear blank. You can close individual apps by hitting the cross on top of each card.
Apps are all HTML5 based thus making them smaller in size and easy to download. There is an app store called Marketplace where you can find apps to download. The numbers are limited but Mozilla claims that it will be stocking up all relevant and popular apps in the coming months. There is Facebook and YouTube which work well and an app called ConnectA2 which helps in connecting to Whatsapp. One major issue is the really low internal memory so to use the camera or to store media you will need a microSD card.
The OS is not very refined and definitely needs improvement. Obviously, better hardware will provide you with a better experience. For more on the OS read our expansive coverage of Firefox OS over here.
CAMERA
The Intex Cloud FX comes with a 2MP camera which feels ancient in terms of picture quality. There is no autofocus or flash, thus pictures are mostly blurry and dark. Even in bright daylight the quality is really bad, and one would probably use it out of desperation.
The camera app doesn't offer any settings as such but you can post process your pictures and add a bit of effects or play with the exposure. Other than that you also get a geo-location option which helps in tagging the location where you took the picture.
CONCLUSION
If you are looking for a good smartphone experience, then the Cloud FX is not for you. The new Firefox OS needs improvement and we think that it will run much better on a smartphone that offers a better set of specifications. The smartphone is perfect for someone who just wants a basic phone with some added features. The smartphone is definitely a no no for someone who is looking for a budget smartphone. A way better option would be to go for any of the Nokia Asha handsets which offer a better UI experience and a relatively large selection of apps.