Huawei Ideos X2 - Basic smartphone, still stuck on Android 2.1 detailed review
A lot of major phone manufacturers are banking heavily on budget Android smartphones, around the Rs 10k price bracket. Samsung launched a few phones around that price earlier this year. HTC slashed the prices of the Wildfire. LG's Optimus One slowly slid down to around Rs 10k. Dell's XCD35 is also available for similar money, if someone is interested. Now, Huawei Ideos X2 decides to land straight in the middle of this pack, just as they were squaring up for battle!
Look and feel
The Ideos X2 does look very good, and feels pretty solid, even though it is plastic all around. A combination of black colour with a touch of chrome lends it a pretty classy look too. Below the display is a layer of chrome that houses the call connect, disconnect, menu and return keys, and the optical track-pad, if you want to use that. The top panel has the micro USB charging port and the 3.5mm audio jack, while the right side panel has the volume rocker. The rear panel has the camera, and what is really impressive is the slide out mechanism for the battery cover, something that a lot of phones don't have.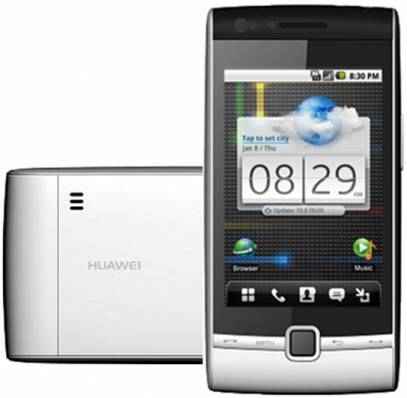 Features
Something which is a pretty big disappointment with the phone is that it is still on Android 2.1 and not been upgraded to 2.2 like most rivals have. Not only will the Ideos X2 owners feel that their phone is inferior in terms of the OS version, but also lacks features like Wi-Fi hotspot and the better battery life which 2.2 offers. Agreed that this phone has a pretty good battery life even now, but the tiny 1150 mAh battery would have done a lot better with Froyo.

Performance
For an Android smartphone phone that is priced below Rs 10k, the Ideos X2 does a pretty decent job. Straightaway, you will notice that the display is pretty good. The 3.2-inch screen is the TFT type, with a resolution of 320x480 pixels. While that is pretty basic specs wise, the quality is quite good. Considering the fact that the Samsung Galaxy Ace and the HTC Wildfire have pretty disappointing displays - washed out colours, completely bereft of crispness and generally dull to look at.
Since this is a 3.2-inch screen, using the on-screen keyboard was always going to be a bit of an issue, at least in portrait mode. The keys in the QWERTY layout are too close to each other, leading to lots of spelling mistakes. However, switch to landscape mode, and the layout is perfect. This is a compromise you will have to live with, if a smaller display (less than a 4-inch one, we mean) is something you want.
Performance wise, the Ideos X2 does pretty well. This one isn't a sluggish phone, even though we had installed a few apps on the phone, and were running some of them simultaneously too. However, if more than a handful of these are open, the UI will see a slight slowdown. However, considering the price this phone is available for, the performance is very good.
It is a case of two halves, as far as call quality is concerned. The volume, on the earpiece and the loudspeaker is good, but the moment it is set beyond about 50%, the clarity sees a steady decline. You may just have to ask the other person to speak a bit louder, rather than punch up the volume on your phone!
Even before we used the camera, we had a sneaky feeling that the performance wasn't going to be very good. And that turned out to be true. While the colour depth is good, the noise is what ruins the images quite a bit. Videos are passable, but the noise along with a distinct lack of fluidity makes for slightly harsh (read jerky) videos.
[RELATED_ARTICLE]Huawei has put a UI skin on Android 2.1 just like how most other smartphone manufacturers do. However, this one isn't in the league of the HTC Sense, even though it is a pretty old version on the Wildfire. But this one is much better than the drab and dreary TouchWiz UI found in the Samsung Galaxy Ace. The screen size limitation on the Ideos means you cannot put too many widgets on one screen.
We were surprised to see a tiny 1150-mAh battery in the phone. However, this one isn't going to be the disappointment we had expected it to be. This lasted a bit more than a day of use, which isn't bad. We say that because that is pretty much the norm these days, and we have come a long way from the 5 day backup offered by the Nokia phones in those days!
Read on to know about our take on the Huawei Ideos X2 and the price...
Also read,
Our Take
At a box price of Rs 8.9k for the Ideos X2, we would advice you to check this out if this is the price bracket you are scouting for phones in. What you get is good build and very stable performance. However, the fact that this is still stick on Android 2.1 is a bit of a dampner. Else, you can also check out the Samsung Galaxy Pop, the HTC Wildfire and the LG Optimus One- all of which are selling between Rs 9k and Rs 11k. If you want an Android phone with a physical QWERTY keypad as well, then the Samsung Galaxy Pro is also a phone you can consider.
Price- Rs 8,990
Specs-
Quad band GSM, 3G, 3.2-inch TFT display, 320x480 pixel resolution, microSD card slot (up to 32GB), 3.15MP camera, Android 2.1
Ratings-
Features: 5.5
Performance: 7
Build: 7.5
Value: 6.5
Overall: 6
Brand

Huawei

Model

Ideos X2

Street Prices (Rs)

Price (MRP, Rs)

8,990

Features

Physical Specs

Form Factor

Bar

2G Network Bands

GSM 850 / 900 / 1800 / 1900

3G Network Bands

HSDPA 900 / 2100

Screen Resolution

320 x 480 pixels

Screen Size (inches)

3.2 inches

Maximum Screen colours

16M

Touchscreen / Dual Screen (Y/N)

Touchscreen

Battery Rating

1150 mAh

Dimensions (L x W x H)

112 x 58 x 12.8 mm

Weight

115 grams

Expandable Memory Type

microSD

RAM (in MB)

256 MB

SoC (CPU, GPU)

N.A.

CPU Clock speed

N.A.

No. of CPU cores

1

Hot Swappable (Y/N)

N

Available Colours

Black, Silver, blue

Other Features

Operating System (Tested with)

Android 2.1

Charging via USB (Y/N)

Y

Hardware Keypad (Regular/QWERTY)

None

Accelerometer (For auto rotate)

Y

Address Book Capacity

Unlimited

No of calls in register

Unlimited

Talk Time / Standby Time (3G) *

4 hrs / 350 hrs

No of Profiles # / Customisable

NA / Y

Offline Opearability (Y/N)

Y

Inbuilt GPS / A-GPS support (Y / N)

Y / Y

Connectivity

Browsing (GPRS/EDGE/3G)

Y / Y / Y

EDGE max speed (in kbps)

237 kbps

3G max speed (in mbps)

7.2 mbps (HSDPA)

Connectivity (WiFi/Bluetooth/IR/USB)

Y / Y / N / Y

Bluetooth Version/A2DP support

2.1 / Y

Camera Specs

Camera Resolution (Mega Pixels)

3.15

Video Capture Resolution

352x288

Auto focus / flash

Y / N

Type of flash

None

Secondary camera for video chat

N

Mirror for self portrait (Y / N)

N

Camera Settings (So 10)

6

Zoom (Optical/Digital)

digital

Multimedia

Music Formats supported

MP3, eAAC , WMA, WAV

Video formats supported

MP4, H.263, H.264, WMV

FM Radio / RDS (Y/N)

Y / Y

Accessories

Bundled Accessories

Charger, data cable, handsfree, wrist-strap

Size of memory card provided

2GB

Build and Ergonomics (So 10)

Surface materials used

7

Overall build and in-hand feel

7

Quality of moving parts

7

Design and ergonomics

7.5

Keypad design (on-screen or hardware)

6

Menu and interface

6.5

Settings and ease of navigating menus

6.5

Camera menu options

6

Performance

Signal Reception and Voice Clarity (So 10)

Zone 1

7

Zone 2

5

Zone 3

4

Handsfree Clarity

6

Loudspeaker Clarity

6

Earpiece Clarity

6.5

Handsfree Volume

7

Loudspeaker Volume

7

Earpiece Volume

7

Bluetooth Transfer Speed (in KBps)

144.1

Imaging and multimedia tests

Captured Photo Colour

7

Captured Photo Crispness

5.5

Captuted Photo Detail

6.5

Captured Video Quality

5.5

Effectiveness of integrated flash

0

Music Quality (loudspeaker)

5

Music Quality (handsfree)

6.5

Volume levels (loudspeaker)

7

Volume levels (handsfree)

7

Display (So 10)

Crispness

7

Colour

7

Contrast

6

Font rendition

6

Legibility in bright sunlight

5.5

Video playback

6

* Manufacturer Rated
Contact: Huawei India
Phone: 044- 43426600
Email: N.A.
Also read,