HTC Desire 501 detailed review
One can't take away the fact that HTC does know how to come up with slick looking smartphones and the recently launched Desire 501 Dual SIM is far from short on that aspect, with dual SIM support and HTC's in house Sense UI, the Taiwanese manufacturer is trying to revive its lost glory despite not hitting the right note somewhere.
Here's a look at the Desire 501 Dual SIM to see whether its worth your money.
Specifications
The Desire 501 Dual SIM runs on Android 4.1 OS along with HTC's in-house Sense 4.0 UI. Under the hood, the smartphone is powered by a 1.2Ghz dual core processor coupled with 1GB of RAM, while on the memory front it provides a solid 8GB internal memory along with 32 GB of expandable memory.
It has a fairly reasonable WVGA super LCD 2 screen with an 800x480 pixels resolution. The screen renders good color balance and decent brightness with fairly good viewing angles.
Besides, the Desire 501 features an 8MP camera with auto focus and LED flash along with a 2.1 MP front camera. In terms of connectivity, its supports Wi-Fi, NFC, Bluetooth 4.0 along with micro USB connectivity. It has dual SIM support with Slot 1 being 3G compatible.
Design
Hands down - the Desire 501 Dual is one hell of a looker, with beveled edges and a slightly elevated screen giving it a chiseled refined look. Our review unit came with a blue back panel. Its available in two more colors – cream and white. Whichever color you go for, the smartphone is slimmer and looks much more niche than pretty much any other domestic manufacturers out there.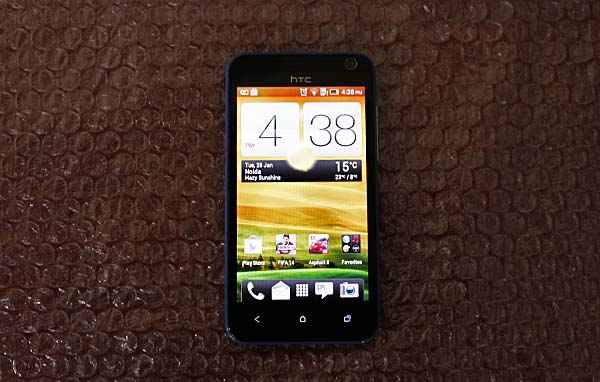 The phone features three capacitive buttons unlike the Desire 601 which has only two. There are two speakers, one in front on the top while one is housed at the bottom of the back panel. Both have the trademark HTC's beats audio technology which renders excellent sound quality.
The rounded edges provide a good grip and the phone feels comfortable in the hand. The front of the phone features the 2.1MP camera with a chrome ring circling around it. The back panel houses an 8 MP camera with LED Flash and auto focus which is a bit of a surprise as its end high end counterpart the Desire 601 Dual SIM has a 5MP camera only. The edges feature the volume rockers, while the top edge has the power/lock button along with the 3.5 mm audio jack. The bottom edge houses the USB port for charging and data transfer.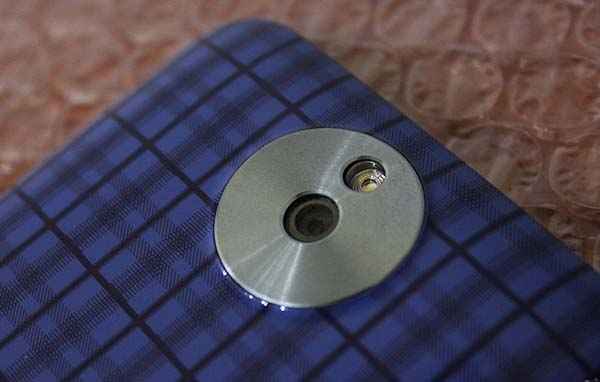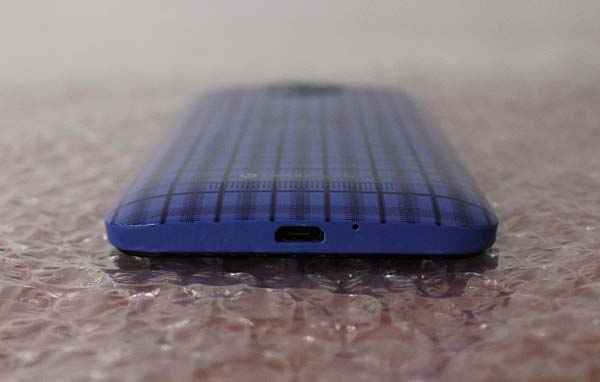 The back panel has a soft glossy plastic finish which feels good to touch even it can be quite slippery at times, especially under humid conditions. Removing the back panel reveals two micro SIM slots, a microSD slot accompanied by the 2100mAh battery.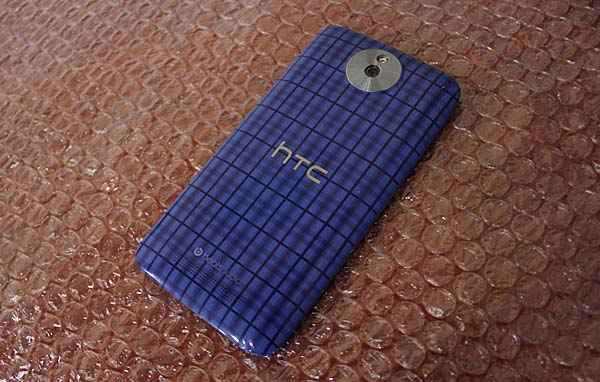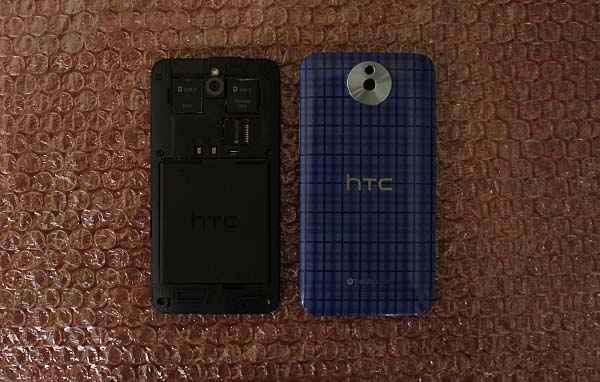 On a whole, you won't be disappointed when it comes to the design aspects; slim and stylish. Its design might easily give other budget smartphones out there an inferiority complex. In terms of dimensions, the Desire 501 Dual SIM is 9.8mm thick and weighs a moderate 130 grams despite having a bulky 2100mAh battery.
Display, OS and Performance
The Desire 501 offers a fairly reasonable display that renders decent colors and brightness. Visibility in normal lighting (even at minimum brightness) is pretty good. It features a display resolution similar to the one we saw in HTC Desire 500 that amounts to a pixel density of 217 ppi, which should suffice for general usage considering the larger screen size. However, while playing HD videos, there were noticeable lags and stutters appearing on the screen. The overall quality of the display was pretty decent, though the video didn't run as smooth as we expect.
Coming to the OS, the smartphone runs on Android 4.1 Jelly bean with Sense 4.0 on top. The OS accompanied with Sense UI has a nice minimalistic feel to it. However, the UI is not quite responsive as you would expect in an HTC device. There is a slightly delayed response, not something very significant that would be a cause for concern at this point. Same goes with multitasking, the UI does stutter while multitasking.
Coming to benchmark numbers, the Desire 501 scored decent figures in our benchmarking tests. In fact, the benchmark figures posted are almost the same compared with the Desire 700 Dual SIM which costs much more. We have pointed in the past, benchmark numbers are merely an indication of real-time performance. So these numbers are just a reference to measure performance.

Have a look at the benchmark results below.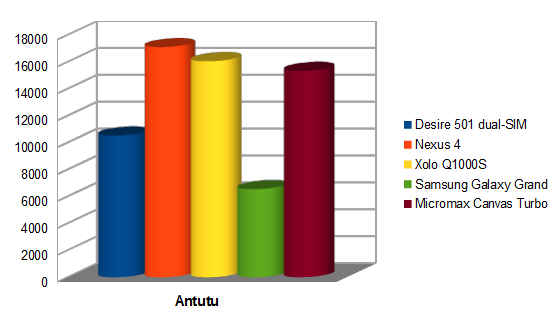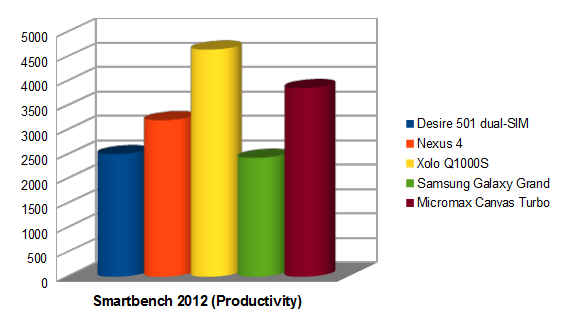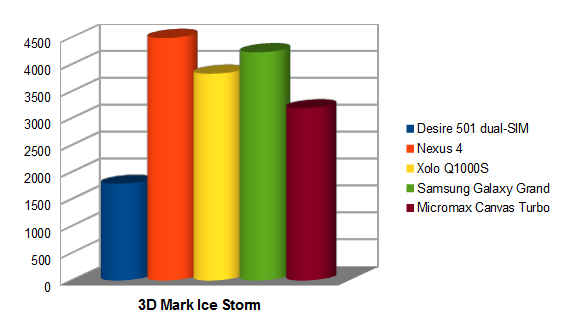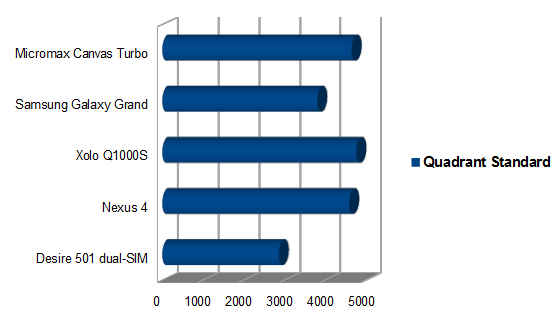 The device performs pretty good when it comes to the usual daily usage. Apps like SoundCloud run pretty well and buffer in no time. Gaming experience was decent with Asphalt 8 running fine, though at highest video settings, it couldn't push the frame rate.
Coming to the battery performance, the Desire 501 Dual SIM packs a 2100mAh battery which can last you at least one day of normal usage. It can run for upto 4 hours while playing an HD video with Wi-Fi connectivity on. Though I personally felt that the phone takes a long time to reach full charge.
Camera
The Desire 501 features an 8 MP rear shooter at the back with a BSI sensor and F2.0 aperture. Surprisingly, the camera is also the same as the one we saw in the higher end HTC Desire 700. The camera can render pretty decent pictures in well lit conditions. But in low lit conditions, the image quality is quite sub standard. The camera has HTC's 'Zoe' feature which can come in quite handy as it captures multiple photos and short videos of your subject.
Video recording is crisp and sharp as 1080p videos shot by the phone appear rather crisp and have a decent frame rate.
The Bottomline
Well, we have an array of options at the same price point, but given the fact that you will have a good looking smartphone that would definitely make heads turn with a fairly decent real world performance, the Desire 501 Dual SIM should be a pretty good deal. It loads apps quickly and has a user friendly UI with a pretty decent camera. You can also consider the Nokia Lumia 625, Motorola Moto G or even the Sony Xperia C.