VERDICT:
The Lenovo Yoga 920 is an improvement over the very capable Yoga 910. Lenovo has done everything by the book here, offering a stellar performance, a good display, reliable battery life and the best in class design.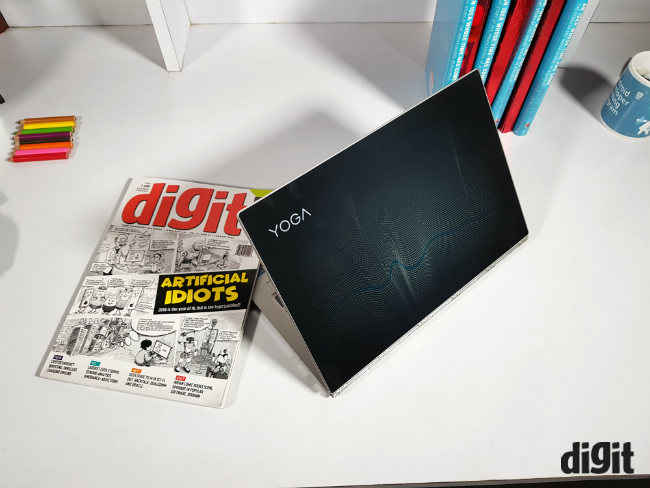 Build and Design
It always starts with the looks and here Lenovo does what it does best. The Lenovo Yoga 920 is quite simply the best looking thin and light convertible laptop available today. Yes, the HP Spectre x360 does give this one a tough competition, but the fact is that the Spectre's Copper and matte-black look is more of an acquired taste instead of the more aesthetically pleasing look of the Yoga 920. One peculiar aspect of the laptop is the glass lid cover, which gives the laptop a unique look. Not only is it the prime design element here but the glass also integrates well with the all-aluminum chassis and the signature watch-band hinge.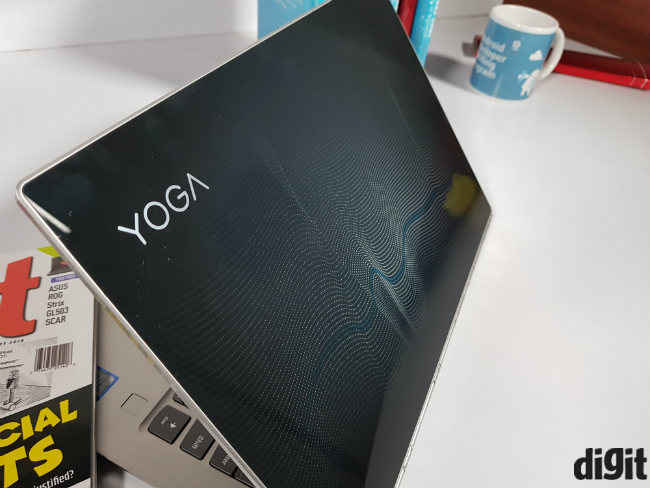 While the aluminium chassis is at par with other flagship portable notebooks, allowing zero flex whatsoever, it is the improved hinge which catches our attention. It is quite stiff and can stay in place without drooping at most angles. In fact, as far as convertibles go, this is the best hinge we have come across ever.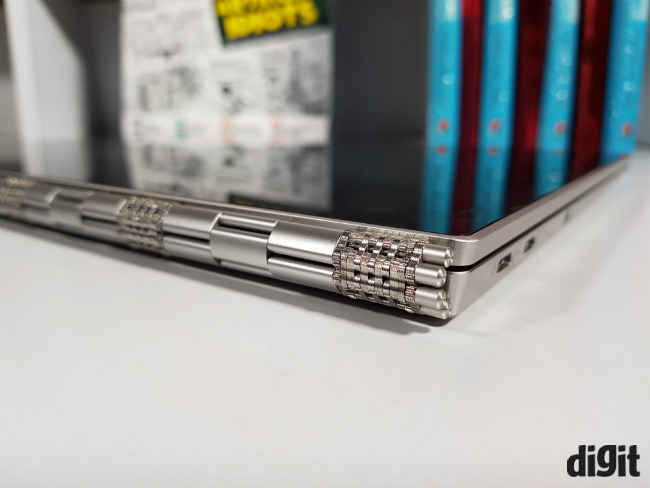 One thing which seems a bit overdone are the laptop's edges, which are slightly sharper than we would have expected. The edges don't cut into your wrists, but when you turn it around to use as a tablet, you can't hold it from the edge for a prolonged time. It may not be a big issue with some, but we think it is worth mentioning.
Opening the back, one would find everything soldered on the motherboard or at least it appears so as everything is buried below the massive 70 Whr battery, which would require further disassembly. That said, the machine comes with plenty storage and RAM, and you don't need to void your warranty and open the back cover.
Display and I/O
The exquisite looking hinge holds a 14-inch touchscreen display in place offering a 3480 x 2160 resolution. The display gives us no reason to complain as it is well calibrated out of the box and offers a very consistent brightness across the panel. The viewing angles are excellent and though the touch-sensitive display is glossy, it is not highly reflective. The brightness levels on the display are decent but could have been better. The good thing is that the laptop adjusts brightness automatically, just like smartphones and we would like to see more laptops adapt this feature. What we don't completely approve of is the 4K resolution, the display carries. In our opinion, it is a complete overkill for any laptop offering less than a 17-inch display size. There is a definite bump in image quality from 1080p to 4K while watching media, but unless you have trained eye, you won't find any difference.
Lenovo Yoga 920 @1080p resolution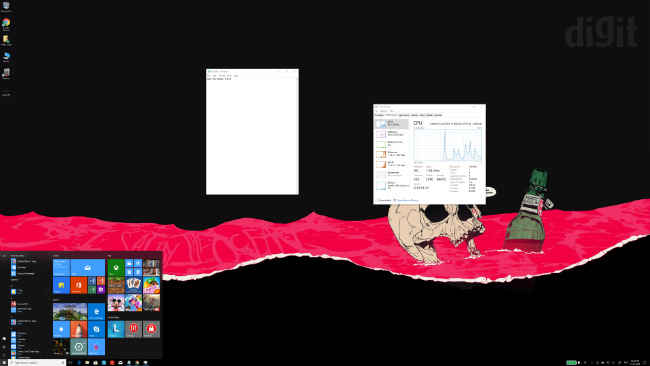 Lenovo Yoga 920 @ 4K resolution
If you are into fine arts and have a penchant for drawing, the bundled pen will serve you well. It has a very minimal latency and connects automatically without any issues. It works well and unless you are professional, you won't feel the need to upgrade. Lenovo includes a small 3D printed plastic pen holder which fits into the only USB Type-A port the machine has.
This brings us to I/O, which would require you to upgrade your wire stash (everyone has one) with a USB Type-C dock. The Yoga 920 offers a similar I/O as the Yoga 720, offering two USB Type-C ports and a single USB Type-A port. The only difference here is that, both USB Type-C port support Thunderbolt 3. Yes, this also means that this laptop supports external GPUs and lets the GPU take advantage of four PCIe lanes, which means better speeds.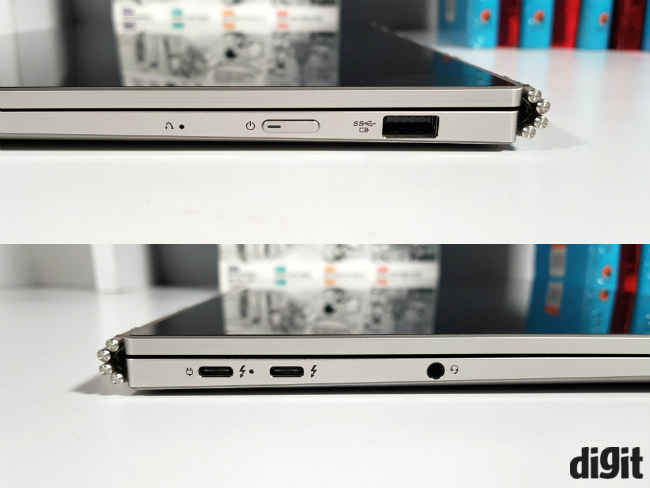 Anyway, we were hoping that the slightly larger chassis might provide some additional ports such as an SD card slot, but such ports are becoming a thing of the past now, with most laptop makers leaving them behind.
The newest feature in this laptop is the far field microphones, which allows you to call Cortana even when the lid is down, from across the room. It is still a new feature and does not work sometimes, but most of the times Cortana will answer the call, albeit with a delay. That said, Cortana's functionality is still a bit limited, even though it can hear you with the lid down, for which you must fiddle around with the settings. Maybe Alexa will join Cortana on your PC to help you later this year.
Keyboard and touchpad
In this 14-inch avatar, we still have the same chiclet-style keyboard as the Yoga 720. Lenovo has been doing a fantastic job with its keyboards and this one just excellent. The keys are slightly lighter to press compared to the Yoga 720 keyboard and comparatively, we find this one better. The typing experience is slightly improved and makes it as good as Thinkpad keyboards without the concave keys or with the red nub in the middle. Two-stage backlighting is fast becoming an industry standard and it is no different on this machine. The 1.5mm key travel is ample for touch typists and general users alike and unless you are accustomed to a mechanical keyboard, you won't find any issues with this keyboard.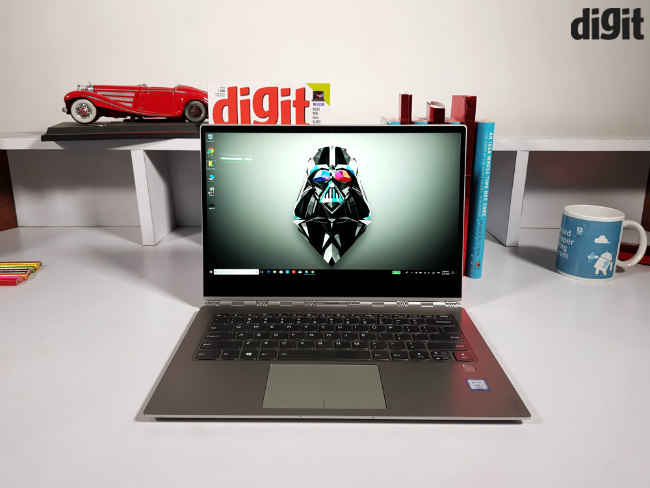 Below the keyboard, you have large glass touchpad, which is quite smooth and tracks equally well. Lenovo uses Windows Precision drivers and it seems slowly but steadily most laptop makers are adapting to Microsoft made drivers only. This translates into better swiping and multi-finger gesture support. The two left and right click buttons are quite tactile and press down with an audible click.
Performance
Inside the machine, you are getting an Intel Core i7-8550U processor. This is a very capable quad-core processor and is one of the best processors available today on laptops. Paired with 16GB DDR4 RAM, the laptop can handle almost everything unless you are talking about gaming. Like many other ultraportables, this machine is also not meant for gaming and the integrated UHD 620 is just good enough for some casual gaming at best. That said, one can hook up an external GPU with this laptop and that will work just fine. Anyway, as far as a normal office or day-to-day tasks go, you can't really go wrong with this laptop. Furthermore, there is 512GB Samsung NVMe SSD drive storage which like the CPU, is one of the fastest we have seen on a laptop to date.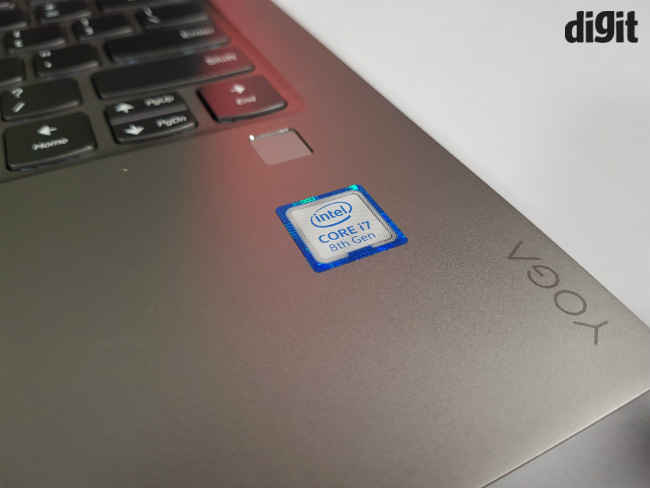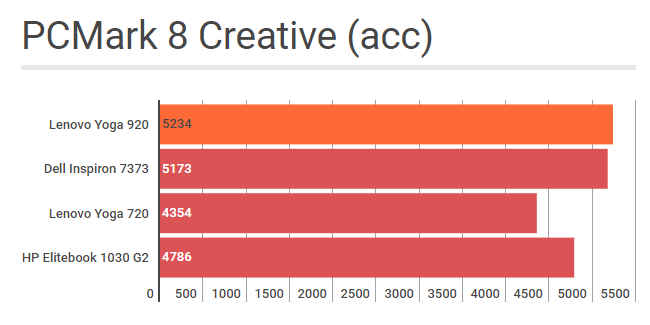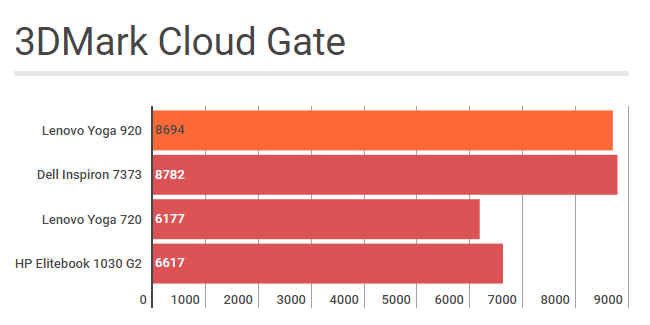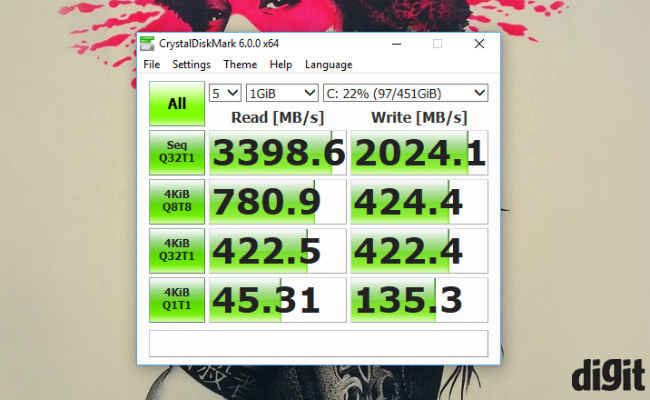 Lenovo has also done a really good job with the heat management in this machine as well and during our tests, the laptop never crossed more than 40-degree Celsius under normal usage. The two fan cooling system does not get noisy even under full load using Prime95, which would be highly appreciated by professionals, who are looking to get this machine.
Battery life
With a massive 70Whr battery inside, a (work) day-long battery life was expected from this machine and it doesn't disappoint. In our normal day-to-day usage, we easily got through the day with the laptop pushing out 8-9 hours of battery life at 50-75 percent brightness. In our PCMark 8 battery test, the laptop easily achieved 4 hours of battery life at full brightness, which is quite good considering it is powering a 4K display. That is why we feel that the laptop could have had better battery life with a 1080p display. However, the laptop supports fast charging and you pretty much charge it completely in less than two hours.
Bottomline
To sum it up, the Lenovo Yoga 920 does everything right, 'too right', in fact. It has a good display, commendable battery life, stellar performance, has a remarkable keyboard and has quite simply the best design you would find on a thin and light convertible today. Every hardware aspect of this laptop or even the design and build of this machine is precise. It gives the impression that it is meant to be a serious laptop first and a fun convertible second. So, if you are in the market to get a thin and light convertible where the budget is not an issue, this might be the most uncompromised machine you can get today.