Lenovo IdeaPad U260 - Ultraportable underperformer detailed review
The Lenovo IdeaPad U260 is an interesting thin and light laptop from the Chinese PC manufacturer. The IdeaPad U260 is sleek, stylish, has a 12-inch form factor and comes with an Intel Core i3-380UM ultra-low voltage processor to balance battery life and everyday performance. The laptop doesn't skimp on useful proprietary Lenovo software and is aimed towards mobile professionals and students. Let's see what the Lenovo IdeaPad U260 has to offer.
Lenovo IdeaPad U260: Look and Feel
For a company that's renowned around the world for its rugged business laptop line -- ThinkPad -- Lenovo has tried its hand at crafting a thin, stylish-looking laptop with the IdeaPad U260. The thin and light U260 definitely has elegance and flair in plenty, its screen lid is covered in smooth aluminum coloured in coffee brown, giving the IdeaPad U260 a snazzy look -- the same surface extends on to the laptop's bottom panel.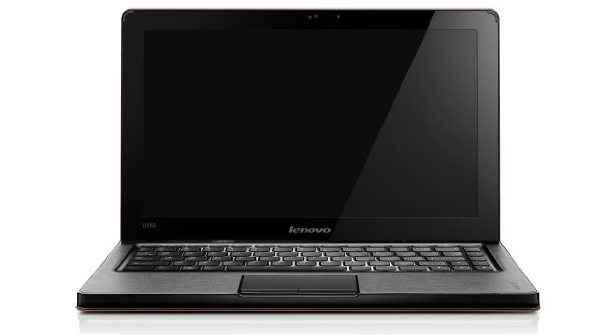 Prop the laptop open to reveal an all-black keyboard, touchpad and palmrest -- the palmrest is covered in faux leather, which is soft to touch and gives the U260 a premium feel. Where the Dell Vostro V130 -- a similar thin and light laptop -- has an all-metal exterior, the Lenovo IdeaPad U260 differs to include a slightly more trendy look and feel, even giving the stylish Sony VAIO S a run for its money.
The IdeaPad U260 is 0.7-inch thin and weighs just 1.35 kg - that's lesser than the Dell Vostro, Sony VAIO S and Lenovo ThinkPad X1 but not the MacBook Air. Despite its thin form factor, the Lenovo IdeaPad U260 is well built -- the screen hinge is secure, the keyboard or palmrest dips very slightly -- the overall impression is pretty good; we feel however the Vostro V130 is slightly more sturdy. The 12-inch laptop's easy to tuck away in your backpack amidst files and folders and you don't really feel its weight while lugging the IdeaPad U260 around.
Lenovo IdeaPad U260: Screen
The thin and light Lenovo IdeaPad U260 laptop comes with a one-of-a-kind 12.5-inch display screen, with a standard 1366x768 pixel resolution -- it has a non-glossy or matte surface. The widescreen display is evenly lit but insufficiently bright – it's definitely not as bright as the Sony VAIO S' screen. Viewing contents off the screen outdoors, under direct sunlight is disappointing. The IdeaPad U260's screen doesn't tilt back a whole lot and its viewing angles are average, nothing out of the ordinary here. Reading text for extended time is good, but watching movies or videos isn't as good as a laptop with glossy screen -- Dell Inspiron 15R, for example. However, the screen's ambient light sensor did a good job of adjusting screen brightness dynamically.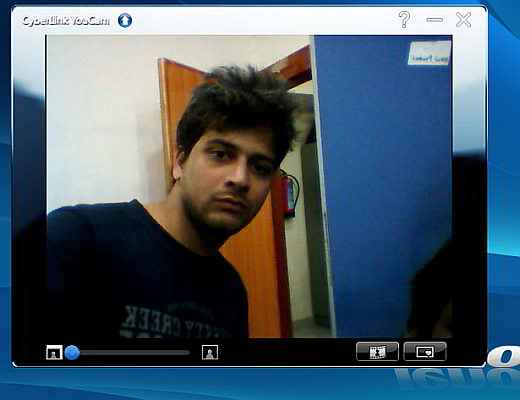 The IdeaPad U260 has a webcam on its screen bezel which comes with CyberLink's YouCam software for adding a bit of fun to your webchats.
Lenovo IdeaPad U260: Keyboard & Touchpad
Traditionally Lenovo keyboards are one of the best in the business, the same can't be said of the IdeaPad U260's keyboard. We like the U260 keyboard's scalloped, curved keys which fit well on pressing fingers -- but the keys aren't full-sized. They keys are isolated but not raised enough for an optimum typing experience. We encountered no keyboard flex, but typing on the Lenovo IdeaPad U260's keyboard for people with bigger, larger fingers will be a touch inconvenient. The keyboard is spill-resistant.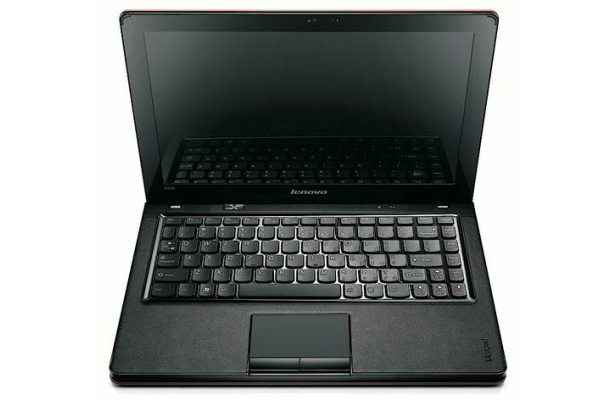 The touchpad is smooth and a joy to use, though. It's of adequate size for the laptop's 12-inch form factor and performs well while manipulating the mouse on screen. The two distinct mouse buttons below the IdeaPad U260's touchpad are of average build quality and make a small clicking noise when pressed. Special mention of the U260's faux leather palmrest -- it's the right size and cushions the wrists and palm to provide a comfortable typing experience.
Also read:
Dell Vostro V130 - Sleek and lightweight travel companion [Review]
Lenovo ThinkPad X1 - A sleek business ultraportable [Review]
Dell Inspiron M501R - An affordable quad-core laptop, with a catch! [Review]
Gateway ID59C notebook – Perfect blend of performance, looks and price [Review]
Lenovo IdeaPad U260: Hardware Features
The 12-inch Lenovo IdeaPad U260 slim laptop doesn't promise the moon, in terms of hardware configuration and features. It comes with an ultra-low voltage or ULV processor -- the Intel Core i3-380UM 1.33-GHz, 4GB DDR3 RAM, 320GB hard drive and onboard Intel GMA graphics. So the innards aren't comprised of Intel's latest Sandy Bridge platform, it's a generation older. Nothing to spoil the party for a basic user.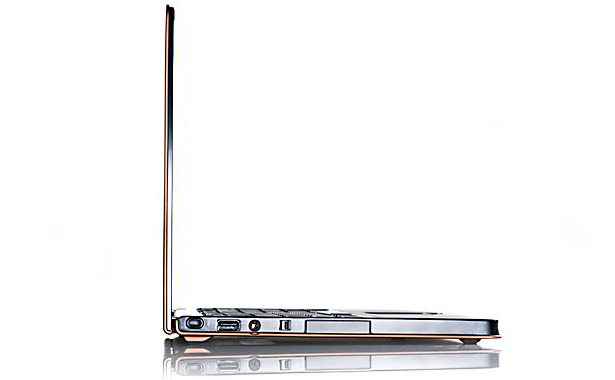 In terms of connectivity features, the IdeaPad U260 has just two USB ports, ethernet jack, HDMI and VGA ports -- there's no optical drive, no eSATA port, no card reader slot, no USB 3.0 port either. A headphone and microphone jack complete the set of connectivity ports on offer on the Lenovo U260. Wireless options include Wi-Fi 802.11n and Bluetooth connectivity. The thin laptop comes with 64-bit Windows 7 Home Premium and a bevy of useful proprietary software.
The Lenovo IdeaPad U260 comes with VeriFace -- a proprietary tool for face recognition and biometric security. The tool's easy to configure and use. There's also OneKey Recovery -- a backup and restore software that has a dedicated quick-launch button above the keyboard, it even lets you create recovery discs. Lastly, the U260 has an efficient power management utility -- more on that in the performance section. So as you can see, the Lenovo IdeaPad U260 doesn't have a stellar hardware platform, includes a basic feature set, but comes with some useful proprietary software.
Lenovo IdeaPad U260: Performance
The overall performance of the 12-inch IdeaPad U260 is somewhere between a netbook and a basic 14-inch laptop. What else can you expect, given its specs?
The laptop's PCMark Vantage score is lesser than the Dell Vostro V130, which has a similar configuration, but their 3D Mark 2006 scores are about the same. Don't have high hopes of using processor intensive apps on the Lenovo IdeaPad U260 as it has an underpowered, low-clock speed processor. Having said that, multitasking won't be a problem given the laptop's ample RAM -- working with Firefox, listening to music and tabulating a spreadsheet simultaneously didn't grind the system to a halt. Don't even think of gaming or using advanced graphics or video editing tools on the Lenovo IdeaPad U260.
The laptop played 720p HD files without any stutter, though struggled to keep up with a 1080p video at its native resolution. Audio from the laptop's speakers isn't great -- volume is barely audible below 40% and the bass is pretty much non-existent -- given the laptop's thin frame. A headphone solves these problems, though. Movies and videos don't come off as great compared to a glossy screen experience, but they're acceptable for personal entertainment.
The Lenovo IdeaPad U260's battery lasted 2 hours 8 minutes while looping a video on full screen brightness, 100% volume at high-performance preset. Expect to get over 4 hours of usage on a single charge on a conservative battery plan, while browsing the Web over Wi-Fi. With Lenovo's Energy Management tool, you can extract an additional 15-20 minutes (depending on usage). But here again the overall battery life doesn't beat the Dell Vostro V130.
Bottomline:
The Lenovo IdeaPad U260 retails for a price of Rs. 44,990 - Lenovo currently doesn't sell any other variant of the U260 with different hardware. At that price, it charges a very high premium over the 13-inch Dell Vostro V130. Granted, the Lenovo IdeaPad U260 has a unique form factor, useful proprietary software, and is easy to carry; but it falls short in terms of connectivity features and overall performance.
Unless Lenovo equips the IdeaPad U260 with better hardware for improved performance or slashes its price under Rs. 40,000, the Dell Vostro V130 will always be recommended first.
Rating: 2.5/5
Price: Rs. 44,990
Also read:
Dell Vostro V130 - Sleek and lightweight travel companion [Review]
Lenovo ThinkPad X1 - A sleek business ultraportable [Review]
Dell Inspiron M501R - An affordable quad-core laptop, with a catch! [Review]
Gateway ID59C notebook – Perfect blend of performance, looks and price [Review]
Test Scores Log Sheet

| | |
| --- | --- |
| Brand | Lenovo |
| Model | Ideapad U260 |
| Warranty (months) | 12 |
| Price (Rupees) | 44990 |
| Features | |
| Component Specifications | |
| Processor Model No | Core i3-380UM |
| Processor Speed (MHz) | 1300 |
| RAM (MB) | 4096 |
| RAM Type | DDR3 |
| Memory Speed (MHz) | 1333 MT/s |
| Chipset | Intel HM57 Express |
| Graphics Solution | Intel GMA HD |
| Audio Chipset | Intel High Def Audio |
| Storage size (in GB) | 320 |
| Drive type (HDD/SSD/other) | HDD |
| Optical Drive Type / Speed | - |
| Bundled OS | Win 7 HP 64-bit |
| Characteristics | |
| Screen Size (Inches) | 12.5-inch |
| Screen Resolution (Native) | 1366x768 |
| Weight (Kg) | 1.35 |
| No. of USB ports | 2 |
| No. of FireWire ports | 0 |
| USB 3.0 (Y/N) | N |
| Connectivity (LAN / Bluetooth / Wi-Fi) | Y/Y/Y |
| E-Sata (Y/N) | N |
| Display output (VGA/DVI/HDMI/Display Port) | Y/N/Y/N |
| Memory Card Reader (Y/N) | N |
| Type of Memory Cards Supported | N |
| Inbuilt Webcam (Y/N) | Y |
| Webcamera resolution (in megapixels) | 0.3 |
| Build, Ergonomics and Usability (So 10) | |
| Body | 6.5 |
| Keypad | 6.5 |
| Lid, movables | 6 |
| Keypad Tactile Feedback (So 10) | 6 |
| Key Layout, bevelling, spacing & Usability (So 10) | 7 |
| Shortcut Keys/Switches (So 10) | 7.5 |
| Trackpad ergonomics, size, position (So 10) | 7 |
| Trackpad accuracy (So 10) | 7 |
| Biometrics (fingerprint/face) login (Y/N) | N |
| Wi-Fi On/Off Switch or Button (Y/N) | Y |
| Dedicated Bluetooth On/Off Switch or Button (Y/N) | N |
| Dedicated TouchPad On/Off Switch or Button (Y/N) | Y |
| Performance | |
| Synthetic Scores | |
| PC Mark Vantage | |
| PC Mark Score | 3181 |
| Memories Score | 1742 |
| TV and Movies Score | 2257 |
| Gaming Score | 1803 |
| Music Score | 3393 |
| Communications Score | 2826 |
| Productivity Score | 3529 |
| HDD Score | 2681 |
| 3D Mark 2006 | |
| CPU Score | 1467 |
| Graphics score | 190 |
| Overall Score | 483 |
| Maxxon CineBench R11.5 (CPU score) | 1.11 |
| WinRAR 3.9 (Compression / Decompression benchmark) | - |
| Wi-Fi Signal Strength Test (Zone 2) | - |
| Real World Tests | |
| Battery Life Test (in minutes) | 128 |
| Speaker Quality (at 50% volume) (So 10) | 5 |
| HD Movie Viewing (using VLC) (So 10) | 5 |
| DivX Encode 7.0 (.VOB to .Divx, default mode) | 80.8 |
| File transfer Test (4 GB test file-sequential) (Sec) | 146.03 |
| File transfer Test (4 GB test file-assorted) (Sec) | 189.6 |