VERDICT:
This will be available in stores for just under Rs 40000, and at that price, you are getting a big screen yet very slim notebook. The specs are fairly basic, but what you get is brilliant battery life and a premium build and finish taken straight from the much more expensive Envy 4 ultrabook.
Build & Design
The best thing about the Envy 6 is that despite its considerably lower price tag, it still carries the exact same build quality and materials used as the Envy 4. Do keep in mind that the Envy 4 costs around Rs 55000, and for a Rs 41000 machine to have the exact same premium-ness is a huge bonus.
There is a generous amount of aluminum used, something very rare for laptops in this category. The closest rival to this, the Acer Aspire V5 that is technically an ultrabook, had a completely plastic build. The lid has a very subtle brushed metal finish, with the silver HP logo on one side. The same finish carries forward to the areas around the keyboard. While this is completely matte and not glossy at all (there really is a God!), this finish has a very annoying habit of accumulating smudges!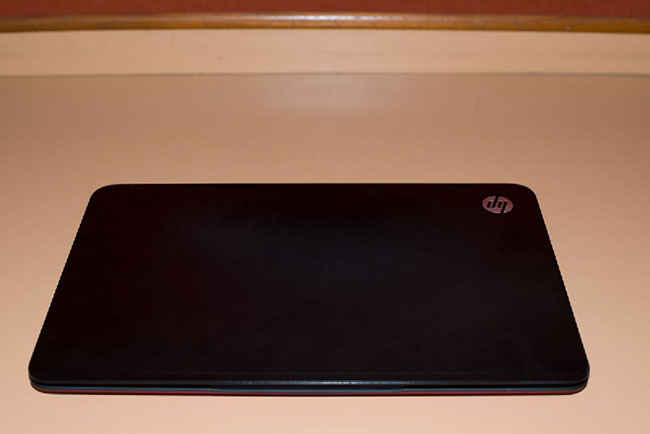 The very tip of the lid – near side, if you may, when the lid is closed and ready for opening, correct side on – is plastic. We cannot really understand for this little dash of plastic on what feels very premium otherwise.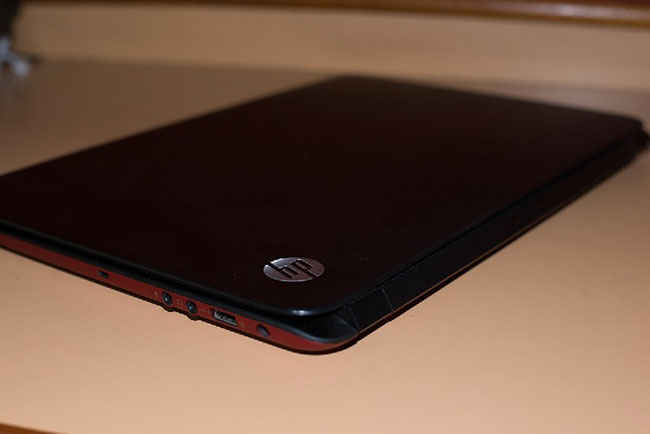 The ports on the sides, as they conventionally are for most laptops, with no testing the idea of placing them behind the display. Also, the muscular display hinge wouldn't allow for that. What you cannot miss is that the side spines as well as the base are in the soft finish crimson red colour, with a matte finish. Yes, for those who have a more conventional thought process, there is the complete black finish option as well, but we believe this one looks absolutely fantastic. Flip the laptop over, and you will see a very well thought out channel of vents – sucking air, blowing it out as well as for passive cooling.
The only real negative that we can see in an otherwise excellent build is the glossy bezel around the display, and quite frankly we don't understand the logic for that at all. When you have the most excellent brushed metal finish for the laptop, why ruin it with a bit of something that is a scratch, dust and fingerprint magnet?
Features
The power package of the Envy 6 is pretty basic. This is powered by the Sandy Bridge version of the Intel Core i3 processor. This one is the 2367M clocking at 1.4GHz. To help it along, there is 4GB of RAM.
With a 15.6-inch display, the Envy 6 aims to appeal to a wider demographic of users. The display on this one has a resolution of 1366 x 768 pixels, which is pretty much standard across most laptop displays. This display is quite okay in terms of crispness, and reading text isn't an issue at all. However, unlike the 14-inch display on the Envy 4, this one lacks the colour vividness. Adequately bright, and is the most comfortable for use indoors at around 30% brightness level.
There is a 500GB hard drive for your storage needs, and the preloaded OS is Windows 7 Basic (64-bit). Thankfully, there isn't a lot of clutter in terms of software demos and trials, which keeps Windows performance pretty much unaffected.
The keyboard is pretty much the same as the one seen on the Envy 4, and that is a good thing. Pretty well spaced out, with the island keys offering adequate travel and a pretty chunky feel. Touchpad has quite a bit of space as well, but you need to careful with the integrated right and left click keys. Also, adequate palm rest area because of the wider chassis.
Performance
As you would have probably deciphered from the spec sheet, the performance of the Envy 6 will be very basic. The benchmarks verify that assumption to the fullest. The PC Mark Vantage score of 3987 and the PC Mark 07 score of 1623 mean one simple thing – smooth system performance, as long as you aren't running too many software simultaneously. Essentially, the Envy 6 is meant for someone who needs a machine for basic tasks – web browsing, working on documents and presentations, multimedia consumption, and finds a bigger screen comfortable.
With just Intel's HD 3000 graphics available, gaming capability is literally nothing to speak of. This one is good for playing Solitaire or Pinball, but nothing beyond that! But then again, it isn't meant for anything more.
Excellent battery life, and the tested figures clock at 265 minutes. This was done under a full stress scenario, in High Performance mode. Translate that into a real life usage scenario, typical load this would be put through by the demographic it is targeted at, and you are looking at around 7 hours on a single charge. Most likely, this would last you almost one full workday, before you reach for the power adapter.
Bottomline
The HP Envy 6 is targeted at someone who doesn't want a very powerful machine, but is more bothered about a big display for comfort and slim and light form factor for portability. The premium build quality and excellent battery life are a combined massive bonus. And for that demographic, it works brilliantly. And at a price which is extremely appealing, we would recommend this to those who don't need a more powerful laptop. Yes, there are a lot more powerful laptops out there in this price range, but the battery life should be why you buy this Sleekbook.
Also, check out below HP Envy 6-1001tu sleekbook video review: