Dell XPS 15z detailed review
The new Dell XPS 15z is the company's offering for customers interested in a high-quality, premium 15-inch laptop that looks great, feels elegant and doesn't skimp on features and performance. The Dell XPS 15z has an Intel Core i7 processor, Nvidia graphics, and a full-HD widescreen display. What's more, it almost resembles the Apple MacBook Pro in terms of style and design. But if you think this is a poor man's Apple notebook, you couldn't be more wrong. Read on to see what the Dell XPS 15z has to offer.
The 15-inch Dell XPS 15z has a polished metal exterior that feels rich and premium on touch, its screen lid and bottom cover are made of anodized aluminium that resists sratch—also they have a lighter silvery hue like the unibody AppleMacBookPro. But the Dell XPS 15z has a darker deck in comparison, albeit one with a plush palmrest and touchpad. There's little difference in the quality of finish between the Apple and Dell laptops, and both are equally premium and appealing—we especially like the XPS 15z's steel accents running along the edges. At 0.97-inch thickness, the Dell XPS 15z is slightly slimmer than the Apple MacBook Pro which has a thickness of 1-inch, you can barely feel the difference though.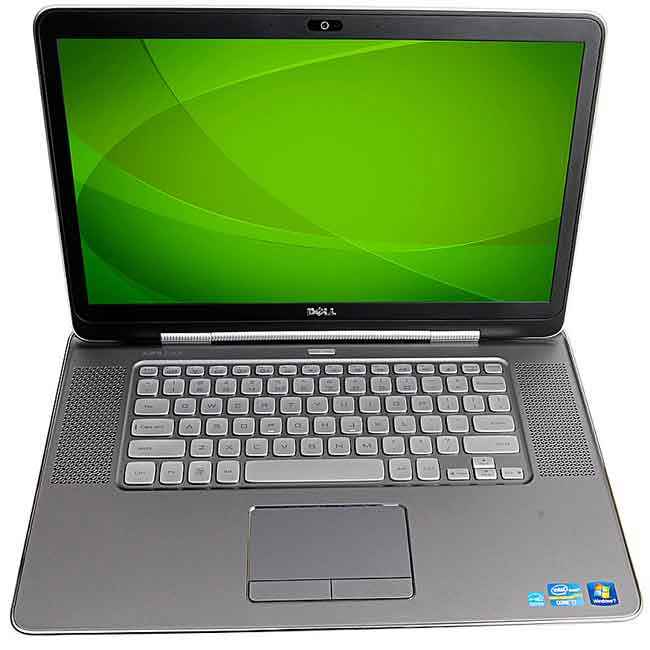 The Dell XPS 15z laptop's shell is curved at the edges, the spine juts out a little where the screen meets the chassis hinge—just like on the DellVostroV130 and DellInspiron 15R. We like this prominent spine as it aids holding the laptop when it's open. What we don't like is the XPS 15z's funky, tubular hinge design, which is out of tune and clashes with the speaker grille on the side of the keyboard. The whole unit's magnesium alloy chassis is very well built—no creaky joints, no cheap plastics—all you feel is a fine aluminium block that encases a good looking, powerful PC.
Screen
[RELATED_ARTICLE]The Dell XPS 15z finally breaks the mould of almost every other 15-inch laptop out there by housing a full-HD, 1920x1080 pixel resolution display. It has good brightness and contrast levels even at the corner edges. The screen's LED-backlit and glossy in nature, making colours 'pop' and lending a better-than-usual movie-watching experience. Reading on the full-HD screen can be a problem, unless you roll up the native font's DPI—also the constant reflections aren't great for extensive reading. Viewing angles of the glossy screen, however, are much better than what we saw on the Inspiron 15R or Sony VAIO S, with acceptable colour shift—not a lot. We liked the Dell XPS 15z laptop screen's multimedia performance.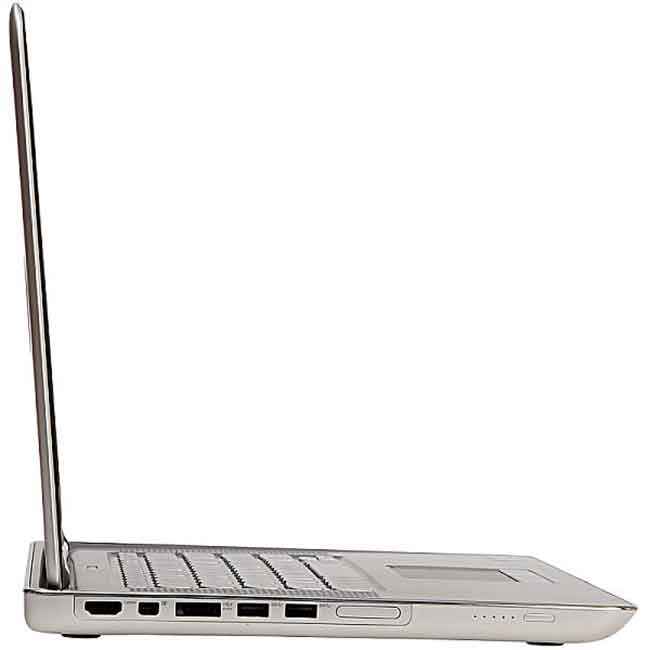 The accompanying HD webcam has a proprietary software that lets you take pictures and record HD 720p videos. You can either upload the photos on Photobucket or videos on YouTube by the click of a button. Very useful. The Dell XPS 15z camera's performance is good for videochats.
Keyboard and Touchpad
The Dell XPS 15z sports isolated silver keys that are different from the square MacBook Pro or VAIO S keys. They're spaced out and have just a hint of inward curve on them—just barely, mind you. In any case, the laptop's keyboard is pretty good for typing—the tactile feedback, zero flex from the keyboard deck and the plush, wide palmrest make typing on the XPS 15z extremely convenient. What's more, the keyboard's backlit—just hit the F6 key to toggle the backlighting on or off—but unlike the MacBook Pro, there's no ambient light sensor.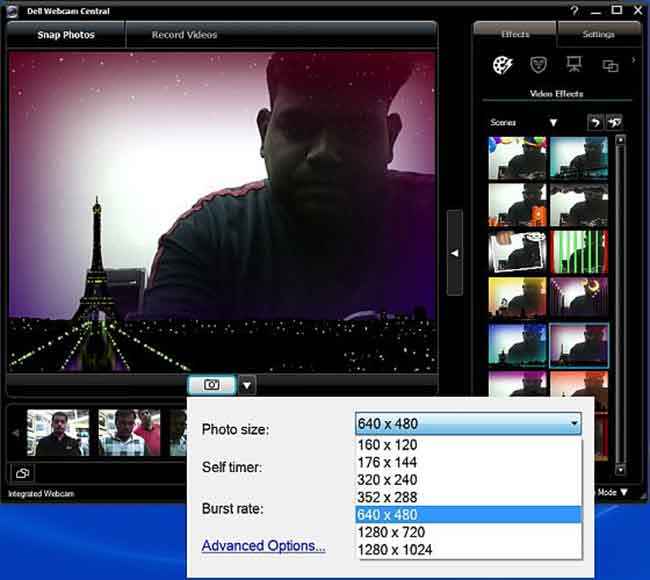 The XPS 15z's accompanying touchpad is nice and wide—wider than some of the laptops we've reviewed recently. It has a finely polished metal surface—not glossy, mind you—that makes manipulating the cursor and windows on screen that much effortless and easier. And the plush magnesium alloy palmrest is ample for parking your wrists while typing.
Read more about Dell XPS 15z's features, performance and verdict, on Page 2...
Hardware & Features
We received the high-end model of the Dell XPS 15z for review, a powerful machine to say the least. It comes with a dual-core Intel Core i7-2620M 2.9 GHz processor (Turbo Boosts up to 3.4 GHz), 8 GB of DDR3 RAM, 750 GB hard drive spinning at 7,200 rpm, and 2 GB dedicated Nvidia GeForce GT 525M graphics. The laptop has onboard Intel HD 3000 graphics also and Nvidia Optimus to intelligently switch between the two. As you can see, the Dell XPS 15z is well-equipped to be a powerful all-purpose laptop for your home, tuned for multimedia and entertainment use.

Not only does the 15-inch Dell XPS 15z have above-average internal hardware, the laptop comes with abundant connectivity features. On the left edge of its chassis, you can find an HDMI, mini DisplayPort (with mini DisplayPort to VGA cable), hybrid eSATA and USB 2.0, and two USB 3.0 ports. There's also a 5-in-1 card reader slot and MacBook Pro style battery indicator—press to see how much juice is left inside. The XPS 15z's slot-loading DVD drive, headphone and mic jacks are located on its right edge, while the Ethernet jack and power port are placed on its spine.
Wireless connectivity is taken care by Wi-Fi 802.11n, Bluetooth 3.0 and Intel WiDi for transmitting HD content wirelessly to a nearby TV through a supported adapter (not included with the laptop). The XPS 15z features Dell DataSafe, free 2 GB of online data backup for a year, and Dell Stage, a quick-launch dock that sits on your desktop—it comes in handy for accessing music, videos, apps, etc, directly through the desktop. The laptop comes with 64-bit Windows 7 Home Premium and three years of limited warranty, which is a great insurance cover.
Performance
It's absolutely no surprise that the Dell XPS 15z flies through most of our benchmark tests. What else do you expect with a powerful dual-core processor, oodles of RAM, faster hard drive and a mid-ranged GPU? The laptop posted one of the highest PC Mark Vantage scores at 8,786 but its 3D Mark 06 score (7381) was behind that of the DellInspiron 15R (7752) and AcerAspireTimelineX 5830TG (8734). Just goes to show that the Dell XPS 15z could've had a better GPU inside, but maybe Dell has restricted the higher-end GPUs exclusively to its Alienware offerings.
[RELATED_ARTICLE]But having said that, there's absolutely no problem while multitasking with several apps on the Dell XPS 15z, the laptop is good for video editing and graphics rendering as well—not just for commonly used apps. Gaming on the bundled 2 GB Nvidia GeForce GT 525M is quite good for casual gamers—Far Cry 2 at 1024x768 and medium settings played decently at 45 fps; slightly better frame rates by a similar card on the Dell Inspiron 15R. Don't expect to game at the laptop's native resolution (1920x1080) with latest games, you'll be sorely disappointed. The laptop's hard drive is quite good, transferring 4 GB of data between partitions at 44 MB/s. The laptop gets hot around the edges while playing a game, but not uncomfortably so.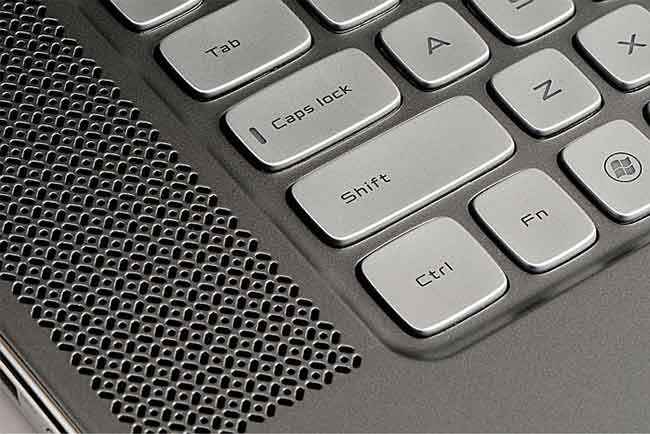 But if there's one single thing the Dell XPS 15z does very well then it's movie watching experience. The full-HD widescreen display does a very good job of displaying crisp, colourful visuals and the accompanying onboard audio is better than most laptops we've heard recently. The laptop's speakers—situated on either side of the keyboard—are loud and clear at high volume with minimal distortion, bass levels are acceptable as well. Watching an HD movie is quite an immersive experience on the Dell XPS 15z.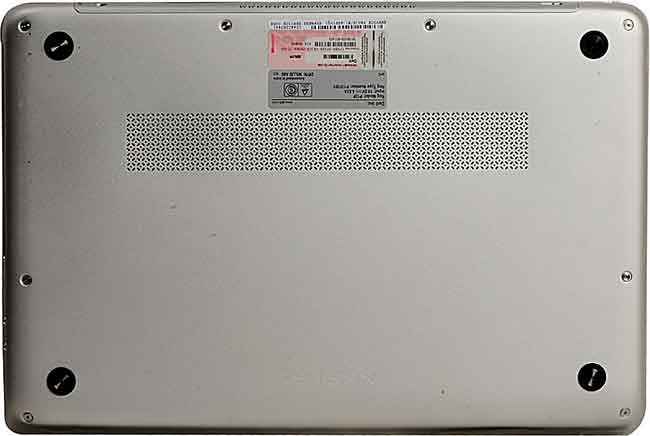 In terms of the laptop's battery performance, the Dell XPS 15z is about average. At full-screen brightness, 100% audio volume, high-performance preset, our test video looped for 2 hours 9 minutes. On a conservative power plan and onboard graphics, the laptop should deliver close to 4 hours of Web usage off a single charge—not bad at all. What's more, like the MacBook Pro, Dell has sealed off the XPS 15z's battery compartment, so you can't really upgrade or replace it. Overall, the Dell XPS 15z's battery performance is acceptable, not as great as we would've liked though.
Bottomline
The Dell XPS 15z laptop is available for a starting price of Rs. 70,800—our review sample retails for a price of Rs. 81,800, since it's a higher-end model. For that price, you get a sophisticated, premium 15-inch desktop replacement laptop for home entertainment. It's very well built and feels elegant and premium on touch with a quality finish. And apart from most laptops that come with 1 year warranty, the XPS 15z comes with 3 year Complete Cover, making sure your hefty investment is insured for a long time.
Compared to the 15-inch Apple MacBook Pro, the Dell XPS 15z is less expensive and looks almost identical. Barring the Nvidia graphics, the laptop has very good internal hardware and feature set, a bright full-HD widescreen display and offers 2 GB of free online data storage up to a year. If you can afford it, the Dell XPS 15z is well worth the money for a style-savvy, all-purpose home entertainment laptop.
Price: Rs. 70,800
Rating: 5/5
Test Scores Log Sheet
| | |
| --- | --- |
| Brand | Dell |
| Model | XPS 15z |
| Warranty (months) | 36 |
| Price (Rupees) | 81800 |
| Features | |
| Component Specifications | |
| Processor Model No | Intel Core i7-2620M |
| Processor Speed (MHz) | 2900 |
| RAM (MB) | 8192 |
| RAM Type | DDR3 |
| Memory Speed (MHz) | 1333 MT/s |
| Chipset | Intel Cougar Point QM67, Intel Sandy Bridge |
| Graphics Solution | Nvidia GeForce GT 525M |
| Dedicated Video Memory (Y / N) | Y |
| Dedicated Video Memory Size (in MB) | 2048 |
| Audio Chipset | Intel Cougar Point HDA |
| Storage size (in GB) | 750 |
| Drive type (HDD/SSD/other) | HDD |
| Optical Drive Type / Speed | |
| Bundled OS | 64-bit Windows 7 Home Premium |
| Characteristics | |
| Screen Size (Inches) | 15.6-inch |
| Type of LCD | LED backlit |
| Screen Resolution (Native) | 1920x1080 |
| Weight (Kg) | 2.6 |
| No. of USB ports | 3 |
| No. of FireWire ports | 0 |
| USB 3.0 (Y/N) | 2 |
| Connectivity (LAN / Bluetooth / Wi-Fi) | Y/Y/Y |
| E-Sata (Y/N) | Y |
| Display output (VGA/DVI/HDMI/Display Port) | N/N/Y/Y |
| Memory Card Reader (Y/N) | Y |
| Type of Memory Cards Supported | NA |
| Inbuilt Webcam (Y/N) | Y |
| Webcamera resolution (in megapixels) | 1.3 |
| Build, Ergonomics and Usability (So 10) | |
| Body | 8 |
| Keypad | 8 |
| Lid, movables | 7.5 |
| Keypad Tactile Feedback (So 10) | 7.5 |
| Key Layout, bevelling, spacing & Usability (So 10) | 7 |
| Shortcut Keys/Switches (So 10) | 7 |
| Trackpad ergonomics, size, position (So 10) | 8.5 |
| Trackpad accuracy (So 10) | 7.5 |
| Biometrics (fingerprint/face) login (Y/N) | N |
| Wi-Fi On/Off Switch or Button (Y/N) | Y |
| Dedicated Bluetooth On/Off Switch or Button (Y/N) | N |
| Dedicated TouchPad On/Off Switch or Button (Y/N) | |
| Performance | |
| Synthetic Scores | |
| PC Mark Vantage | |
| PC Mark Score | 8786 |
| Memories Score | 5061 |
| TV and Movies Score | 3838 |
| Gaming Score | 6277 |
| Music Score | 7053 |
| Communications Score | 10742 |
| Productivity Score | 6966 |
| HDD Score | 4128 |
| 3D Mark 2006 | |
| CPU Score | 3779 |
| Graphics score | 2657 |
| Overall Score | 7381 |
| Maxxon CineBench R11.5 (CPU score) | 3.05 |
| WinRAR 3.9 (Compression / Decompression benchmark) | 2675 KB/s |
| Real World Tests | |
| Battery Life Test (in minutes) | 129 |
| Speaker Quality (at 50% volume) (So 10) | 7.5 |
| HD Movie Viewing (using VLC) (So 10) | 8 |
| DivX Encode 7.0 (.VOB to .Divx, default mode) (Sec) | 29.7 |
| File transfer Test (4 GB test file-sequential) (Sec) | 93 |
| File transfer Test (4 GB test file-assorted) (Sec) | 139 |
| Doom 3 (fps) (800x600, medium detail) | NA |
| Far Cry 2 (fps) (1024x768, medium detail) | 44.81 |
Dell XPS 15z Key Specs, Price and Launch Date
| | |
| --- | --- |
| Release Date: | 30 Sep 2011 |
| Market Status: | Discontinued |
Key Specs
OS

NA

Display

NA

Processor

NA