VERDICT:
The ASUS N53Jq is a feature-rich entertainment powerhouse with a Blu-ray drive and support for HDMI, USB 3.0, eSATA connectivity. A rich feature set coupled with a consistent performance across the synthetic benchmarks and game benchmarks makes it a decent buy at the price of Rs. 68,999.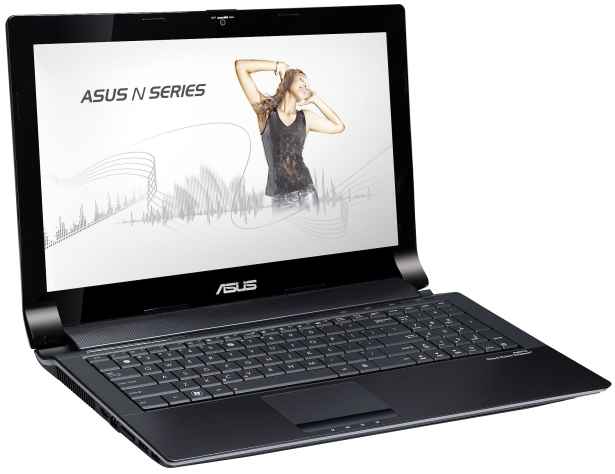 The ASUS N53Jq comes with a textured silver finish on the exteriors of the lid and is built like a tank with harder than normal plastic which has no chinks. With due credit to its heavy build, it weighs about 2.9 kilograms – a bit high for a non-gaming laptop. The matte black finish on the keypad and palm-rest provides a stark contrast with the silver coated speaker, while the glossy black finish on the screen bezel adds a touch of class to its design aesthetics.

The N53Jq incorporates a flat-key design with narrow ridged spacings between the keys. The cramped key-spacing affects the typing accuracy and speed due to incorrect inputs & jerky keys. We feel that a lot of space is being wasted for the palm-rest, which could have been used to extend the keypad layout and thereby eliminate the cramped key-spacing issue. Overall, the keypad ergonomics takes a hit owing to the lack of sufficient spacing and inconsistent tactile feedback.

[RELATED_ARTICLE]The touchpad lacks in precision and responsiveness, which emphasizes the need for a mouse, and not just for gaming. The touchpad scroll-bar has been stripped off and substituted with gesture based scroll function using two fingers. It also supports pinch-zoom feature, which comes in handy while browsing web-pages and reading documents. Among other interesting features, it includes quick launch keys for volume control, mute, play/pause and power mode modifier. In addition, it includes dedicated on/off switches for Wi-Fi and integrated webcam. The N53Jq also comes with a USB 3.0 port, in addition to eSATA and HDMI ports, which makes it a complete entertainment powerhouse. A 720p HD LED monitor coupled with the presence of a Blu-ray drive further strengthens its claims for being a high-powered multimedia laptop.
Read on to know the performance, our take, specifications, ratings and test results on the next page…
Performance
[RELATED_ARTICLE]The ASUS N53Jq blazes through most of the synthetic benchmarks without any sore points. The only notable exception being the 10.63 millisecond random access time taken during the hard drive test with SiSoft Sandra 2010 Pro benchmark, which is below par for such a powerful configuration. The other major drawback is the poor battery-life, which is expected of such a high-profile configuration.
The HD movie playback delivered crisp and vivid colours with excellent video reproduction. However, the sound reproduction isn't good enough and failed to deliver a pleasurable experience, especially with explosive sound effects. The game benchmarks with FarCry 2 & Doom 3 yielded vivid and impressive visuals with decent frame rates. Overall, the N53Jq is a decent multimedia performer across the board that also doubles up as a casual gaming laptop.
Our Take
The ASUS N53Jq is a feature-rich entertainment powerhouse with a Blu-ray drive and support for HDMI, USB 3.0, eSATA connectivity. The rich feature set is well complemented by a consistent performance across synthetic benchmarks and game benchmarks, with the exception of weak hard drive access time. The poor battery-life is another major drawback, which is almost a norm for such high-end configurations. Though the price tag of Rs. 68,999 is a bit expensive, the N53Jq still makes a decent buy with a powerful configuration and consistent performance.
Specifications: Processor: Intel Core i7 – 720QM; Memory: 10GB DDR3 1066MHz; Chipset: Intel HM55 Express; Graphics: NVIDIA GeForce GT 425M; Hard drive: 500GB; Display: 15.6-inch 720p HD LED, Screen resolution: 1366 x 768; Weight: 2.9 Kilograms;
Ratings
Features: 7.5
Performance: 7
Build Quality: 7
Value for money: 6.5
Overall: 7
| | |
| --- | --- |
| Brand | ASUS |
| Model | N53Jq |
| Price (MRP) | Rs. 68,999 |
| Features | |
| Component Specifications | |
| Processor Model No | Intel Core i7 720QM |
| Processor Speed (MHz) | 1600 MHz with Turbo boost up to 2800 MHz |
| RAM (MB) | 10240 |
| RAM Type | DDR3 |
| Memory Speed (MHz) | up to 1066 |
| Chipset | Intel HM55 Express |
| Graphics Solution | NVIDIA GeForce GT 425M |
| Dedicated Video Memory (Y / N) | Y |
| Dedicated Video Memory Size (in MB) | 1024 |
| Audio Chipset | Realtek High Definition Audio |
| HDD Size (GB) | 500 |
| Optical Drive Type / Speed | Blu-ray RW |
| Bundled OS | Windows 7 Ultimate (64-bit) |
| Characteristics | |
| Screen Size (Inches) | 15.6 |
| Type of LCD | 720p HD |
| Screen Resolution (Native) | 1366 x 768 |
| Weight (Kg) | 2.9 |
| No of Ports (USB / FireWire) | 2x USB 2.0, 1x USB 3.0 / None |
| Connectivity (LAN / Bluetooth / WiFi) | Y/Y/Y |
| Memory Card Reader (Y/N) | Y |
| Type of Memory Cards Supported | SD,MMC,MS,MS-Pro,MS-Duo |
| Inbuilt Webcam (Y/N) | Y |
| Build (So 10) | |
| Body | 7.5 |
| Keypad | 7 |
| Lid, movables | 6 |
| Ergonomics | |
| Keypad Tactile Feedback (So 10) | 6 |
| Key Layout & Usability (So 10) | 5 |
| Shortcut Keys/Switches (So 10) | 7 |
| Biometrics Login (Y/N) | N |
| WiFi On/Off Switch or Button (Y/N) | Y |
| Dedicated Bluetooth On/Off Switch or Button (Y/N) | N |
| Dedicated TouchPad On/Off Switch or Button (Y/N) | N |
| Performance | |
| Synthetic Scores | |
| PC Mark Vantage | |
| TV & Movies Score | 4248 |
| Gaming Score | 5722 |
| Music Score | 5722 |
| Memory Score | 3803 |
| Productivity Score | 5336 |
| Communications Score | 4212 |
| HDD | 3575 |
| Overall Score | 6250 |
| SiSoft Sandra 2010 Pro | |
| CPU Arithmetic (Dhrystone ALU/Whetstone iSSE3) | 5069/3323 |
| CPU Multi-Media (Integer x16 aSSE4.1/Floating x8 iSSE2) | 9350/6962 |
| HDD Index (MB/s) | 75.32 |
| Random Access Time (ms) | 10.63 |
| Memory bandwidth (Integer/floating) (MB/s) | 14120/14200 |
| 3D Mark 2006 | |
| CPU Score | 3156 |
| Overall Score | 7619 |
| Maxon CineBench R11.5 (CPU Score) | 2.96 |
| Other tests | |
| Battery Life Test (Minutes) | 63 |
| WiFi Signal Strength Test (Zone 1) | High |
| WiFi Signal Strength Test (Zone 2) | Medium |
| Real World Tests | |
| Speaker Quality (So 10) | 5.5 |
| HD Movie Viewing (So 10) | 7.5 |
| WinRAR 3.9 (Compression / Decompression) (KB/s) | 2101 |
| Div X conversion .VOB to .Div X (default mode) (Sec) | N/A |
| File transfer Test (4 GB test file-sequential) (Sec) | 95 |
| File transfer Test (4 GB test file-assorted) (Sec) | 131 |
| PassMark Wireless Mon 3.0 Signal Strength | 57.00% |
| PassMark Wireless Mon 3.0 bandwidth | 54Mbps |
| Doom 3 (fps) (800×600, medium detail) with DirectX 9.0 | 167.1 |
| FarCry 2 (fps) (1024×768, medium detail) with DirectX 9.0 | 54.34 |
| Warranty (Years) | 1 year |
Contact: ASUS Technology Pvt. Ltd.
Phone: 18002090365
E-mail: helpline_west@asus.com
Website: www.asus.in
Price: Rs. 68,999