VERDICT:
This gaming mouse and keyboard combo has a great design with a decent build quality and adequate features. To sum it up, the Cooler Master Storm Devastator combo is one of the best cheap gaming combos we've come across in a while. We would suggest gamers who have a medium to low budget for a decent gaming keyboard and mouse combo to go for it since this package deal costs only Rs.3100
Companies often have a habit of sticking a tag with "Gaming" written on it to some of their products and this tag however lucrative may sound, is actually a bane for us buyers. Firstly, this tag is a way of asking more money, much more money than what some of these products actually deserve. But what the hell, we'll buy a potato as long as it has gaming written over it, right? Nevertheless, the product we are reviewing is opposite of what we said above. Not only is it advertised a gaming mouse and keyboard combo, but is also one of the cheapest feature-rich gaming combos you can come across. Leading with that, we didn't expect much from a cheap combo, but we were totally wrong. CM Storm made sure that the mouse and keyboard are not only designed well but also look great, and perform admirably for their price.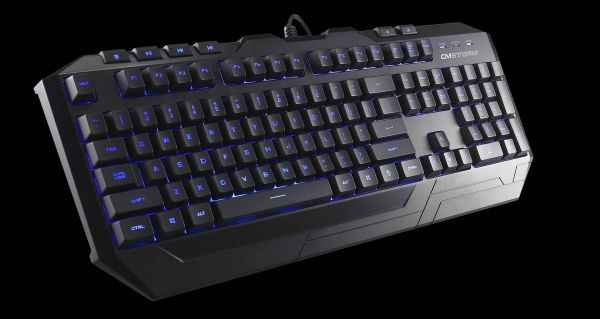 The keyboard for instance has a nice futuristic design with angled edges and a partly matte, partly glossy finish. Before you ask anything, yes it's a backlit keyboard and a blue backlit one at that. Of course it doesn't have individual LED backlighting like the other costlier ones out there but you can't ask for everything. The backlight in question though not individual for each key, but is uniform across the keyboard. We didn't have any qualms with it while using it in the dark. The keyboard actually uses a plastic panel under the keys that helps light reach every corner of the keyboard. The keyboard doesn't have a brightness control feature that means you can only turn the backlight on or off. Turning the backlight off we noticed the only niggling part about Devastator's keyboard; we could barely see the letters on the keycaps. This means that a user would find it a bit difficult to see the letters on the keys even in daylight and would be forced to turn on the backlight. But we're sure most of us would always keep the backlight on while using it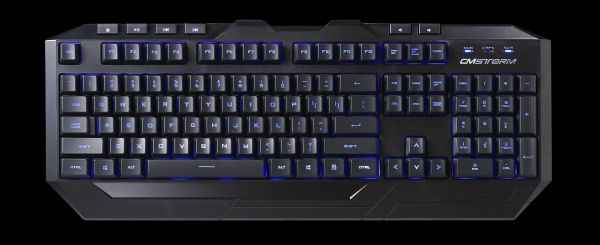 Speaking about the features of the keyboard, it has multimedia keys at the top along with volume buttons on the top right. These buttons are placed well and have nice tactile feedback when pressed. The same goes for all the keys on the keyboard as we felt that the keys were good to type on. They were quite responsive while gaming as well. Build quality of the keyboard is pretty decent and the rubber feet beneath it help in keeping it sturdy on a desk.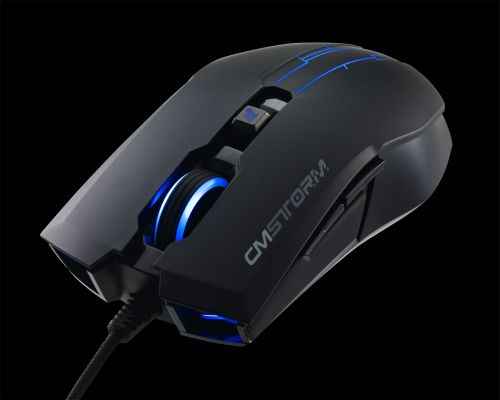 Next up is MS2K which is the mouse in this combo. One look at it and you'd think that the mouse itself would be priced upwards of 2K. It's because, the design of the mouse is in tune with all the other gaming mice available in the market. We're talking about sharp design and LED lighting that makes any gaming mouse look cool. CM Storm took a flatter design approach with it and people who like slimmer mice would like the MS2K. It has a 2000 DPI sensor with a quick DPI switch at the centre that allows to switch between 800 – 1600 – 2000 DPI modes. The LED brightness intensity of the DPI switch tells which DPI mode are you using currently. The mouse has a big enough scroll wheel with the scroll giving a soft button feel when you use it. There are rubber side pads on the mouse that add some grip to it. Two buttons for forward and backward operations are also provided on the left side of the MS2K. These side buttons are fairly easy to reach using the thumb.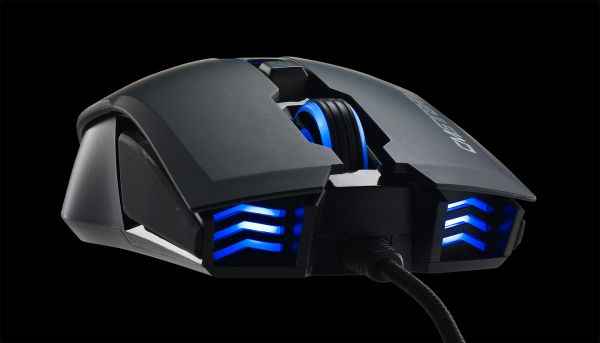 To sum it up, the mouse and the keyboard worked brilliantly while gaming and the DPI switch on the mouse was very helpful. Of course, the keyboard doesn't come with macro keys or game modes, but with a great design, nice built quality and adequate features, the Cooler Master Storm Devastator combo is one of the best cheap gaming combos we've come across in a while. We would suggest gamers who have a medium to low budget for a decent gaming keyboard and mouse combo to go for it since this package deal costs only Rs.3100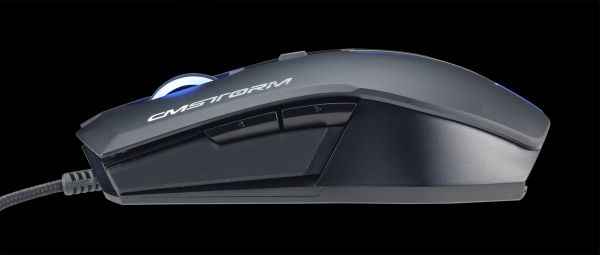 Features and Specifications:
Mouse (MS2K):
Key Type: Membrane;
Interface: USB;
DPI: 1000, 1600, 2000 (three modes);
LED backlight: Blue;
Dimensions: 119.1 x 64.6 x 36.7 mm;
Weight: 128 grams
Keyboard (MB24):
Interface: USB;
LED backlight: Full Blue LED backlight;
Shortcut keys: Media and volume;
Dimensions: 449.7 x 148.4 x 35.6 mm;
Weight: 898 grams