TDK WR 700 - Wireless headphones for hi fidelity audio detailed review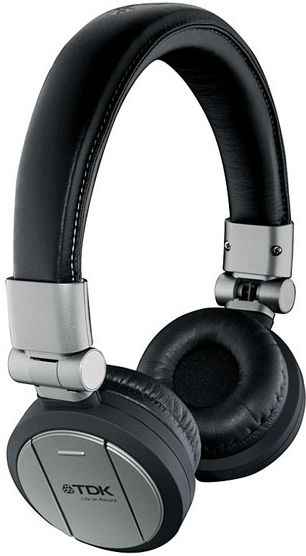 Wireless headphones appeal to those who want to enjoy music/movies at home or on the go without the binding tangle of wires. However, the usual run-of-the-mill wireless audio solutions have a crippling limitation with respect to the wireless transmission technology they use - either Bluetooth or IR. Due to bandwidth limitations of these protocols they end up compressing audio to a great extent before transmission, and hence the discerning audiences usually steer clear of wireless solutions. Yet, a few manufactures do offer high-fidelity audio in the wireless format. One such implementation is the TDK WR 700 that uses Kleer technology which promises to push transmission to lossless CD quality. And it does. Read on for look and feel or skip straight to the performance section.
Look and feel
[RELATED_ARTICLE] Despite their simplicity the headphones look like a product to be taken seriously. The construction is mostly plastic but the dull grey matte finish gives them that slightly industrial look. The plastic used is of fairly decent quality and there were no noticeable chinks even with the folding mechanism. The headphones don't feel bulky at all. In fact, despite housing two AAA batteries in one of the cups they aren't much thicker than regular wired cans. The headband features soft pleather that is fairly comfortable, while the soft padding on the ear cups gives a good seal.
Being wireless, the pair comes with a transmitter that again uses two AAA batteries. Unlike the the headphones, the transmitter on the other hand is bulkier than we would've liked - especially for pocket use. The transmitter is very easy to use - simply plug it into any 3.5 mm stereo source, push the power button on both devices and they pair up instantly.
Features
The WR 700s are foldable and easy to transport. The cups can be swivelled 90 degrees and hence flattened before folding from the hinges. They come with a soft pouch and being wireless are quite portable. One of the ear cups has volume buttons on the outside, which is a good feature to have. The biggest feature of all is the lossless transmission technology called Kleer. It uses the 2.4 GHz band for RF transmission which can transmit totally uncompressed audio. The technology also switches dynamically so there's no scope for interference.
Performance
For testing performance we hooked up the transmitter to our Audinst HUD - MX1 amp/dac and also sources such as third generation iPod Touch and the HTC Desire S. The selection of sound samples included tones at various frequencies, sweeps and a variety of test tracks - all encoded lossless flac or 320 KBps MP3.
We started off with tones ranging from the deep 30 Hz to the ear splitting 15,000 KHz. It handled all frequency ranges surprisingly well. When we started with our music tracks it was evident immediately that these headphones are bass heavy. Most tones are rich and clear while there isn't much colouration; hence no distinct sound signature to speak of. Except for the accentuated bass it was fairly neutral upto the extreme high end of the spectrum. The high end levelled off a little too quickly. Coming from the same family we were surprised it didn't have a warm signature like the ST800 we reviewed some time back. Chir Rea's velvety smooth voice comes nicely layered retaining it's husky timbre over the bass riff in Call On Me. Lower notes on the piano in Wait for sleep were dull. They should've been deeper. The bass kick and reverb on the heavy drum at the beginning of Brutal hearts was lovely.
While instrument separation is very good for a compact portable, soundstaging is perhaps one of the only areas in which this set of headphone falls short. Music appears to be playing from a source very close to you; somewhere above. If you're looking for, or are accustomed to a spacious aural experience you might be a tad disappointed. We feel the passive isolation is outstanding for supraural headphones; way better than the Meelectronics HT-21, the last decent supra-aural wired headphone tested here.
Continue reading about the TDK WR 700's performance, and our verdict, on the next page...
Another small niggle is that after a few minutes of no sound, the transmitter and headphone powers off to save battery. But simply switching on the headphone doesn't revive the transmitter. You will have to actually go and push the power button on the source. Now if you're hooked up to the PC or mobile device this would be an arm's lenghth away. But if you're enjoying a midnight movie and you pause it for a while because of say a call, you'd have to get up and wake up the transmitter connected to your 3.5 mm headphone jack.
[RELATED_ARTICLE] In terms of comfort we couldn't find anything to complain at all. Unlike most supra-aural headphones that end up stressing your outer ear (pinna), these won't cause you discomfort even in extended listening sessions. Being closed back supra-aurals, they will end up becoming stuffy and warm after a while. Even with the added weight of batteries they feel light and sit gingerly on your skull. The pressure exerted is enough to keep them on, but not cause discomfort. Jogging should be fine, but not running for your life or headbanging.
As for range and battery life it gave what is promised - about 30 feet and 30 plus hours. There are no pops or crackle in sound quality while pushing the range envelope. The just stops streaming after a point. What we weren't too happy about was performance through a wall. It drastically reduces with a barrier. So a quick piddle break with music may still not happen.
Verdict
In the end perhaps it perhaps boils down to one question: Are they as good as some of the better Rs. 7000 wired headphones? Not quite, but for wireless headphones the performance is superlative.This is one of the better sounding headphones to enter our test labs, and probably the best Wireless one till date. At Rs. 6,900 they're a little expensive, but for someone looking for a wireless solution without compromising on sound quality, it makes for a decent purchase.

Price: Rs. 6,900
| | |
| --- | --- |
| Brand | TDK |
| Model No | WR700 |
| Price | 6900 |
| Specifications | |
| Type | Type |
| SNR | - |
| Frequency response | 20-20,000 Hz |
| Driver size | 34mm |
| Impedance | 32 ohms ( /-5%) |
| Sensitivity | 106 dB ( /- 5 dB) |
| Weight | NA |
| Range | 10M (33ft) |
| | |
| Performance (So 10) | |
| Sound Samples | |
| 30 Hz | 8 |
| 15,000 Hz | 7 |
| Acoustic Drums | 7 |
| Test Tracks | |
| Pink Floyd - Money | 6 |
| Chris Rea - Call On Me | 7 |
| Therion - O fortuna | 7 |
| Motherjane - Mindstreet | 7.5 |
| Between the Buried and Me - Selkies | 7 |
| Dream Theater - Pull me under | 7 |
| Bedouin Soundclash - Brutal Hearts | 8 |
| Porcupine Tree - Buying New Soul (live) | 6.5 |
| Dream Theater - Wait for Sleep | 5.5 |
| Santana feat Yo-Yo Ma - While My Guitar | 7 |
| Massive Attack - Angel | |
| Misc | |
| Isolation | 7.5 |
| Comfort | 7 |
| Build Quality | |
| Buttons | 7 |
| Headband | 8 |
| Earcups | 6 |
| Overall build quality | 7 |
| Features (Y/N) | |
| Volume control on earpiece | Y |
| Noise cancellation (active) | N |
| Foldable design | Y |
| Wireless | Y (high-fidelity) |
| | |
| Verdicts (on 10) | |
| Features | 7 |
| Performance | 7.5 |
| Build | 7 |
| Value | 6.5 |
| Overall | 7 |