TDK ST800 Headphone - That good old feeling detailed review
When you think of TDK, headphones are probably the last thing to come you your mind. But as it turns out, apart from recording media and components, TDK does manufacture few categories of consumer audio equipment as well. This is one of two headphones recently launched by TDK, the other one being the wireless WR700 which features Kleer's proprietary lossless, wireless audio technology.
Look and Feel
The ST800 is certainly a nice looking device with liberal use of high quality leather everywhere. The mixture of retro and contemporary styling is quite eye catching while the soft padding on the cups as well as headband gives enough comfort for extended listening sessions. It has a sheathed cord that seems to be in line with the grade of materials used in other parts of the device. It comes with a 12 foot extension cable which will definitely help you increase your movement radius. The padding on the ear cups gives a good seal for passive sound isolation. However, for someone with large ears, I wonder if it will be truly circum-aural. I have small ears so the cups encompass my entire outer ear, but just about. The cups have adequate play in both axes for a good fit.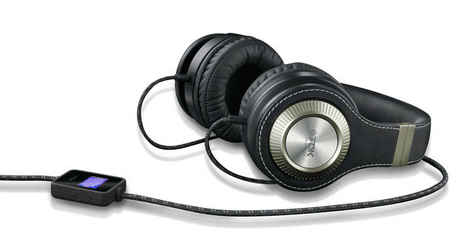 Features
The wire has an in-line controller that features a small LCD screen. The controller has an on/off switch and is an equaliser that lets you adjust bass and treble levels on the fly. The outside of the right cup is itself a huge dial that can be rotated to adjust volume. The volume control is calibrated quite wide (going from 0 to 100% would take you three complete rotations at least), allowing for minute adjustments. Two AAA batteries go into one of the ear cups. The batteries power the LCD screen and also provide amping. More on that in the performance section. The headphone does not have a collapsible or foldeable design, which would've increased its portability quotient. Speaking of which, TDK has gone all out in terms of the packaging (moulded box, UV printed product images etc) but the carry sleeve was quite incongruous with the rest of the splendour.
How we tested
We used two sources for the testing this time. ASUS was kind enough to send us their Xonar Essence STX sound card , likewise Pristine Note sent us a Audinst HUD-MX1 Amp/DAC. The difference in sound quality between the sources was not at all discernible (probably because there wasn't any) except when it came to gain levels. Our test tracks included a variety of lossless songs spanning various genres, frequency sweeps, test tones for different frequencies such as 30Hz, 250 Hz etc, and instrument samples like acoustic drums etc. We also included a few lower bit-rate encoding tracks for simulating typical use case scenarios. Here is a (very) small sample of the tracks that we used and what we look for while testing:
Porcupine Tree - Buying new soul > Acoustic drums, soundstaging, layering
Dream Theater - Pull me under > Processed sound reproduction
Therion - O fortuna > Orchestration, instrument separation, highs
Massive Attack - Angel > Bass
Between the buried and me - Selkies > Detail
Santana - While My Guitar Gently Weeps > Cello and vocals
Pink Floyd - Time > Guitar Tone, Detail
Chris Rea - My Deep Blue Ways > Vocals
Motherjane - Mindstreet > Tone
While we tried to put the headphone through as many genres as possible, admittedly we are guitar heads and these were our favourite pics.
Performance
When it comes to sound quality there is a lot to be said about these headphones. These are high-impedance, normal-sensitivity headphones, which means driving them using ordinary sources could be a problem. However, when you switch on the in-line equalizer, the signal gets amplified for considerable gain. Without using the headphone's own amplification, the Xonar STX didn't reproduce a loud enough volume (strangely). The Audinst HUD - mx1 Amp/DAC knob had to be turned up to the 70% mark to surpass the gain offered by the sound card. Still, it's not really anything to fret about since the headphone amping is sufficient and even enhances the audio quality a wee bit. That being said, a fact that needs to be emphasised is that these are certainly not neutral headphones. Sound is heavily coloured. Take for instance, vocal rendition; we listened to Deep Winter Blues by Chris Rea and while his voice sounds velvety smooth, that husky edge is lost. While mastering music, you know how levels are adjusted to make things sound pleasant - rounding off harsh peaks and such? These headphones seem to be doing that quite a bit. Your music will certainly sound nice and the headphones will let you prolong listening fatigue. One of our test tracks, O'Fortuna by Therion, has a lot of instrumentation, orchestration, and overlayed distorted guitars. For this track we found that the instrument separation wasn't up to the mark, but overall even with so much audio density, the sound was pleasant. When it came to our test tones, it couldn't handle the 30 Hz sample too well. Overall I'd say the headphone has a warm sound signature. Bass wasn't as tight as I'd have liked but the passive isolation offered by the headphones is fairly decent.
Verdict
The rated battery life of 12 hrs is a bit worrisome. Also, when the input is off for a long time, the headphones take a few seconds to fire up. You need to hit the EQ button on the controller to wake them up; I don't know but I found this to be pretty irritating.
To sum it up there is nothing really bad about these cans in terms of sound quality, but whether you like that mellow somewhat over-processed sound or not, is a matter of contention. Switching between the Audio-Technica M50 and these cans definitely didn't help its score and at a price of Rs. 9,000 they don't really make for an optimal purchase, unless you want the look and feel.
Ratings:
Features: 6.5
Performance: 6.5
Build: 7
Value: 5.5
Overall: 7
Quick Specifications
Driver size: 50mm
Driver type: Dynamic
Frequency response: 20 - 20,000 Hz
Sensitivity: 104 /- 3dB
Impedance: 200 Ohms /- 10%
Cord Length: 1.22m (4 ft)
Battery: 2xAAA - included