VERDICT:
Creative, with the Sound Blaster Roar, manages to pack a lot of features in a bluetooth speaker. It can be used as a USB speaker on a PC and can double as a battery pack for your phone. Performance is top notch as well, as it performs neck and neck with the Bose SoundLink Mini. The Sound Blaster Roar is easy to recommend.
Now that we've got that out of the way, let's start with a more detailed explanation to make up the rest of this review. First up if you'll direct your attention to the scores, you'll notice that out of all our scoring parameters – Features, Performance, Value etc, the Roar scores most on the features front, and hence that would be the perfect place to begin.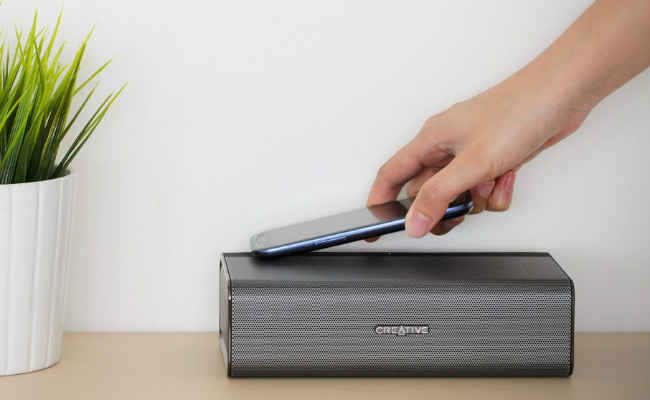 Features
The Roar packs in features – both useful and superfluous – to the hilt. In fact, we haven't seen a competing product that has such a huge laundry list of features. Some of its more impressive features are: the ability to be recognised as a USB speaker on a PC, a 5V 1 A USB out to charge your smartphone thereby doubling up as a portable battery pack, and of course NFC. Other features include microSD card playback for WMA, MP3 and WAV files, an integrated voice recorder that'll record your calls and audio to the microSD, bass-boost, a one touch loudness amping, and a siren. Phew! There are a few more but we're running out of space, instead lets talk about the design and build quality. The Roar is essentially a rectangular slab and conventionally one would imagine there isn't much that can be done aesthetically with a monolithic structure like that. The product designers have still managed to put in some eye candy with its machined grille and ample chroming on the sides. The speaker feels well built and though it doesn't come with any all-weather certification, it does seem like it could take a beating and a few splashes.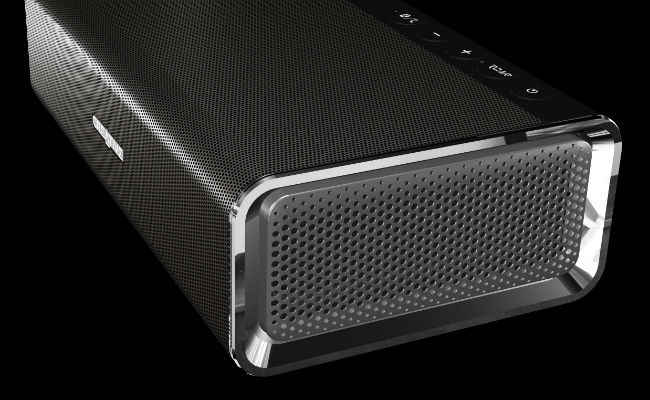 Performance
On the tech front, the Creative Sound Blaster Roar has managed to pack in some interesting innovations with its audio circuitry. For starters the bass driver and two tweeters are independently amped. In addition to these two sets of active drivers you also have a pair of side-firing passive radiators. The Roar's performance is neck and neck with the Soundlink mini. The highs are clearly better on the Roar and even percussion heavy tracks such as Brutal Hearts by Bedouin Soundclash sound better. The Bose, however, does manage to produce tighter bass, not that it goes any lower than the Roar. The mids too are slightly more enhanced on the Bose making it sound warmer in comparison to the Roar. The Roar on the other hand tends to tilt towards a "bright" sound signature. One good thing about the Roar is that the crossover unit doesn't overdrive or distort any of the drivers – that much is expected for a speaker of this quality, but often is an unintentional oversight by manufacturers in order to push more decibel levels out of speakers. The Roar then isn't unnecessarily loud, which is good, but at the same time the mantle of being deceptively loud still remains with the Bose SoundLink Mini. Speaking of which, the only thing that goes against it is its heft. The Roar is roughly twice as big as the Bose Soundlink Mini, but only a little louder in the bargain.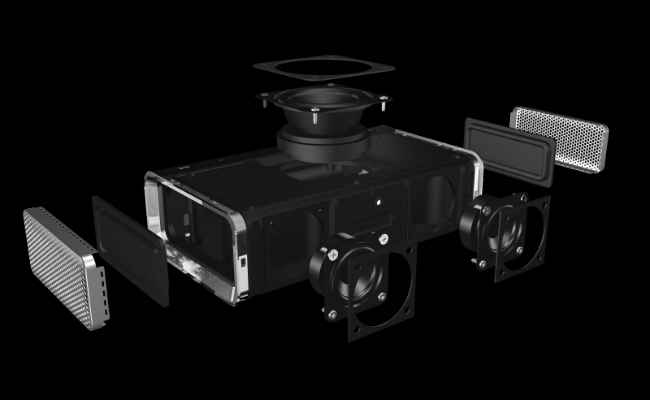 Bottomline
Now for the million dollar question (or rather Rs. 15,000 question), should you buy the Sound Blaster Roar? Most certainly yes, even if you have to stretch your budget a little.