Brainwavz BLU-200 detailed review
Shortly after the release of the BLU-100, Brainwavz followed up with the release of an update to its popular wireless in-ears in the form of the BLU-200. The BLU-200 looks a lot like its younger sibling. In fact, the differences are so minor, we wouldn't blame you if you couldn't tell them apart in a quick glance. There are subtle differences though. The housing, for example, is even larger this time around on the BLU-200. They look like little bullets to be honest. And while wearing them they protrude so far out, you can't help but think of the Frankenstein monster with those bolts sticking out of his neck. Don't fret, you won't look that unhinged but what's funnier is I'm not exaggerating by a lot.
The size and weight of the housing makes me wonder whether the battery has been crammed into the housing itself rather than the control pod which seems to be the design decision followed by the MEEaudio M9B wireless IEMs. The other difference is that on the BLU-200 Brainwavz has included a cable tie which lets you easily reduce the size of the flat cable that connects the two ear pieces. It's a nice little addition and solves one of the minor niggles I had with the BLU-100.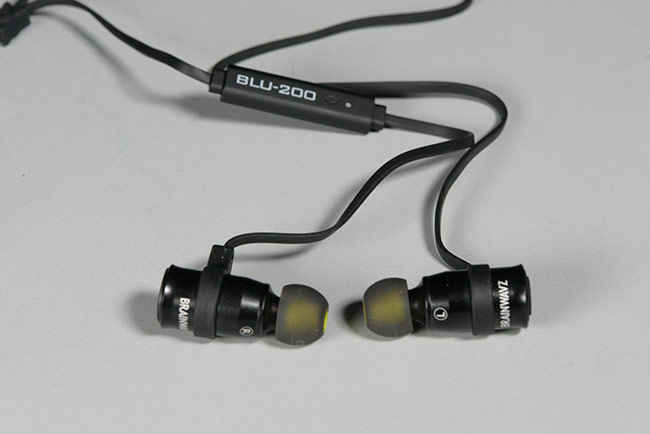 In terms of performance the BLU-200 improves on two very important parameters: one is the connectivity and the other is driver tuning. The BLU-100 used to suffer from intermittent skipping and stutters when the connection was lost. The BLU-200 holds on to the bluetooth connection much better. Not that you'd ever keep your phone very far from you but it's worth mentioning that the range has also improved.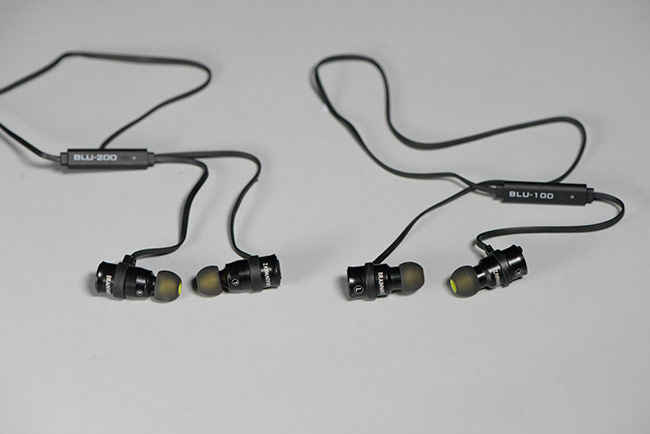 The sound signature this time around is decidedly bassier. The bass is tighter and more hard hitting as well. Most tracks I listened to sounded more spacious on the BLU-200. It does better with multi layered tracks too. This is because the performance in the upper ranges isn't sacrificed. You still have a certain amount of sharpness you need to ascertain detail. Vocals and upper mids sound a little recessed but only slightly. The BLU-200 is exactly Rs. 700 more expensive than the older BLU-100. I would say that this premium is worth it for the better performance. My only complaint still remains the battery life. Although slightly improved in real world runs, it still remains rated at 4 hrs.
Contact
Website: www.brainwavzaudio.in
Distributor: Swordstreet Technology Systems
Availability: Amazon and FlipKart
Warranty: 2 Years
Specifications:
Drivers: Dynamic, 9.2mm
Impedance: 16 ohms
Sensitivity: 96dB at 1mW
Frequency range: 20 ~ 20000Hz
Bluetooth: 4.0 with aptX
Battery: 60mAh