TP-Link has launched the TL-WA860RE, a new Wi-Fi range extender which will offer AC Pass-Through. The range extender comes with multiple security measures Wi-Fi protected access via WPA2-PSK and WPA-PSK. It also features wireless LAN WEP encryption in 64/128/158-bit. The extender is wall mountable and comes with an AC Pass-Through so that consumers would be able to utilise that power outlet to which it's connected. The extender alos supports built-in DHCP server, firmware upgrade, and management via web. The range extender works with a push of a single button and comes with two external antennas.
The company recently launched its dual-band Archer D9 Gigabit router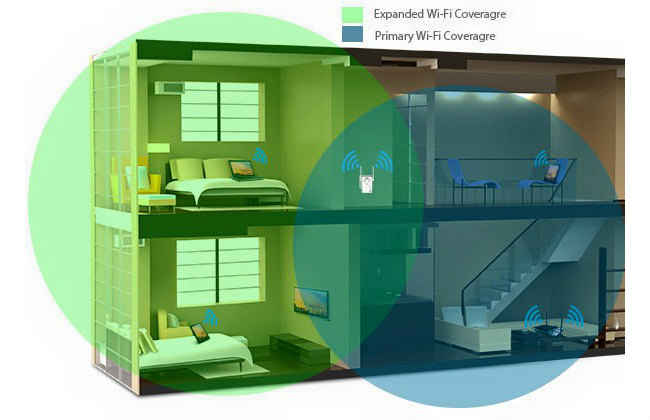 Read the full press release below
Let's say you are roaming out in your house, holding your smartphone in your hand, playing your online game, or video calling your dear ones, or doing anything online and all of sudden the game stops, video call gets freezed and you realize you are out of the Wi-Fi coverage in your home/office/garden. Well TP-LINK has a solution for you, TL-WA860RE Wireless Range Extender. TP-LINK a global provider of networking products, announced their latest in a series of power socket-mounted Universal range extenders with AC Pass-Through, the TL-WA860RE is industrial looking new device, designed to conveniently extend the coverage and improve the signal strength of an existing wireless network to eliminate "dead zones". Combined with two external antennas and AC pass-through, TL-WA860RE make sure to offer something useful and new, keeping its simplicity still intact and ease of use still been kept at priority, providing the freedom to enjoy Internet anywhere in large areas such as homes, hotels or small offices, without worrying about coverage limits.
TL-WA860RE is also designed to be incredibly easy to set up to improve signal coverage in large homes or offices for experienced or novice users. Users can quickly deploy the device, with no new wires or cables, within range of their existing wireless network, press the 'range extender' button and instantly expand their total wireless coverage to previously unreachable locations, eliminating troublesome 'dead zones'. Moreover, its integrated power socket ensures that no power outlet goes to waste.
TP-LINK is known for its products, ease of use and easy setups and TL-WA860RE is perfect example of it. Just plug and play. That's all you need to do to extend your wireless network. With no new wires or cables, within range of their existing wireless network, users can easily extend wireless coverage at a push of the WPS button on their router followed by the Range Extender button on the TL-WA860RE. With 2 external antennas combined with higher quality antenna technology, you can experience excellent WiFi coverage and reliability no matter where you connect in your home.
With using IEEE 802.11n wireless technology, this device can transmit wireless data at the rate of up to 300Mbps. With multiple protection measures, including wireless LAN 64/128/152-bit WEP encryption, Wi-Fi protected Access (WPA2-PSK, WPA-PSK), the TL-WA860RE 300Mbps Wi-Fi Range Extender with AC Passthrough delivers complete data privacy.