Microsoft has introduced AI-enabled features in its famous word processing tool, Word. They are available today on Word on the Mac for Office Insiders (Fast) as a preview.
Microsoft has launched AI-assisted features to help its users focus more on the work they're doing. With the new features, users should easily be able to add elements like charts by simply typing the command inside angular brackets.
Read the complete press release below:
Now keep track of to-dos with new AI features in Word
Microsoft has introduced new Artificial Intelligence capabilities to Word that will help users create and fill in placeholders without leaving the flow of their work. Users can type TODO: finish this section or <<insert closing here>> and Word will recognize and track them as to-dos. When you come back to the document, you'll see a list of your remaining to-dos, and you can click each one to navigate back to the right spot. Once you've created your to-dos, Word can also help you complete them. You can also take help from a friend or coworker, just @mention them within a placeholder.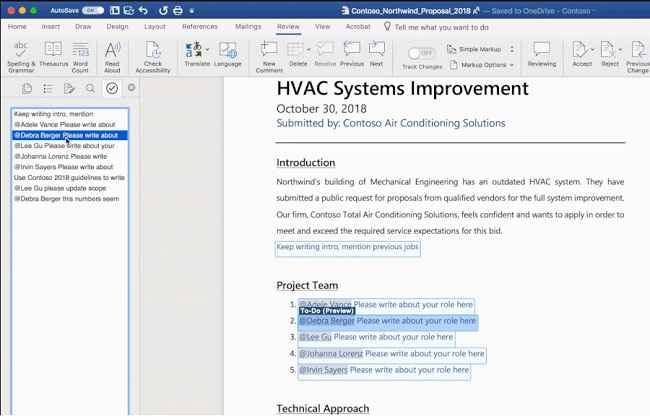 In the next few months, Word will use Microsoft Search to suggest content for a to-do like <<insert chart of quarterly sales figures>>. You will be able to pick from the results and insert content from another document with a single click.
These capabilities are available for Word on the Mac for Office Insiders (Fast) as a preview. We'll roll these features out to all Office 365 subscribers soon for Word for Windows, the Mac, and the web.
For more information, please visit Microsoft blog.