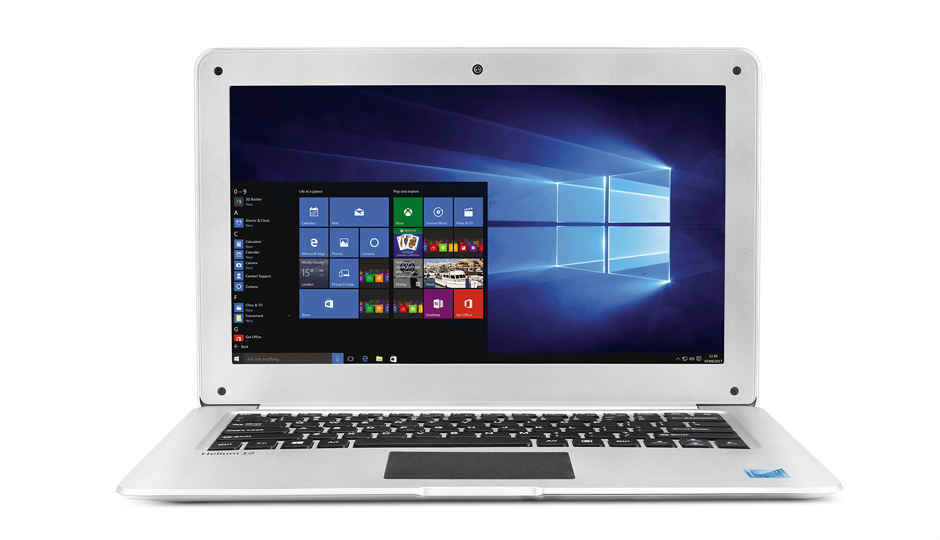 HIGHLIGHTS
The device sports 2GB of RAM and comes with Windows 10 pre-installed. The Helium 12 is available in Silver and Gold models.
Lava has launched its latest laptop, the Lava Helium 12 priced at Rs 12,999. The laptop sports a 12.5-inch HD display with a 1366×768 resolution and comes pre-loaded with Windows 10 Anniversary edition. It is powered by a 1.88GHz Quad-core Intel processor and is coupled with 2GB DDR3 RAM. The laptop weighs at 1.31 Kgs and is powered by a 10000mAh battery. The Helium 12 is available in Gold and Silver colours and is available for purchase via both online and offline channels.
Read the complete press release below
LAVA International Limited, a leading Indian multi-national mobile handset company, today announced the launch of Helium 12; with the first-ever screen size of 12.5 inches. It is the widest screen notebook; offering seamless and user-friendly experience, yet compact and light – weighing just 1.3 kgs. Helium 12 marks a significant entry into LAVA's notebook portfolio post the successful launch of Helium 14 a few months ago. Priced at Rs. 12,999/-, Helium 12 will be available in two color variants – silver and gold.

Targeted at millennials and entrepreneurs, Helium 12 is a perfect device to use for work and entertainment purposes. It is designed to offer convenience of multitasking while on the move. Providing complete laptop functionality at a pocket-friendly price, Helium 12 will be available for purchase on all major e-commerce portals as well as on multi-brand outlets across 14 Indian cities.

Commenting on the launch, Gaurav Nigam, Senior VP & Head of Product, Lava International Ltd said, "The launch of Lava Helium 12 testifies our commitment to constantly innovate our product portfolio and deliver the best-in-class devices for the Indian consumers. We understand the increasing preference for a light-weight yet big-screen notebook for our modern-day customers; which largely comprise budding entrepreneurs and university graduates – these millennials largely represent the country's evolving mobile workforce. With focus on technology as an enabler, we have given many firsts to our consumers. And, we are committed to contribute to the digital evolution of the Indian economy with the launch of advanced devices; such as Lava Helium 12."

Lava's Helium 12 is aesthetically designed and comes with an attached keyboard – which also makes the device as a trendy laptop; as preferred by the young generation. And that's not all – the notebook is just 2cm thin making it a sleek and powerful device. It is powered by Windows 10 Anniversary edition and comes packed with Quadcore Intel processor, with speed up to 1.88 GHz, providing a powerful and lag-free experience to the consumers.

Furthermore, the notebook features 10000 mAH battery for prolonged usage. Helium 12 has an inbuilt 32 GB memory which is expandable up to 128 GB via SD card and further expandable with 1 TB external HDD – thus allowing consumers to store more music, pictures, videos and other valuable data.

LAVA Helium 12 also comes with 1366*768 HD display and 16:9 aspect ratio thus providing rich display functionality to the device. The Windows OS notebook features the user's personal assistant, the Cortana, which is available above the lock screen – this gives the user quicker access to common tasks.

Intel's Chipset provides a graphic enhancer and accelerator which helps to amplify the user experience with better device graphics. Helium 12 is loaded with VGA rear camera and video calling functionality through any VoIP. Connection with peripherals is easy with Bluetooth 4.0, 2 USB Slots with 2.0 and 3.0 connectivity and a 3.5mm headphone jack. Additionally, Lava Helium 12 comes secured with a lifelong free Microsoft Defender antivirus to ensure users' data safety.