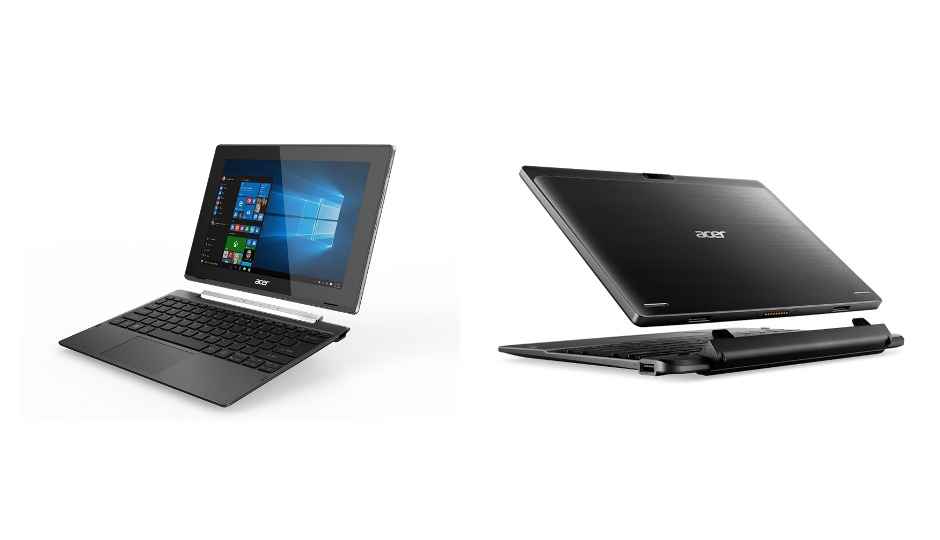 HIGHLIGHTS
Besides the Switch V10 and One10, Acer also unveiled the BM320 4K UHD monitor and TravelMate P2 series notebooks.
Acer has announced two new affordable 2-in-1 notebooks called the Switch V10 and the Switch One10. The two devices sport 10-inch displays and are powered by quad-core Intel Atom processors. Both devices run Windows 10, and are aimed at students and budget-conscious families. Besides this, Acer also unveiled the BM320 4K UHD monitor and the TravelMate P2 series notebooks.
Read the complete press release below
Acer, one of the largest PC vendors in the World, took the wraps off of its Ultra-Affordable 2-in-1 Notebooks and expanded two new additions to its commercial product portfolio at Computex 2016 today. The two 10-inch 2-in-1 notebooks i.e. Acer Switch V10 and Switch One10 designed for students and budget-conscious families; provides the best of both worlds to those who desire productivity and entertainment in one smart device. Acer also expands its commercial product portfolio: the Acer BM320 4K UHD monitor for graphics and video professionals, and TravelMate P2 series notebooks, equipped with Windows 10 Pro, in 14- and 15.6-inches for small and medium businesses. The new products are engineered with features that help professionals get their jobs done efficiently.
The Switch V 10 and Switch One 10 – A Perfect Mix of Power and Versatility
Both the Acer Switch V 10 and Switch One 10 feature Windows 10 and the latest quad-core Intel® Atom™ processors for best-in-class performance and productivity. They include multi-touch 10-inch screens with IPS technology for wide-viewing angles and vivid colors, while Precision Touchpads enable accurate, smooth and responsive navigation experiences, and support Windows 10 Precision Touchpad gestures. With the Acer Snap Hinge™ latch-less magnetic hinge design, both devices utilize Continuum to easily transform into four versatile usage modes to best suit the need at the moment:
1. Notebook: Traditional laptop/clamshell mode for efficient keyboard and touchpad productivity. Ideal for doing research, composing documents and performing spreadsheet calculations
2. Pad: Remove the display and use it as a standalone touchscreen tablet. Excellent for entertainment so sit back to watch your favorite TV series or play games after a long day at school or work
3. Tent: Place the tablet and keyboard in a tent (or "A" formation) to use the touchscreen in tight spaces like on long train journey, cross-country airplane trip, or simply at home to view a recipe on a crowded kitchen counter
4. Display: This mode connects the tablet facing away from the keyboard to offer a sleek way to present videos at small events or other types of gatherings
Acer Switch V 10: Budget-friendly 2-in-1 with USB Type-C

Available with metal covers in five eye-catching colors (Pearl White, Shale Black, Coral Red, Peacock Blue and Navy Blue), the Switch V 10 is an ideal choice for students and young professionals thanks to the fast data transfer, high-resolution video output and convenient charging of the USB Type-C port. The touch display panel on Switch V 10 is covered by Antimicrobial Corning® Gorilla® Glass, which contains an antimicrobial agent to help protect the surface from odor and stain causing microorganisms and reduce their growth on touch surfaces.
The Switch V 10 has a built-in fingerprint reader which allows users to conveniently log into the computer through Windows Hello, while a dual-band MIMO 802.11ac wireless connection enables up to three times faster performance. Lightweight and portable, the Switch V 10 is available in 32 and 64 GB storage configurations, and can be paired with a functional keyboard dock for an additional 500GB of HDD data storage and two extra USB Type-A ports, or a slim keyboard dock for ultimate portability.
Acer Switch One 10: Flexible 2-in-1 Functionality at an Extremely Attractive Price-Point
The Switch One 10 comes with a stylish dark grey brushed-metal cover, and offers flexible 2-in-1 Windows 10 functionality at an extremely attractive price-point. The Switch One 10's tablet detaches effortlessly to share with kids when they want to watch their favorite shows or play games, while also providing ample productivity when parents need to get some work done at home.
Acer BM320 Monitor: Accuracy and Performance for Professionals

The BM320's stunning 32-inch panel delivers up to 4K UHD resolution (3840 x 2160) images with professional-grade color accuracy and amazing detail. Photographers and graphic designers will appreciate its support for 100% of the Adobe RGB color gamut, while video editors and directors can work with confidence as it covers 100% of the Rec. 709 color gamut and 90% of DCI-P3. The BM320 supports 10-bit color depth, which provides 64 times more color depth over conventional 8-bit monitors, and every unit is factory pre-tuned and tested to ensure a Delta E<2 color accuracy. It comes with Uniformity Compensation to help reduce uneven brightness and color fluctuations across the screen.
The BM320 features a sleek ZeroFrame design which virtually eliminates the screen's bezel for a seamless visual experience when multiple displays are put together, and adding a touch of modernity to the office. In addition, Acer's ErgoStand lets users tilt, swivel, pivot or adjust the height of the monitor with ease, ensuring that they find the perfect viewing position effortlessly.

TravelMate P2 Series: Uncompromised Productivity for Small and Medium Businesses
Designed to meet and exceed daily needs of small and medium businesses, Acer's new 14-inch TravelMate P249 and 15.6-inch TravelMate P259 are built with 6th Generation Intel® Core™ processors, NVIDIA® GeForce® 940M discrete graphics, up to 32GB DDR4 system memory, and ship with Windows 10 Pro. The notebooks feature Full HD1 backlit LED displays and support connection to three independent displays so users are able to work efficiently with multiple documents and programs open. An optional backlit keyboard option is available, while a DVD/CD-RW drive can be included for software installation and storage backups.
Microsoft Skype for Business Certification ensures people can communicate with crisp and lag-free quality, and also allows for clearer, higher quality audio and a great Cortana experience with Windows 10. The TravelMate P2 series includes a built-in fingerprint reader1 which allows users to conveniently log into the computer through Windows Hello, and a TPM 2.0 (Trusted Platform Module) for hardware-based encryption to secure user credentials, email and data. Acer's Office Manager™ is also bundled to allow small businesses to deploy security policies and monitor IT assets across the organization. For SMB IT managers with limited time, this streamlines general maintenance so they focus on the tasks to help them grow their business.