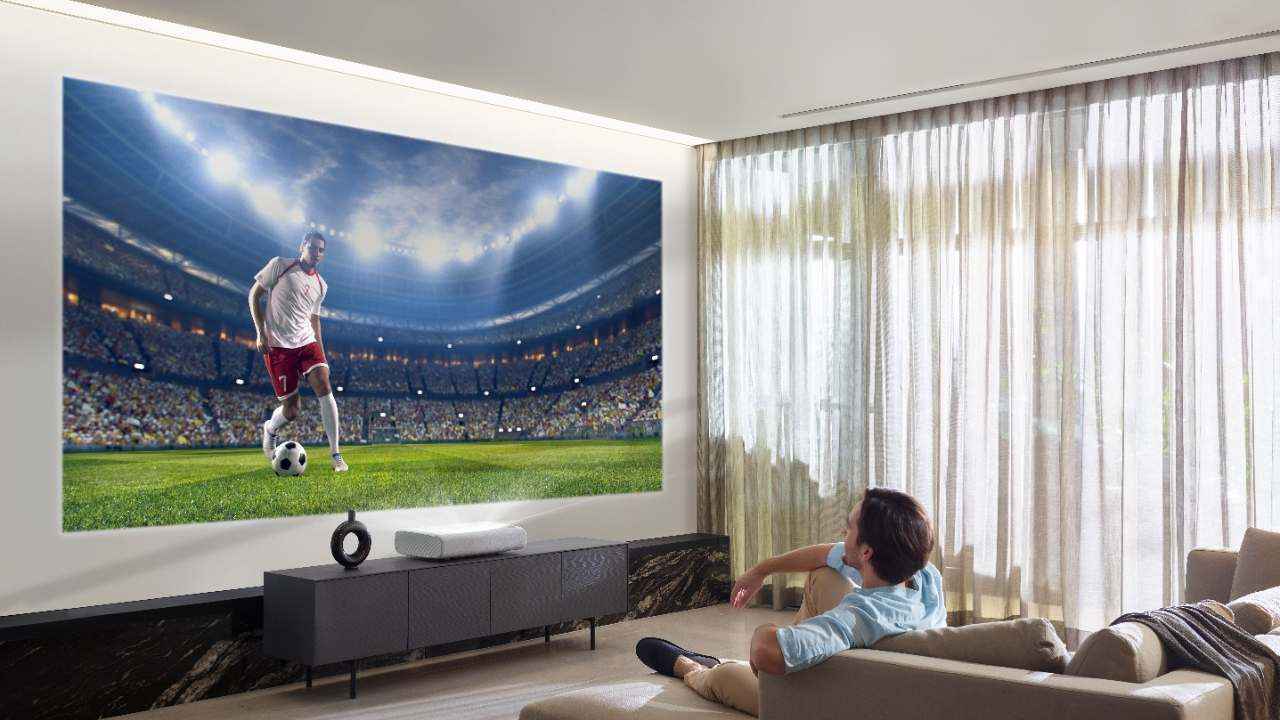 Samsung has launched two new ultra-premium projectors in India. Called The Premium, the projectors are available in two models, the 130-inch LSP9T and the 120-inch LSP7T. The LSP9T projector is able to project a screen of up to 130-inches from a distance of 11.3cm. The LSP9T model of The Premiere is available at Rs 6,29,900 while the LSP7T is available at Rs 3,89,900 respectively.
Read the complete press release below
Samsung, India's largest and most trusted consumer electronics brand, has strengthened its lifestyle product portfolio with the launch of the ultra-premium range of projectors called 'The Premiere' to offer you a big-screen private cinema experience in the comfort of your home.
The Premiere comes in an all-in-one compact, space-saving design that blends perfectly into a variety of settings and arrangements in your living space. As it is an ultra-short-throw projector, The Premiere can be placed on a coffee table or chest of drawers at just a fist-sized distance (11.3 cm) away from the wall to project a high-quality screen of up to 130-inch.
Boasting a minimalist white design, rounded edges and an aesthetically pleasing fabric finish, The Premiere is ready to serve as the centerpiece for your home. In addition to its appealing look, The Premiere remains compact and unobtrusive, with its ultra-short throw capabilities. Requiring no complex installation and proving a match for changing lifestyle and interior décor trends, The Premiere harmonizes your space and serves to add to the aesthetic value of your room.
Starting today, The Premiere will be available in up to 130-inch and 120-inch screen size models – LSP9T and LSP7T respectively – that support a laser powered 4K picture resolution. The Premiere LSP9T is the world's first HDR10+ certified projector with triple laser technology. It delivers revolutionary contrast details as the user watches from bright to dark scenes with a peak brightness of up to 2,800 ANSI lumens (a unit defined by the American National Standards Institute that measures the overall amount of light output by a projector) that ensure bright and clear pictures even in the daytime.
The Premiere also supports Filmmaker Mode, as the first of its kind projector, allowing users to enjoy watching movies as the director intended. The smart projector comes equipped with Samsung's Smart TV platform and experience full of streaming video apps from major content partners such as Netflix, Amazon Prime, YouTube etc. and mobile connectivity features such as Tap View and Mirroring. Consumers can also enjoy an immersive, vivid gaming experience on a screen size of up to 130-inch with the Game Mode.
The Premiere has powerful built-in woofers and Acoustic Beam surround sound, providing one of the best cinema experiences with a projector and reduces the need for additional bigger sound equipment in tighter spaces. The Premiere's Acoustic Beam technology delivers up to 40W and 4.2 channel sound for the LSP9T and an output of 30W and 2.2 channel experience for the LSP7T. This means that consumers do not need any additional sound device as the sound is in-built into the projector and the living space becomes a theatre or auditorium.
"As people continue to spend more time at home, we see an increased demand for in-home entertainment technology that creates premium and differentiated experiences for consumers. The Premiere re-imagines the home cinema experience with an all-new compact design, 4K picture quality and big sound for tight spaces that can be used for any at-home activity and living room arrangements, without the hassles of cables and a bulky set-up. With this launch, Samsung continues to bring in lifestyle audio-visual devices that are in sync with the needs and passions of consumers," said Raju Pullan, Senior Vice President, Consumer Electronics Business, Samsung India.
Price, Offers, Where to Buy
The Premiere would be available in two models on Samsung's official online store, Samsung Shop and at select Samsung Smart Plazas from August 10, 2021. The LSP9T model of The Premiere is available at INR 6,29,900 while the LSP7T is available at INR 3,89,900 respectively.
Early bird consumers will get complimentary Amazon Echo Plus when buying any of the two models from Samsung's official online store. For more details, visit https://www.samsung.com/in/projectors/the-premiere-2021/
All projectors will come with 12 months of warranty.
Product Specifications
Design: An Aesthetically Pleasing Shape and Finish for a Modern Touch
With a minimalist white design, The Premiere is designed to serve as the centrepiece for your home. Furthermore, its rounded edges are accentuated with a fabric finish to evoke cozy and modern simplicity.
In addition to its appealing look, The Premiere remains compact and unobtrusive, with its ultra-short throw capabilities – meaning that it can be placed right in front of the wall without the need for disruptive placement elsewhere in the room. Requiring no complex installation and proving a match for changing lifestyle and interior décor trends, The Premiere harmonizes your space and serves to add to the aesthetic value of your room.
Stunning Picture Quality, No Matter the Time of Day
The Premiere is available in two models – a Triple Laser-enabled model (LSP9T) and a Single Laser-enabled model (LSP7T).
The Premiere elevates the color display of its projection to 147% of the color gamut – capable of bringing a picture, to life. Users can enjoy truly authentic renderings of the unique colors and vibrant tones of all their favorite iconic scenic shots.
To allow users to enjoy the screen during daytime conditions, The Premiere features high brightness and contrast ratio levels. The projector tops out at 2,800 ANSI lumens of brightness that delivers sharp picture even in day-time. Regardless of where a user is seated, the 4K screen is capable of showcasing content in all its glory at any angle, meaning that friends and family alike can benefit from the experience.
Easy Placement Against Any Wall
When you think of installing projectors, the first thing that might come to your mind is a myriad of cables, fixtures and other components. However, The Premiere's installation is as simple as plugging in its power cable and connecting it to a wireless network.
Compared to conventional projectors which require up to 3m or 4m of distance from the wall in order to provide big-screen projections, The Premiere is an ultra-short throw projector capable of creating a screen size of 100-inch when placed just at 11.3cm (LSP9T) and 30.3cm (LSP7T) away from the wall. The 130-inch display can be achieved at mere 23.8 cm (LSP9T) from the wall, a perfect fit to your home décor. To put it simply, there is no need to rearrange your interior design in order to install your new projector – The Premiere necessitates just some simple organization to accommodate its easy installation. Furthermore, The Premiere possesses a compact size that means users can easily install and rearrange the projector on their own.
An Immersive, All-in-One Speaker for That Live Stadium Experience
The Premiere produces three-dimensional, captivating sound without the need of any extra speakers – thanks to the robust sound system built into its compact design. It is equipped with 40W of premium speakers and woofers built directly into the projector and enhanced with Acoustic Beam technology to maximize sound from all angles. The Premiere is all set with Acoustic Beam, woofers, and tweeters to add richer sounds to heighten your viewing experience.
Staying Entertained and Connected with Smart TV Features
The Premiere provides users with a full smart TV experience through access to all kinds of content when connected to the Internet. Once the user is connected to a wireless network and enters the Menu, a range of content is presented from providers such as Netflix, YouTube and Amazon Prime, and music streaming services where popular sports podcasts can be found including Apple Music and Spotify. One can even search for the content you want to watch using voice recognition. The Premier works with Bixby, Amazon Alexa & Google Assistant to make your life easier.
The Premiere also supports the 'Tap View' feature to mirror the content playing on your smartphone to your projector; by simply gently tapping the side of The Premiere with your device, one can easily cast pictures or videos from your smartphone straight onto the bigger screen.
The Premiere comes equipped with Game Mode that enables a vivid gaming experience on up to 130-inch screen size. Additionally, while running a game, one can have enhanced Gaming experience with Game Enhancer feature that provides realistic images through seamless motions. The premium ultra-short throw laser projector range comes with three HDMI ports and one USB port to enable seamless connection to a gaming console.