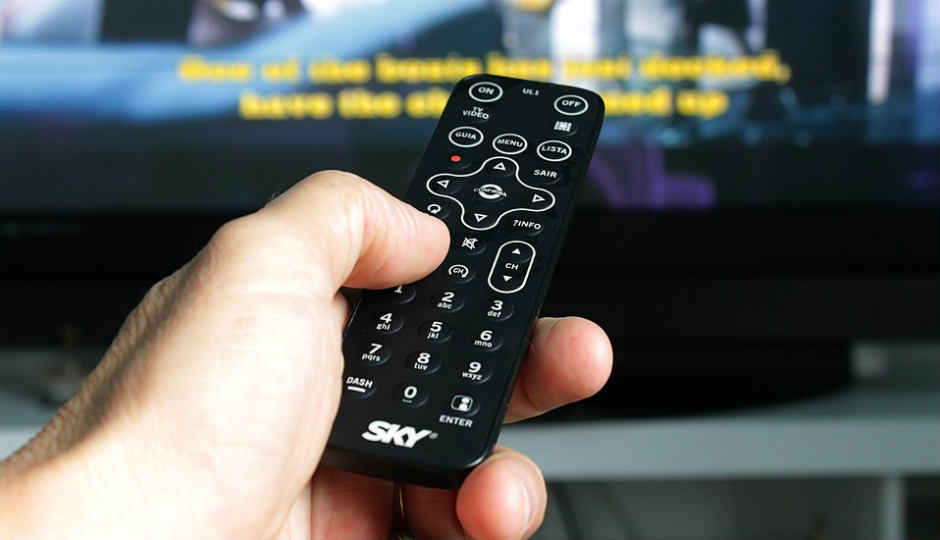 HIGHLIGHTS
The satellite cable provider is offering a free HD HEVC set-top box, albeit on some terms and conditions. Buyers will also get one-year of free access to HD channels along with five years of free to air channel viewing.
Reliance Big TV has come up with a new offer for its customers with which they can now avail free access to paid channels for one year and free to air channels for five years. The company is also offering an HD HEVC Set-Top-Box (STB) at an effectively free price and the pre-bookings for it will commence from 10:00 AM on March 1, 2018, for a limited period. Buyers will need to pay Rs 500 at the time of booking and another Rs 1500 during installation. To get their effective cashback, users will need to recharge monthly with Rs 300 continuously for two years, after the first free year and then they will receive a cashback of Rs 1,999 in the form of recharge.
Read the complete press release below
In line with the honourable Prime Minister's vision of digital India, Reliance Big TV's latest offer is here to provide 130 crores Indians free-of-cost access to an extensive range of HD-quality entertainment channels.
Amidst a festive like cheer and roaring applause, the Director of Reliance Big TV, Mr. Vijender Singh announced the new plan that is going to define the future of entertainment in India. Reliance Big TV is going to offer a free access to both, Free to air channels up to 500 for 5 years and pay channels for 1 year, across the country.
Reliance BIGTV is set to roll out digital revolution in entertainment with a HD HEVC Set-Top-Box free of cost effectively.
We are extending Pan India network to support our customers, enriched content (Entertainment / Movies/ Sports/ News/ infotainment/Education/ cartoon) for all, Superior digital quality & Affordable services with a latest cutting edge HD HEVC device.
Our HD HEVC set top box comes with all latest features like schedule recording,USB port, youtube, recording & viewing channels simultaneously etc.
Commenting on the big development, Director, Reliance Big TV, Mr. Vijender Singh said "Today, Reliance Big TV is going to mark the beginning of a new dawn in the way Indians have been accessing entertainment on their TV sets. Starting from today, entertainment comes effectively free of cost, with the latest offer by Reliance Big TV. Now every Indian household can enjoy high quality home entertainment & students can have free of cost access to education content with latest HD HEVC set Top box.
The latest incredible offer first time in India by Reliance Big TV provides plethora of pay channels absolutely free for 1 year including HD channels & up to 500 FTA channels free of cost for 5 years. Further Director, claims to support digital India Initiative by bringing urban & rural India on same platform for entertainment & education with unified consumer offer.
Pre -Booking will open from 10:00 AM on 1st of March 2018 for limited period
On Reliance Big TV website (www.reliancedigitaltv.com) with booking amount of INR 499/-. On the receipt of Set-top-Box and outdoor unit (ODU), buyers have to pay the balance amount of INR 1500/-and enjoy plethora of pay channels absolutely free for 1 year including HD Channels and up to 500 FTA channels free of cost for 5 years.
To claim loyalty subscribers need to recharge monthly amount of INR 300/- from 2nd year onwards for all pay channels and on completion of subscription of pay channels continuously for next 2 years with Reliance Big TV, then subscribers will get back INR 1999/- as a loyalty (the amounts paid during booking and receipt of the Set Top Box) in form of recharge.
Thus, providing entertainment effective free of cost, the Limited Period Offer by Reliance Big TV is up for grabs from 1st of MARCH 2018.
Delivery will commence after 30 days from date of booking. To make the most of the limited offer and book a free access to the best quality entertainment, users are requested to visit and book at Website : www.reliancedigitaltv.com
Toll free Number – 18002009001