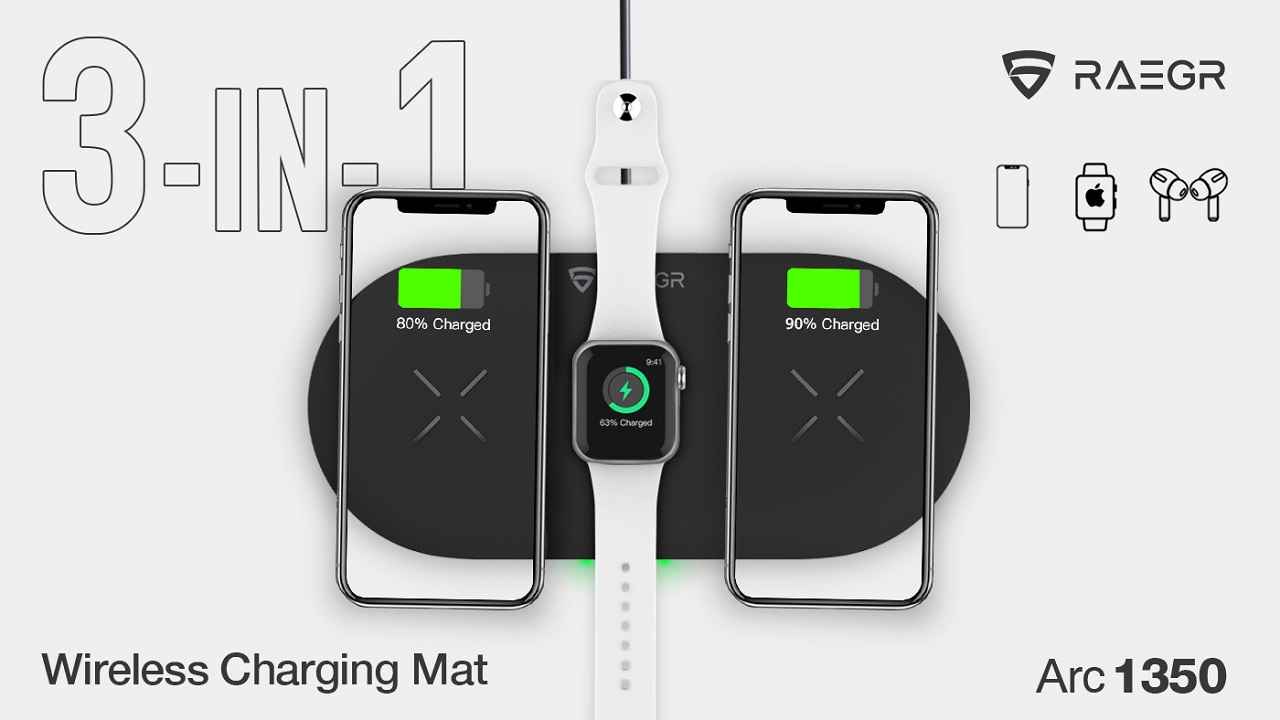 Bengaluru-based homegrown consumer lifestyle technology brand RAEGR is excited to announce a revolutionary product that will make life for Apple and Android users extremely convenient. Introducing the RAEGR Arc 1350, a Triple Wireless Portable Charging Mat and a must-have accessory that can ease an Apple user's charging woes. The charging mat can simultaneously wirelessly charge up to three devices, including an Apple Watch.
Commenting on the new launch, Ajesh George, MD, RAEGR said, "Arc 1350 resolves the most common need related to charging multiple devices simultaneously , using a single device , single power input, and that too wirelessly."
The RAEGR Arc 1350 is a unique wireless charging mat that is currently offered by no other company. It features three wireless charging coils that can charge compatible devices with up to 10W of power by simply placing them on it. While the two extreme coils can charge Qi-compatible devices, such as smartphones from Apple, Google, Samsung and Huawei, or TWS earbuds from Apple or Samsung, the built-in – centre coil is exclusively for wirelessly charging an Apple Watch.
Apple users would highly appreciate the RAEGR Arc 1350 as this single Wireless Charging Mat can simultaneously charge their iPhone, Apple Watch and AirPods, preparing them for use together. No more waiting to charge each device individually, especially when you have only one charger or adapter. You can simultaneously charge two different smartphones together with an Apple Watch too.
All you need is a USB Type-A or Type-C wall charger and the wireless charger will take care of your charging needs. A 15W adapter would be enough to charge 2 devices, but a 20-25W adapter will be needed to output the full potential , if 3 devices are being charged simultaneously . Bundled along with the RAEGR Arc 1350 are two Type C cables for use with any type of wall charger, be it QC 3.0 or Type-C PD. It features four types of automatic charging modes — 2.5W, 5W, 7.5W and 10W for a range of compatible devices such as earbuds, Apple Watch and smartphones.
The RAEGR Arc 1350 is designed with a very slim and light-weight ABS body which makes it highly portable and suitable for travel. The left and right charging areas feature anti-slip silicone threads to help prevent the smartphone from slipping or falling off. The centre charger has a dimple to accommodate the shape of the Apple Watch. There are LED indicators on the pad that denote the charging status but are also designed to be dim enough so that it does not disturb you during the night. The RAEGR 1350 Arc is also designed to be case friendly, which means you can leave your smartphone case on while wirelessly charging it on the mat. The RAEGR Arc 1350 is also Qi-Certified and features advanced safety protection for temperature control, over-current protection, over-voltage protection and short-circuit protection.
The RAEGR Arc 1350 Triple Wireless Charging Mat comes in Black colour, and is available for an exclusive price of Rs 2,999 on Amazon India and Flipkart. It carries an industry-leading warranty of 1 Year + Extra 6 months on registration/activation.
*10W Output for Samsung Note 20/10 /9/8/5 series /Galaxy S20 / S10, S9,S8,S7 series ,S6 Edge Plus while using QC2.0/QC3.0 adapter (9V, 1.67A). 7.5W Output for Apple iPhone 12 series /SE (2020)/11/11 Pro/11 Pro Max/XS MAX/XR/XS/X/8/8 Plus while using QC2.0/QC3.0 adapter (9V, 1.67A). 5W Output for All Qi – Enabled Phones/devices while using a standard adapter.
2.5W Output for Apple Watch from Series 1 – Series 6. (Gen 1/Series 0 is not supported)
About RAEGR:
RAEGR is a consumer tech accessory brand that offers a wide range of lifestyle and tech products. The product catalogue includes Wireless Chargers, Bluetooth Audio such as Speakers, Headphones and Earphones, Smartphone Cases and Mobile Accessories. RAEGR Wireless Chargers have been ranked the best in their category on Amazon India. The brand introduces innovative and high-quality products based on customers' needs while maintaining excellent value and satisfying customer experience. The brand is owned by Georgian Enterprises, Bangalore.
Experience their products at www.raegr.com, Amazon India, and Flipkart.