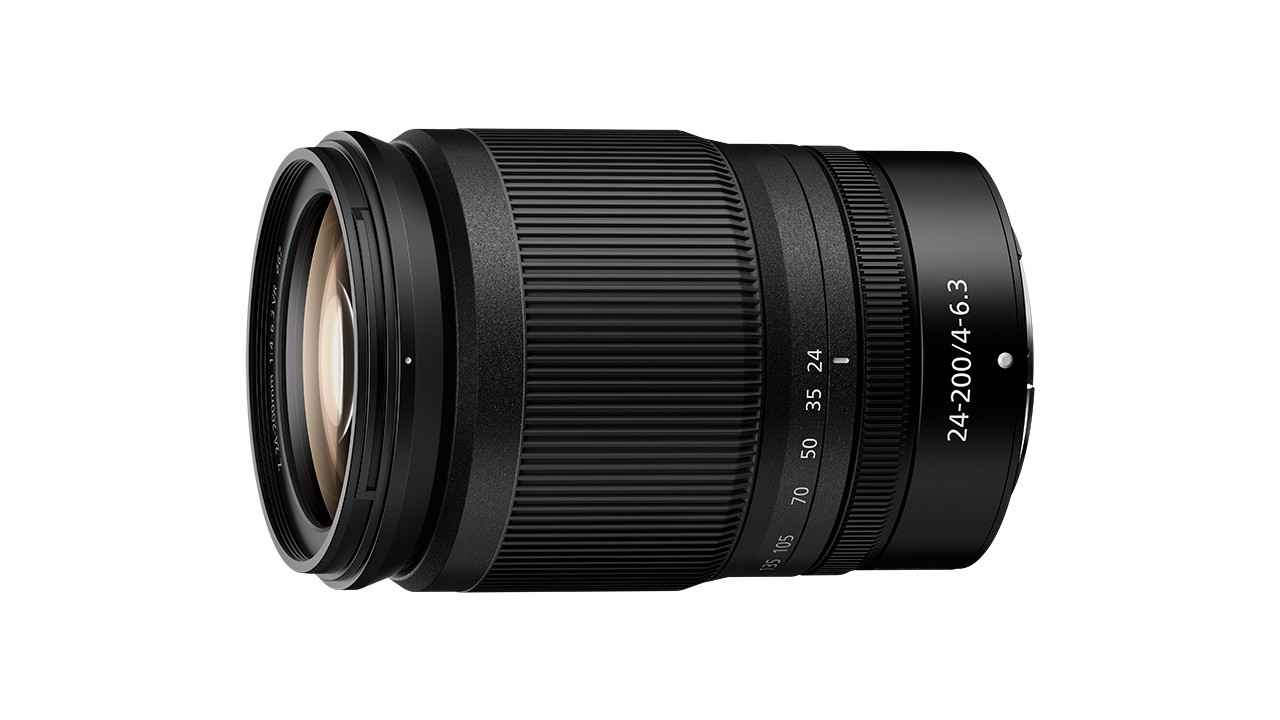 HIGHLIGHTS
Nikon NIKKOR Z 24-200MM F/4-6.3 VR costs Rs 70,995.
Nikon has launched the NIKKOR Z 24-200MM F/4-6.3 VR. It costs Rs 70,995 and will be made available in April 2020.
You can read the complete press release below
ikon India Pvt. Ltd., 100% subsidiary of Nikon Corporation Tokyo today announced the launch of its NIKKOR Z 24-200mm f/4-6.3 VR, a lightweight and versatile NIKKOR Z lens. Enjoy capturing beautiful moments with the telephoto lens's extensive coverage of view angle from 24mm to 200mm, allowing for the shooting of a great diversity of scenes that include landscapes, portraits and close ups. It does not matter if you are an enthusiast or professional, let the lens accompany you around the world as you record every memory in high quality, even in low-light conditions.
"The new NIKKOR Z 24-200mm f/4-6.3 VR is a compact delight! The lightweight size enhances the versatility for adventurous creators on the go. The lens features ARNEO Coat, allowing users to capture stills and videos with clarity and precision. We take pride in our optical technology, and we are certain that this new addition will help get our users redefine their experience." said Sajjan Kumar, Managing Director – Nikon India.
NIKKOR Z 24-200MM F/4-6.3 VR PRIMARY FEATURES
Unrestrained to Explore the World
From panoramic widespread landscapes to striking portraits with smooth bokeh, or a close-up, the dynamic versatility of 24mm to 200mm in a single, easy-to-use lens gives creators maximum ease and convenience. Realise high optical performance in a compact body with the NIKKOR Z 24-200mm f/4-6.3 VR that inherits the Nikon Z mount system, delivering superior resolution across the entire frame from the maximum aperture and at every focal length.
When taking photos of the famous Shibuya crossing in Tokyo, the many lights and the hundreds of people that are moving around can make it easy for images to suffer from chromatic aberration. However, with the NIKKOR Z 24-200mm f/4-6.3 VR, chromatic aberration are effectively compensated in every still and video that you take thanks to the aspherical ED glass and aspherical lens elements.
The new lens packs a punch with a 8.3x high-power zoom that enables a great variety of shooting across a wide zoom range, allowing creators to use them both in- and out-doors. Approach subjects with confidence and capture intricate details up close, with the lens's ability to utilise the minimum focus distance of 0.5m at wide-angle end and 0.7m during telephoto shooting, and maximum reproduction ratio of 0.28x.
Get crisp and clear shots even when you are shooting with slow shutter speeds for night landscapes, or low-light shooting, with the lens' in-body Vibration Reduction (VR) that helpfully reduces camera shake. Capture the sunrise or sunset, or a troupe of fire-eating performers with ease thanks to the introduction of the new ARNEO Coat technology that reduces ghosting and flaring effect.
Let the Videos Do the Talking
Be it the tranquil movement of the ocean's tide or the high energy performance at a music festival, some moments are best kept on video. Experience the NIKKOR Z 24-200mm f/4-6.3 VR's high movie performance with its quiet operation and superb usability to record your moments with ease.
Recording your memories is made a breeze, as the lens delivers smooth and stable exposure changes and allows you to be in control of natural shift in focus point and brightness level through its click-less control ring. The superb subject tracking capability of the lens enables the videographer to continuously focus on the subject and maintain high accuracy, even during zooming operation. In addition, the focus-breathing reduction feature reduces the amount of shifting between angles of view while adjusting focus, allowing videographers to record movies more smoothly with intentional composition.
The Light and Compact Companion
Take the lightweight NIKKOR Z 24-200mm f/4-6.3 VR everywhere you go. The lens weighs approximately 570g, which means avid adventurers can enjoy high mobility during their travels, with the ability to use it for a wide variety of scenes. It employs an aluminium-alloy mount, a first for NIKKOR lenses, to achieve light weight while attaining superb durability. With the large diameter and short focal length distance of the Z mount system, experience unchanged weight balance even when the lens is zoomed in as the front lens elements are be made smaller and the rear lens elements larger.
In addition, the lens supports a filter-attachment size of 67mm for use of smaller-diameter filter, which is great news for users looking for quality on a budget as smaller sizes are more commonly available, easy to find, and more affordable.
When out and about, roam free as you strap the lens and camera at your side as the lens features a new zoom-lock switch to prevent the lens from extending under its own weight. On top of that, the NIKKOR Z 24-200mm f/4-6.3 VR is able to weather through the unpredictable weather conditions of Mother Nature, as the lens is carefully designed to ensure dust- and drip-resistant capability and its fluorine coat on the lens effectively repels dust or dirt, in addition to providing a superb anti-reflection effect
AVAILABILITY
• The new NIKKOR Z 24-200mm f/4-6.3 VR will be available at MRP of INR 70 995.00
• The expected sales start date is April 2020