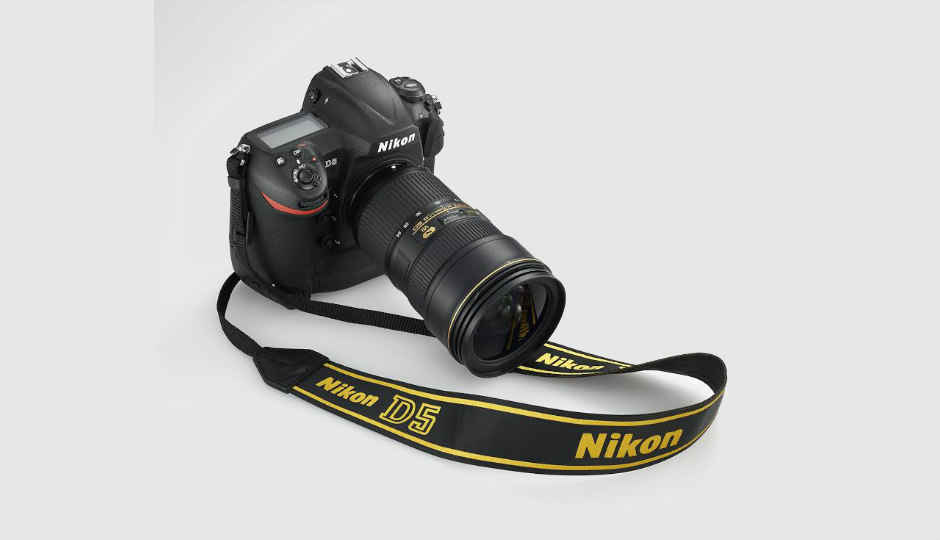 HIGHLIGHTS
The camera comes with a 153-point autofocus system, Nikon FX-format CMOS sensor and a high-resolution touch screen LCD monitor
Nikon has launched its next generation flagship camera, the Nikon D5. The camera has been developed with advanced specifications that include improved moving subject acquisition capabilities, and compelling image quality high sensitivities. The Nikon D5 comes with a 153-point autofocus system as well as a new Nikon FX-format CMOS sensor and EXPEED 5 image-processing engine. The camera also comes with a 20.8MP sensor, high-resolution touch screen LCD monitor as well as double memory card slots.
Read the complete press release below
Nikon India, 100% subsidiary of Nikon Corporation is proud to announce the launch of Nikon D5, the next-generation flagship model that expands photographic possibilities for professional photographers. This latest Nikon FX-format (full-frame) D-SLR camera is developed with advanced specifications that include significantly improved moving subject acquisition capabilities, and compelling image quality at high sensitivities to enable excellent response to a wide variety of scenes and subjects.
Mr. Kazuo Ninomiya, Managing Director, Nikon India Pvt. Ltd. said, "With the launch of the new FX-format (full-frame) flagship D-SLR D5, Nikon India takes professional photography to a whole new level. Keeping in mind the significance of even a millisecond in critical genres like sports photography and photography journalism, the Nikon D5 has been designed to capture remarkable moments perfectly and effortlessly. Engineered with utmost care, housed in a camera body of exceptional reliability and operability, the Nikon D5 is a testament of our technological supremacy and commitment of promoting photography across the globe."

"Nikon D5 is a professional's formidable photography partner, sporting a phenomenal new autofocus system, highest standards of expanded ISO sensitivity, turbocharged workflow, and exceptional durability, for superlative flexibility to shoot both stills and 4K movies. The new-fangled D5 outperforms the expectations by delivering a potent fusion of extensive image capturing power alongside a detailed and immediate acquisition performance, regardless of the environment. Nikon D5 is 'I AM VISION OUTPERFORMED'." said, Mr. Sajjan Kumar, Vice President – Imaging Division, Nikon India Pvt. Ltd.

Photographers on the beat, needing to keep up with the constant change of pace of a subject under a variety of conditions, will enjoy the new 153-point autofocus (AF) system and a stable viewfinder image that makes tracking moving subjects easy, even with high-speed continuous shooting at approximately 12 fps*1. Visual aesthetics are heightened with the collaboration of a new Nikon FX-format (full-frame) CMOS sensor and a new EXPEED 5 image-processing engine, both developed by Nikon, producing the highest standard ISO sensitivity in Nikon history with up to an ISO of 102400. This helps to expand photographic possibilities by liberating photographers from lighting restrictions, not only with the capture of still photos, but also with recordings of 4K UHD (3840 × 2160) movies, the latter being a new feature introduced with the D5.

Workflow is notably amplified in time and function, as more new, improved features and functions are introduced with the 20.8-megapixel D5. A high-resolution touch screen LCD monitor, fast communications with both wired networks via built-in Ethernet connector and wireless networks*2, alongside double memory card slots*3 make for a highly efficient workflow.

Contributing to greater autofocus (AF), auto exposure (AE) and auto white balance (AWB), is the incorporation of a new 180K-pixel RGB sensor for the Advanced Scene Recognition System. The winning combination of these features and functions comes fitted with a design that consumes less power and adoption of a highly precise and durable shutter, while increasing camera reliability in terms of control precision, strength and durability. The D5 also supports the new Nikon Creative Lighting System functions, Radio-controlled Advanced Wireless Lighting (AWL) and Unified Flash Control.*4
D5 Primary Features
1 Swift response, astounding tracking
· New AF system that demonstrates excellent response to moving subjects and tracking performance, even under a variety of circumstances: Pivotal moments happen in the blink of an eye, and photographers are constantly on their toes to capture the action regardless of the lighting conditions. These needs are addressed with a complete overhaul of the D5's AF system with an adoption of the Multi-CAM 20K autofocus sensor module. The AF sensor module offers 153 focus points, 99 of which are cross-type sensors, for broad and dense coverage of the image area. The centre focus point has a detection range beginning at an incredible −4 EV, and detection with other focus points begins at −3 EV*5, enabling autofocusing even under extremely dim lighting, and with subjects exhibiting very low contrast. In addition, equipping the camera with a dedicated AF engine capable of high-speed calculation and collaboration with the 180K-pixel RGB sensor have ensured that extremely reliable AF performance is demonstrated with a variety of scenes.
2 Incessant clicks without missing a beat
· High-speed continuous shooting at approximately 12 fps with a stable viewfinder image that makes tracking moving subjects easy: Photographers will find their new photography companion being capable of approximately 12 fps*1 continuous shooting with AF and AE tracking in all image quality modes, and across all ISO sensitivity settings. The addition of a new mirror drive mechanism achieves a more stable viewfinder image that makes constant tracking of rapidly moving subjects easy. Matching to the pace is the accessibility of capturing up to 200*6 12-bit lossless compressed RAW images with a single burst.
3. Expressions unbound with bold image storytelling Higher standard ISO sensitivities that ensure superior image quality within the most frequently used high sensitivity range
The potent combination between the new Nikon FX-format ((full-frame) CMOS sensor and the new EXPEED 5 image-processing engine have enabled the highest standard ISO sensitivity in Nikon history of up to ISO 102400. High-sensitivity image quality at these never-before-seen levels achieves superior imaging quality, even within the high ISO 3200 to 12800 range that is often used with sports photography and the likes. In addition, the image sensor's broad dynamic range enables rich and natural expression of tones for accurate reproduction of the finest details, even extremely vivid subjects with difficult texture expressions.
4. Taking the director's seat in ultra-high definition
· Cinematic brilliance with 4K UHD (30p) movie capability: The D5 supports 4K movies, which offers higher resolution than HD or Full-HD movies, capable of recording 4K UHD (3840 × 2160)/30p, 25p, 24p movies to a memory card inserted in the camera. Alternatively with a simultaneous HDMI output, movies can also be displayed on an external monitor or recorded as uncompressed video to an external recorder. With the maximum standard sensitivity of ISO 102400, as well as even higher sensitivity settings up to Hi 5 (equivalent to ISO 3280000), superior picture quality is still assured even when recording movies at these high sensitivities. Rounding off the spectacular movie-making experience is the capability to generate 4K UHD time-lapse movies in-camera.
5. Advanced specifications for on-site demands and efficient workflow
· A high-resolution 3.2-inch, approximately 2,359k-dot touch screen LCD monitor: Adoption of a touch screen for the display monitor enables nimble confirmation and high-speed navigation of a large number of images using a frame advance bar, and supports an efficient workflow with text input and the like. The high-resolution monitor enables extremely clear display with live view photography, even when the display is enlarged, for fast focus confirmation.
· Greatly increased communications performance with both wired and wireless networks: The communications system has been significantly improved to support communications at least twice as fast as with the D4S, with both wired networks using the Ethernet connector built into the D5, and wireless networks when the new Wireless Transmitter WT-6 (available separately) is used with the D5.
· Versatile image storage options: Two versions of the D5 are available. Both are equipped with double memory card slots supporting a single media type, one being for XQD cards and the other for CompactFlash cards.
6. Bridging the gap of networks

· The Wireless Transmitter WT-6, available separately, comes handy for high-speed wireless network communications: When connected to the D5, high-speed transfer of image data to a computer*7 or an FTP server over a wireless network is possible with a maximum range of approximately 200 m*8. Communications are significantly faster with support for the new IEEE 802.11ac (2×2 VHT80) standard. Wireless control over the camera from a computer is also possible using Camera Control Pro 2 (available separately). With the WT-6 connected to a D5, the combination also serves as a wireless LAN access point, enabling possibilities of direct connection to a computer or smartphone.

1 Possible in Continuous high speed (CH) release mode with shutter speeds of 1/250 seconds or faster
2 When used with the Wireless Transmitter WT-6 (available separately)
3 The camera is available in two versions, one that uses two XQD cards and one that uses two CompactFlash cards
4 When used with the Speedlight SB-5000 (available separately)
5 At ISO 100, 20 °C/68 °F
6 When Lexar Professional 2933× XQD 2.0 memory cards are used
7 The Wireless Transmitter Utility (available for download from Nikon's website) must be installed on the computer
8 With a large antenna at the wireless LAN access point. Range varies with signal strength and presence or absence of obstacles

Availability
For more information on Nikon D5 and other Nikon products, please visit http://www.nikon.co.in/en_IN.