Highlights:
Instagram testing Direct Message (DM) sending feature for web
If the feature is rolled out, users will be able to use Instagram web and desktop version of the app to send DMs to fellow instgrammers

Instagram is testing a feature that will let users send Direct Messages from the web as well as the desktop version, reverse engineering expert Jane Manchun Wong has claimed. She shared the screenshots on her official Twitter handle. If rolled out publicly, the feature could come handy for people, especially in India that has a huge base of first-time internet users. The feature will also provide an option to those who like to use desktop/laptop more than their smartphones.
Since the feature is in the testing mode, there is no guarantee that desktop direct messages will roll out publicly. Currently, only the mobile apps for Android and iOS have the feature to send direct messages to other instagrammers. Also, Instagram on web does provide a direct way to users to upload photos, as well as Stories. Reportedly, Instagram has said that it has "no plans to let users upload photos or stories from the desktop."

The news comes two weeks after Facebook's Chief Executive, Mark Zuckerberg said that he planning on integrating WhatsApp, Instagram and Facebook Messenger. However, the executive said that the implementation won't happen at least until 2020. Some are of an opinion that this step could lay the foundation of the above-mentioned merger. Suggestively, the plan will require reconfiguration of how WhatsApp, Instagram and Facebook Messenger function at base levels.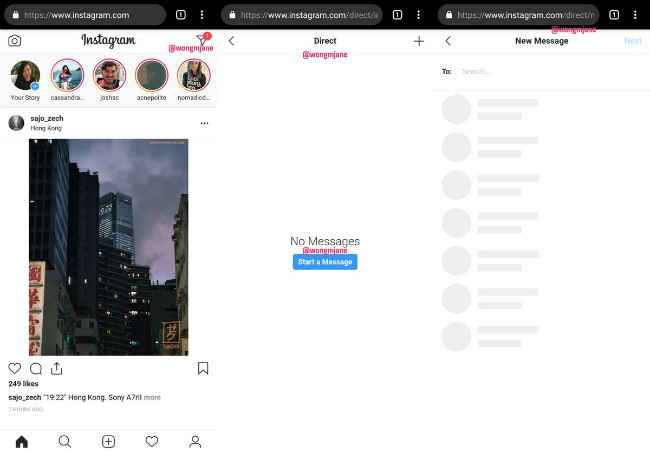 Instagram has been working a lot to make communication easier, and as a part of this initiative, it rolled out a feature on iOS called 'Self Regram' that lets users post images and/or videos on multiple accounts simultaneously. With the feature, iOS users get an additional toggle just like they used to have for other connected accounts. Previously, Instagram introduced a new feature which allows users to create a list of close friends and share their Stories only with the people on that list.
As a part of a push towards increasing personal interaction on the platform, Instagram had also introduced Questions sticker, that allows users to put the sticker in their Stories to get recommendations from their followers. The questions sticker was already available for some time, but the platform tailored it for music recommendations to drive engagement.
Related Read:
Instagram launches IGTV Previews in Feed in hopes of getting users interested