After partnering up with designers Pankaj and Nidhi for the designer sleeves on the Logitech M350 mouse and K380 keyboard, Pankaj and Nidhi went to releave their collection at the Lakmé Fashion week, which was inspired by the Logitech aesthetic.
Find the complete press release below.
LOGITECH AND DESIGNERS PANKAJ AND NIDHI BROUGHT STYLE AND TECHNOLOGY TO THE FDCI X LAKMÉ FASHION WEEK
Logitech, an award-winning design company and maker of cloud peripheral products, creates experiences that connect people with the digital world so that they can create, achieve, and enjoy more. Encouraging millennials to embrace technology, Logitech has been offering products to compliment the lifestyle of the millennials and turn their workstations into something more functional, chic and contemporary. Curated with perfection, Logitech brings forth an amalgamation of functionality and design with minimalist, modern, wireless, compact products and offer the flexibility to work from anywhere.
Specially created for working millennials, the Logitech M350 mouse and K380 keyboard from Logitech shape any space, are highly functional and is perfectly adapted for any digital creation they are working on. Furthermore, the sleeves created by Pankaj and Nidhi will be a value addition that further accentuates the desirability of Logitech's lifestyle range of products for working professionals who like to own their space in style.
Talking about the collaboration, Mr Srinivas Rao Vishnubhotla, Country Head, Logitech India, said, "After the successful first partnership with Lakmé Fashion Week earlier this year, we are excited to be associated with this stellar platform yet again. Our collaboration with Lakmé Fashion Week and designer Pankaj and Nidhi is aimed at weaving deeper connections with young millennials who are looking for simple, minimalistic products that accentuate their lifestyle with the latest in technology and design.This collaboration is a testament to our commitment to the youth of this country, who are constantly on the lookout for creative and productive tech solutions with a flair for aesthetics and colors."
Designers Pankaj & Nidhi said "Logitech is a design-led company, focused on innovation and quality and this ethos resonates with us. Creativity requires tools for communication and devices which become seamlessly part of one's immediate space. We loved the idea of creating a collection for a youthful, curious and culture-valuing customer - someone who is style conscious and cares about the planet and its precious resources."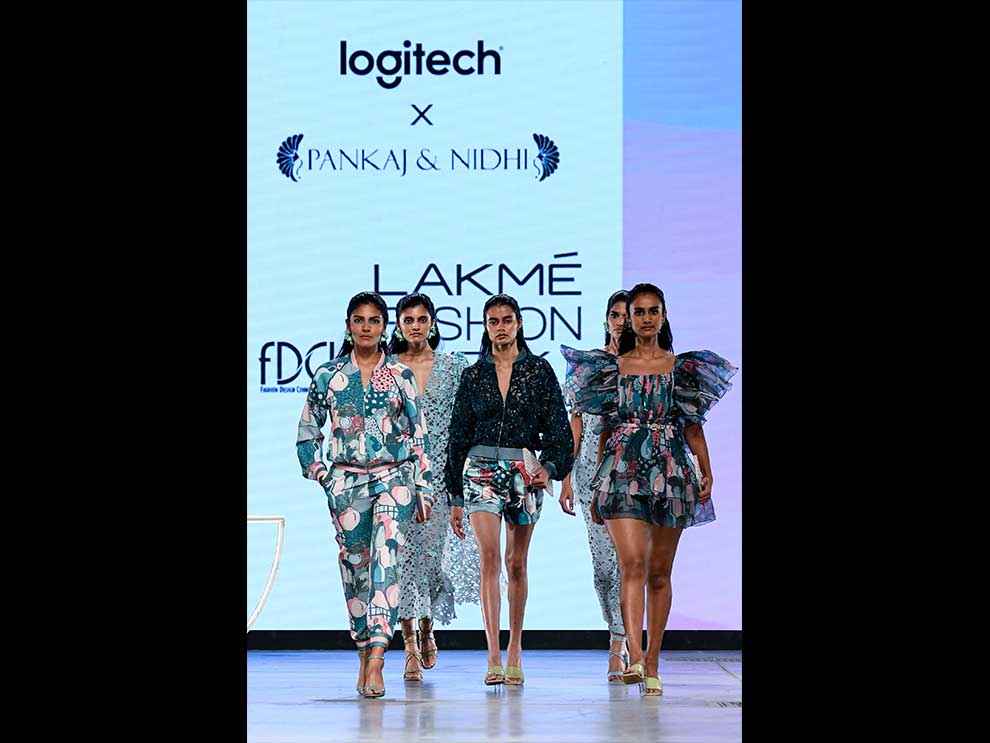 PANKAJ AND NIDHI UNVEILED THEIR VIBRANT COLLECTION INSPIRED BY THE QUALITY AND ETHOS OF LOGITECH
The ambience of the collection called "Amalfi" by Pankaj and Nidhi at the FDCI x Lakmé Fashion Week revolved around a youthful vibe and was aimed at the trendy, culture-conscious buyer who cares for earth's resources.
The mood of the collection was from the designing duo's travel memories of the Amalfi Coastline in South Italy. The crisp air, ample lemon trees, flora and the quaintly coloured homes by the side of steep cliffs, set Pankaj and Nidhi visualizing a memorable line.
The serene landscapes from this dreamlike town, were hand painted in the most glorious, abstract colours and forms and then transposed onto delicate organza, fluid, recycled chiffon and voile. An addition of cutwork laces and jacquards brought a luxe element to the style statement of the collection.
Presenting an easy line of great separates that had practical mix and match qualities – the cropped tops, flamboyantly, billowing-sleeved blouses, flirty tiered skirts, and the stylishly, graceful mini and maxi dresses added a playful holiday vibe that exuded luxury.
The colours were of a vibrant nature for the collection, as coral pink, terrain orange, sapphire sea blue and leafy green were inspired by the pastel, chalky hues of the painted walls and frescos of the lush Italian region.
It was a collection that brought forth a happy feeling of wanderlust, which the buyer will long for when seeking happy spaces to travel, live, work and play.
Pankaj and Nidhi's lively free spirited colourful collection in collaboration with Logitech will be a wonderful, stylish addition to wardrobes during the coming months.