TaoTronics launches affordable active noise cancellation and bluetooth in-ear headphones in India
The new TT-BH06 and TT-BH07 Bluetooth In-Ears are priced at Rs. 2190 & Rs. 2490 while the EP01 Wired ANC In-Ear is priced at Rs. 3490
HIGHLIGHTS
The new TT-BH06 and TT-BH07 Bluetooth In-Ears are priced at Rs. 2190 & Rs. 2490 while the EP01 Wired ANC In-Ear is priced at Rs. 3490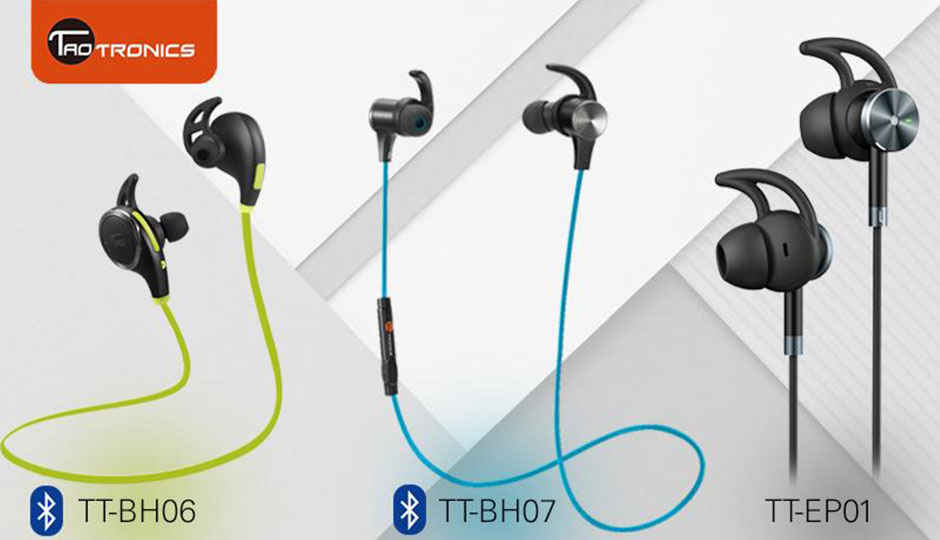 TaoTronics launches affordable active noise cancellation and bluetooth in-ear headphones in India
Consumer electronics maker, TaoTronics announces their new wired ANC EP01 In-Ears and Bluetooth TT-BH06 and TT-BH07 earphones. The BH06 and BH07 boasts of features like aptX sound technology and CVC noise cancellation. It connects to devices via Bluetooth 4.1 and also includes a built-in mic for taking phone calls or triggering voice assistant. While the EP01 wired In-Ear features Active Noise Cancellation with an in-line control switch that has multi-OS support which the company claims its battery to last up to 15 hours of continues use.
Read the complete press release below
TaoTronics is pleased to announce the launch of Bluetooth and Wired ANC In-Ear Headphones in India via distributor Origin Marketing. The Bluetooth Sports In-Ear models are TT-BH06 and TT-BH07 which are priced at Rs. 2190 & Rs. 2490 respectively. The ANC (Active Noise Cancelling) In-Ear model EP01 is priced at Rs. 3490. All models are now available for purchase at top e-commerce stores and retail outlets. Also available at Myntra - https://www.myntra.com/taotronics
Product features are in the below pages with image content. Product images can be obtained at our official Facebook Page.
TaoTronics BH-06 In-Ear Bluetooth Headphone with Mic




TaoTronics BH-07 In-Ear Bluetooth Headphone with Mic




TaoTronics EP01 Wired ANC In-Ear Headphone with Mic





Tags:
TT-BH06
TT-BH07
Bluetooth In-Ears headphones
TT-BH06 TT-BH07 Bluetooth In-Ears headphones price in india
Taotronics TT-BH06 TT-BH07 Bluetooth In-Ears headphones