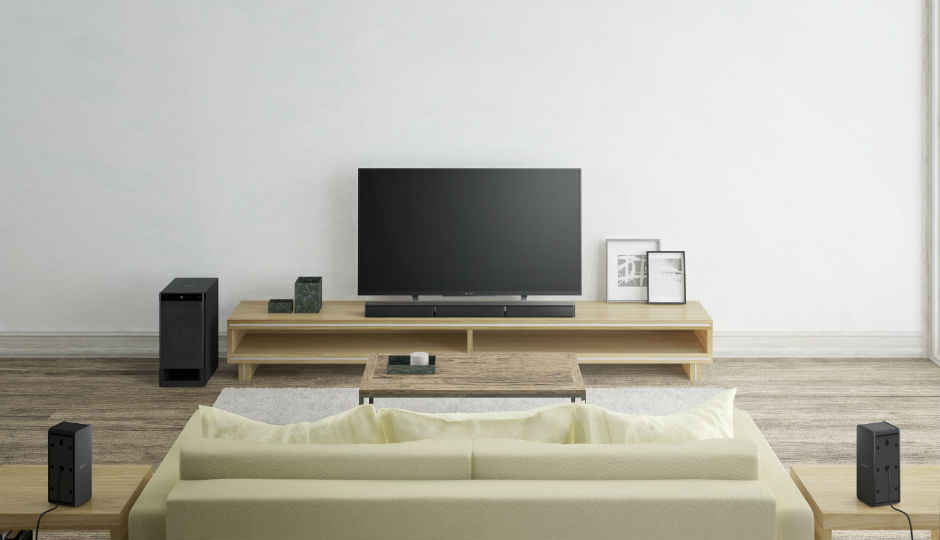 HIGHLIGHTS
The company launched the HT-RT5 and HT-RT3 home theater systems, along with HT-CT790 and HT-C390 soundbars
Sony has launched two new home theater systems called the HT-RT5 and HT-RT3, along with two new soundbars, HT-CT790 and HT-C390. The home theatre systems come with 5.1 channel Real surround sound and deliver 600W of power via multi-angled and rear speakers. The device also features an app called Songpal that lets users browse through a list of songs on a connected pendrive, without the need to be near the system. Prices for the home theatre system start at Rs. 18,990. The soundbars also feature wireless subwoofers and prices for those start at Rs. 35,990
Read the complete press release below
Strongly aligned with its commitment to revolutionize Home Audio industry, Sony India today announced its stylish new home theatre systems; HT-RT5 and HT-RT3, perfectly accompanied by the powerful Soundbars- HT-CT790 and HT-CT390. The chic yet subtle home theatres are an innovation in design delivering superior audio quality.

These new Soundbar type Home Theatre have been launched keeping in mind the shift from Home Theatre to Soundbar globally. During a recent survey, it was observed that 90% of the people use Home Theatre through DTH, Smartphone, pen-drive or Disc. It has also been observed that 36% of conventional Home Theatre users are not satisfied with their system because of the complicated set-up and messy cables. With the new Soundbar type Home Theatre, Sony will be able to cater to this demand very well.
One can experience every note of sound with the uniquely conceived home theatre system; HT-RT3. Backed with surround sound bar system from Sony, the compact HT – RT3 makes cinema watching a reality for many consumers.

5.1 channel Real surround sound
Making up for an audio treat, the 5.1channel Real surround sound creates an experience delivering a phenomenal 600W of power through multi-angled and rear speakers. The dedicated external subwoofer works with a 3channelSoundbar delivering true theatre surround sound. The two rear speakers ensure the delivery of a balanced, wide frequency audio response. Equipped with S-Master Digital Amplifier, the HT-RT3 produces only the purest sound quality by minimizing distortion. The HT- RT3 comes with a USB, HDMI-out x 1 and can be flawlessly synched with BRAVIA TVs.

Clean living room concept
Riding on its Clean living room concept, the slim design adds value to the living space. Setting up the HT-RT3 is refreshingly straightforward, with fewer boxes and wires to worry about than regular 5.1 channel systems. Simply plug it in to the TV via HDMI, wire up the speakers via the colour-coded connections.
One touch wireless listening with Bluetooth and NFC
The One touch wireless listening with Bluetooth & NFC makes streaming music through the sound bar easier. With Bluetooth on board, one can also enjoy music playback streamed wirelessly from the smartphone. One-touch connection via NFC technology further removes the need for complex set-up sequences.

Songpal App
Adding to the seamless experience, customers can browse music list of pen-drive from faraway place easily through the Songpal App without looking at the monitor.This application concept is called 'Smart remote commander' and is supported by Android and iOS devices. Equipped with intuitive operations, customers can surf music in pen-drive from far away and enjoy their favourite songs through Songpal
The home theatre system from Sony gets uplift with the real 5.1 channel surround sound with full wireless speaker- HT RT5. The wireless rear speaker ensures for a well-balanced and fine audio output. With an impressive power output of 550W, the simple yet powerful home theatre system also comes with One touch wireless listening with Bluetooth & NFC- making for a smooth wireless connectivity. Taking cue from its counterpart, HT-RT5 is also in line with the clean living room concept and has an enabled Wi-fi system. With BRAVIA sync and Songpal compatibility, the HT-RT-5 is a perfect member of a sophisticate home setup. The HT-RT5 comes with a USB (music) and HDMI-in x 3 and HDMI-out x 1
Wireless Sub woofers in Soundbars
Clean living room concept
One touch wireless listening with Bluetooth and NFC
Browse music from pen-drive through Songpal App

The wireless SoundbarsHT-CT790 and HT-CT390 come with Wireless Sub Woofers, enabling a rich bass experience. Both Soundbars come with One touch wireless listening with Bluetooth & NFC and can be used with an integrated Songpal App. The Soundbars aligned with the idea of exquisiteness too imbibe the concept of clean living room.

With 2.1channel Wireless premium Sound Bar- Woofers, HT-CT790 delivers at each end of sound bar with rumbling lows and clear mid over a wide listening area. One can witness more emotion and excitement out of every scene and song with this slim sound bar. The S-Master digital amp reduces distortion for clean, detailed sound, and can stream audio in high-quality thanks to LDAC. The power output of 330W- brings music and movies to life in the volume and clarity they deserve.

A two-way driver at each end of the sound bar delivers balanced, full-frequency audio, enabling one to hear more of everything. The 15 inch (38 cm) wireless subwoofer can be placed anywhere for reinforced basslines.Coming with S-Force PRO Front (virtual surround sound technology) it transports one at the heart of the movies by emulating theatre-style surround sound. The HT-CT790's slim 2.5 inch (6.4 cm) profile does not obscure the view, so one always sees the full picture. Wall-mounting is easy, too, and the sleek black design integrates seamlessly with the rest of the Home Theatre setup.The HT-CT790 is incorporated with One touch wireless listening with Bluetooth & NFC, Wi-Fi and can be easily synched with BRAVIA TV's.

Next in line is the 2.1 channel Wireless Sound Bar HT-CT390 a perfect companion for enjoying movies and music. A 300 W power output fills the room, while a wireless subwoofer adds depth for resounding bass lines. Drivers at each end of sound bar deliver a clear mid and high range, and a wireless subwoofer fills in the rumbling lows. The S-Force Front Surround emulates theatre style surround sound and the wireless subwoofer delivers hard-hitting bass for soundtracks. The HT-CT390's slim 2" (5.2 cm) profile is sleek and stylish and perfectly amalgamates with the entire home theatre setup.

HT-CT390's wireless and wired connections makes way for better quality audio thanks to HDMI (ARC), USB, optical and analog connections. The HDMI ARC (Audio Return Channel) connects the TV with a single cable for easier control and fewer cables, while the USB sticks are easily connected to play MP3 files.

The Soundbar comes with One touch wireless listening with Bluetooth & NFC and can be easily synched to BRAVIA TV's. Similar to its counterpart, the HT-CT390 is also Songpal compatible.

These newly launched products will be available in all Sony Center and major electronic stores across India.
| | | |
| --- | --- | --- |
| Product | Availability | Price |
| HT-RT3 | 4th Jul`16 | Rs. 18,990 |
| HT-RT5 | 18th Jul`16 | Rs. 54,990 |
| HT-CT790 | 16th Jul'16 | Rs.35,990 |
| HT-CT390 | 20th Jul'16 | Rs. 24,990 |