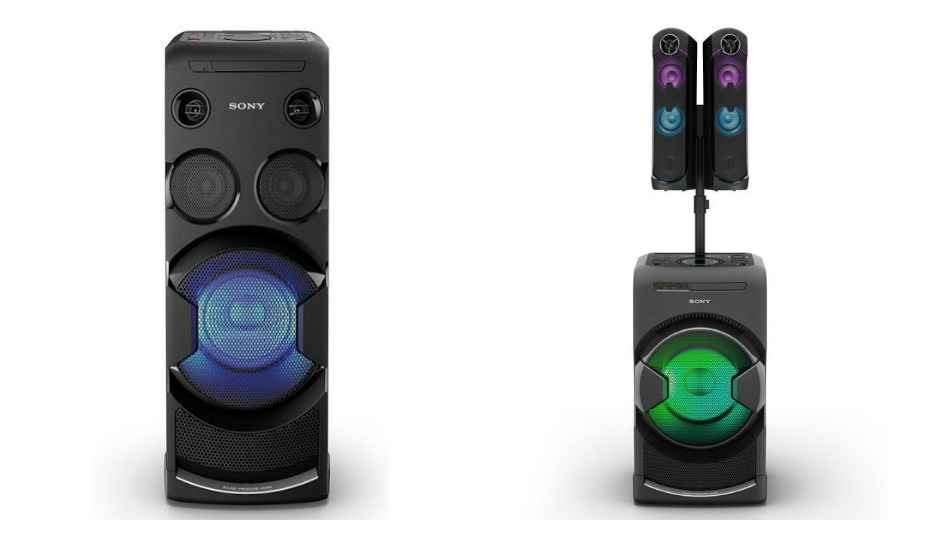 HIGHLIGHTS
The Sony GT4D offers 1600W of power and is priced at Rs. 50,990, while the Sony V44D offers 660W of power and is priced at Rs. 29,990
Sony has launched two new portable home audio systems called the GT4D and V44D. The two audio systems are priced at Rs. 50,990 and Rs. 29,990 respectively. Both feature connectivity options such as Bluetooth and NFC along with AUX input, DVD, and USB. The two can also be controlled Sony's SongPal app. The Sony GT4D offers 1600W of power while the Sony V44D 660W of power.
Read the complete press release below
Enliven any party's ambience with compelling sound quality through Sony's new high power portable and stylish home audio systems- GT4D and V44D. A must have for every entertainment enthusiast, these speakers are a massive sound pressure with high power sound output (GT4D – 1600W, V44D – 660W), perfect amalgamation of design, sound quality and premium technology.
The attractive speaker systems are well equipped to deliver advanced audio quality and features like Bluetooth and Near Field Communication (NFC) connectivity to enhance ease-of-use for mobile devices, PC and Mac users. Consumers get an option for AUX input, DVD, and USB. The devices also have built-in FM and LDAC capabilities. They can be controlled remotely through Sony's in-house SongPal app – making them useful for parties where speakers are rarely within reach.
These unique features are specifically catered towards the young and adventurous, making these DJ-cum karaoke-speakers a reliable companion that can create instant entertainment centers anywhere.
Experience the perfect High Power Portable Audio System: GT4D and V44D
These audio systems enhance the music experience with the powerful Dolby digital sound. The GT4D comes in with 1600W power whereas the V44D delivers 660W. Adding to the overall tech capabilities the speakers also consist of DSEE and LDAC features. While DSEE (Digital Sound Enhancement Engine) up-scales any compressed music content & delivers rich studio quality audio experience, LDAC enables the transmission of Hi Quality Audio, even over a Bluetooth connection. With this technology one can enhance even downloaded content quality to give rich audio experience and have a better audio quality.
Interesting design for maximum portability: GT4D and V44D
The systems are light weighted, saves space and are designed in a way which is convenient to be carried everywhere with maximum portability. The V44D is a one-box speaker intended to be lugged easily anywhere. The inbuilt handles help and pack the system from one party to other. The GT4D comprises of wheels and a pull- out handle which makes the audio system move from places without any trouble.
Supported by Gesture Controller- GT4D
The intelligent sense feature of the GT4D facilitates pre- defined gestures which takes the user directly to the music player or the menu respectively. It also allows the user to set some gestures of their own. Fun and intuitive gesture control aids the party essential features like light illuminations, DJ effects and mic sound effects. It also simplifies the process of skipping tracks by flickering flick left and right and managing the volume output with the up and down motion.
All new motion control in V44D
The V44D is equipped with the latest motion control making it easier and interesting to manage the selection of tracks. This smart technology is an effortless feature which can drive a smartphone's motion with a simple left and right shake to change tracks; play and pause favorite tracks and also manage the volume control.
Browse music through SongPal App: GT4D and V44D
Adding to the seamless experience, equipped with intuitive operations users can browse through a USB music list from a faraway place by easily connecting to the SongPal App. This application concept is called 'Smart remote commander' and is supported by Android and iOS devices.
Liven up the party ambience with SongPal DJ function
Both audio systems comprises of Songpal DJ function enabling customers to add effects to
music like voice, music and lighting. The app can be installed in the devices and controls DJ effects using smartphone. It also encompasses of one touch connection offering and listening via one's smartphone. Consumers can also browse music in pen-drive through Sony's indigenous SongPal App.
These newly launched products will be available in all Sony Center and major electronic stores across India.
Key specifications
| | | |
| --- | --- | --- |
| | GT4D | V44D |
| Price | Rs.50,990 | Rs.29,990 |
| Output power | 1600W | 660W |
| USB | Yes | Yes |
| Bluetooth & NFC | Yes | Yes |
| Gesture control | Yes | No |
| Motion Control | No | Yes |
| Karaoke System | Yes | Yes |
| Songpal Smartphone App | Yes | Yes |
| LDAC Support | Yes | Yes |
| DSEE | Yes | Yes |
| HDMI out | Yes | Yes |