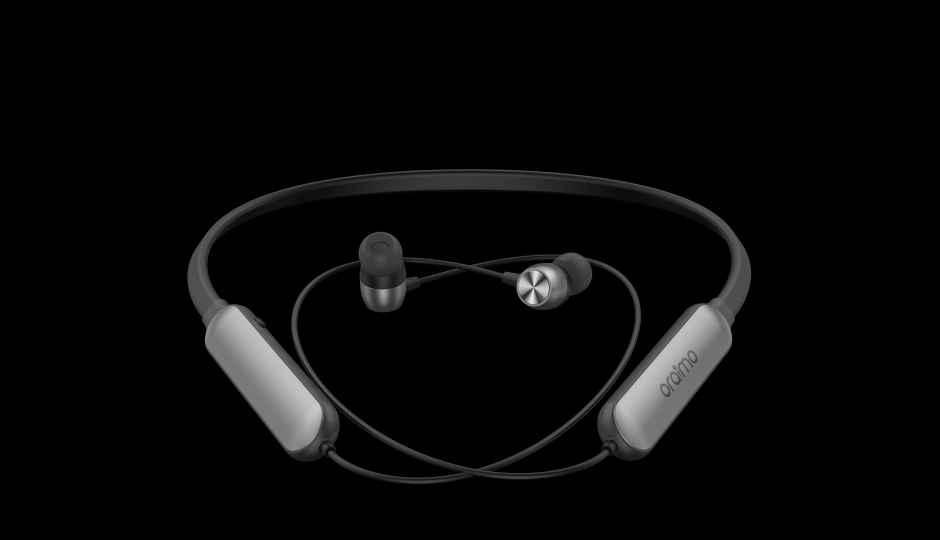 HIGHLIGHTS
The headphones feature a neckband design and are worn on the neck. The Necklace OEB-E54D comes with magnetic earbuds and can be connected to your smartphone and other devices via Bluetooth.
Oraimo has launched its latest Necklace OEB-E54D neckband earphones priced at Rs 2,799. The device is Bluetooth V4.1 enabled and come with an adjustable neckband. The company says that the device can deliver up to 8 hours of continuous audio playback and up to 200 hours of standby time.
Read the complete press release below
If You're a passionate music lover and have always wanted your earphones to stand out in a sea of earphones then this new set of earphones will delight you more than anything else.
oraimo, the smart accessory brand from TRANSSION Holdings, has announced the launch of its new set of cool earphones in India, Necklace OEB-E54D. The ergonomically designed earphones have capabilities par excellence and redefine the auditory experience of the Indian consumers.
With a flexible necklace design, the neckband earphones are embedded with magnetic buds and HD voice quality that delivers high quality, crystal clear sound for bass mid and highs. Priced at INR 2,799, the ergonomically designed earbuds come with an adjustable neckband that ensures superior wearing comfort for the consumers on the go.
Mr. Guoli Liu, General Manager of oraimo, TRANSSION Holdings said, "It gives us immense pleasure to present our consumer with trendy pair of earphones that offers HD voice quality. It will allow the consumers to enjoy undisturbed music sessions, especially for all discerning listeners. Given today's generation is always-on-the-move, the idea is to keep the neckband on at all times and also, avoid hassle to untangle the wired earphones. We are sure our product will be loved by the Indian youth and provide them with the comfort & convenience to listen to their favorite music".
With an exceptional design and volume control feature, oraimo Necklace OEB-E54D delivers high-quality clear crystal sound for bass. The earphones are equipped with Bluetooth Version, V4.1 and connect easily with any smart device. The impressive battery capacity enables you to play music upto 8 hours continuously satiating the need of music buffs, offering crisper sound quality. The superbly comfortable design doesn't fatigue your ear and allow you to have a long conversation at a stretch and also, have stand by time to upto 200 hours. These classy and contemporary pair of earphones can be purchased from various mobile accessories and electronics stores.
Service Proposition
oraimo is offering one-year replacement warranty on its power banks, Bluetooth-enabled devices (earphones and speakers), batteries, flash drives, chargers, and wearable devices, as well as a six-month replacement warranty for its data cables and earphones and life time replacement for its Micro SD cards.