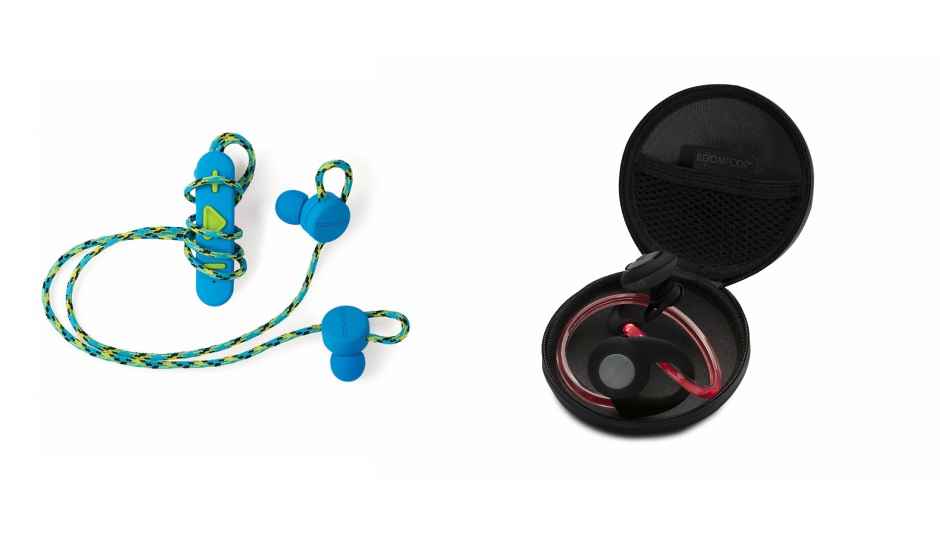 HIGHLIGHTS
The company has launched the Bassline, Sportspods 2, Sportspod VISION, Retrobuds and the Sportsbud Race in-ear headphones.
Luxury personified has launched its latest Boompod series of audio devices in the country. The company has uneiled the Bassline in-ear headphones priced at Rs 499 and the Sportpods 2 which cost Rs 2,999. The Sportspods VISION, Retrobuds and the Sportpods Race in-ear headphones are priced at Rs Rs 4,999, Rs 2,499 and Rs 999 respectively. Luv Malik, Director of Luxury Personified said, "We are always working towards adding innovative and futuristic products to our existing list of high-end luxury products. Boompods earphones are sturdy-smart-sleek-stylish and are available in stunning colours. They are must-have for all audiophiles who like to enjoy their music with powerful sound quality. Boompods audio gears will be an instant hit with gym freaks, daily commuters, and the youth."
Read the complete press release below
Luxury Personified, a leading distributor of luxury electronics and accessories in India has launched Boompods' newest line of audio gears for audiophiles and music enthusiasts in the Indian market. Boompods is an ideal blend of design and functionality – with its design simplicity, exclusive product range, and the unique "POD" design. Luxury Personified range of exclusive products, are visually appealing and innovative, made for those who love outdoor, adventure, and music!
Bassline in-ear headphones come with passive noise cancelling feature, which brings impressive clarity and stunning bass to your music while comfortably fitting in your ears. These headphones are compatible with almost all smartphones, which makes them even more popular with music lovers. It has remote features such as mic, play, pause, and switch tracks. Bassline in-ear headphones are currently available in two colours – black and grey.
Sportpods 2 wireless sports earphones are sweat-resistant with over-ear hooks to ensure that you always are connected to your music on the move without slowing you down. They have an integrated mic, easy touch control which allows you to swiftly juggle between your calls and music, play/pause functionality, volume and track control, voice prompt connection instructions, and 3 silicon ear-tips for a comfortable secure fit. These sturdy and eye-catching earphones are available in lively colour combinations – blue/green, white/orange, black/grey, and black/blue. They have a play time of 8 hours and charge time of 1.5 hours.
Sportpods VISION is incredibly lightweight around-ear headphones, which allows you to move freely without the hassle of wires. They have an integrated mic, volume and track control, and you can skip songs and take calls at the touch of a button. These illuminated earphones are ideal for active lifestyles; are sweat resistant and offer a secure fit at all levels of activity. It is equipped with Bluetooth 4.0CSR technology and has an operating range of up to 10 meters. The headphones contain built-in lithium battery with up to 8 hours playback time, 6 hours talk time, and a speedy 2.5 hours charging time. Sportpods VISION is available in Blue, Red, Orange, and Green.
Retrobuds wireless earphones are synonymous with stunning sound and are an ideal travel or gym buddy. Turn up the style with these trendsetting earphones – they are IPX4 sweat proof and come with a magnetic clip for easy wearing, which ensures the perfect fit without the hassle of changing ear tips. They have tactile 3D controls for no-look function, adjustable loops to fit all ears, integrated mic, and play/pause/take call functionality. Retrobuds wireless earphones are available in four stunning colour combinations – blue/green, white/pink, grey/orange, and black/grey, and have a play time of 4 hours and charge time of 1.5 hours.
Sportpods Race come with in-ear sweat-resistant earbuds designed for on the move users. The ergonomic earpiece offers maximum comfort and the controls are located on a clip on pod remote so you can have easy controllability to adjust volume, change track, and take calls with just one touch. The earphones have a 5 hours long playtime, standby time of 100 hours, charge time of 1.5 Hours, 3 memory foam ear tip sizes, USB charging cable, and Bluetooth. They are available in impressive colours – Blue, Grey, Green, and Orange.
Commenting on the launch of Boompods' exclusive range of audio gear Mr. Luv Malik, Director Luxury Personified said "We are always working towards adding innovative and futuristic products to our existing list of high-end luxury products. Boompods earphones are sturdy-smart-sleek-stylish and are available in stunning colours. They are must-have for all audiophiles who like to enjoy their music with powerful sound quality. Boompods audio gears will be an instant hit with gym freaks, daily commuters, and the youth."
Further adding, Mr. Kush Malik, Director Luxury Personified said "We are dedicated to bringing high-end products at affordable prices to the Indian market. Boompods headphones and earphones have unique simplistic designs, offer ease of control, and most importantly their sound quality is unbeatable. Luxury Personified has just launched their exclusive and trendsetting range in the Indian market – an ideal amalgamation of affordability and style."
Bassline in-ear headphones are priced at Rs. 499/- , Sportpods 2 at Rs. 2999/-, Sportpods VISION at Rs. 4999/-, Retrobuds at Rs. 2499/-, and Sportpods Race at Rs. 999/-