FiiO announces new i1 Apple Lightning Amplifier, F5 In-Ear headphones and X3 Mark III Hi-Res portable audio player
Chinese audiequipment manufacturer FiiO, announces the launch of 3 new audio products here in India. The FiiO F5 priced at Rs. 4,999 is a brand new Hi-Res In-Ear headphone with in-line remote controls and comes with an HB1 hard carry case. The company also announced a new Apple lightning amplifier & DAC with microphone and in-line controls priced Rs. 2,990. FiiO also updates its Hi-Res X3 audio player by introducing the new 3rd edition X3 Mark III priced Rs. 14,990.
Read the complete press release below
FiiO X3 Mark III Hi-Res Portable Lossless Music Player - Priced at Rs. 14,990.
FiiO F5 Hi-Res In-Ear Monitors with Microphone and in-line controls - Priced at Rs. 4,999.
FiiO i1 Apple Lightning Amplifier & DAC with Microphone and in-line controls - Priced at Rs. 2,990.
The X3 Mark III is the 3rd edition of the X3 player. The player comes in 2 color variants, Black and Red. The X3 Mark III is available for Rs. 14,990 at www.fiio.co.in.

X3 1st gen was the ground breaking work of FiiO's music player and definitely a classic milestone product. To the audiophiles, our X3 1st gen makes our users realize that high-resolution lossless music player could be so portable; to us, there is no doubt that it's a product with extraordinary significance. After upgraded to the X3 2nd gen, now we bring forward the all-new X3 Mark III. What kind of new music experience will it bring to FiiO users?
Based on the X3 2nd gen, the all-new X3 Mark III had been fully upgraded and improved from the perspectives of appearance design and hardware specifications: It inherits the design language of previous FiiO X-series players with five-button and scroll wheel layout; Unique "sandwich" structure makes it look even much thinner; The newly added balanced output gives a broader soundstage; Dual DACs for great sound wherever; Supports Bluetooth 4.1 and dual-mode Bluetooth; Multifunction Line Out/Coaxial Output with support for D2P and DoP; Moreover, you can choose between passionate red or graceful black, etc.
The F5 Earphone is designed to be detachable with MMCX connector and comes standard with a single-ended audio cable with in-line control and a 2.5mm balanced cable which gives the freedom to suit your sound signature preference. With its Hi-Res Audio certification by the Japan Audio Society, the F5 can fully reproduce audio that is faithful and natural, for a life-like listening experience as intended by the artist. The F5 is available for Rs. 4999 at www.fiio.co.in.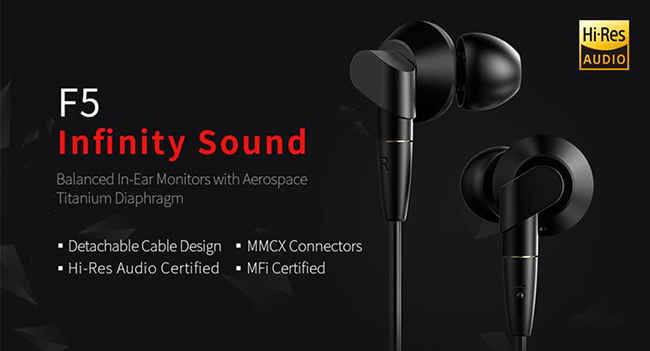 The F5 utilizes a titanium driver diaphragm, which is lighter yet harder than the typical diaphragm. This allows the F5 to be more capable in transient response and to be more dynamic, making for a wonderfully rich yet delicate sound. The F5's wire sheath is made from TPE which ensures that the cable will last for years to come due to its material being resistant against corrosion, aging, and even color-changing. The single-ended and balanced cables are made up of 24-stranded, braided oxygen-free copper (OFC) wire. The 2.5mm balanced cable also further has a layer of 66-stranded copper wiring on top of its core, for extra shielding and even greater protection from external interference.
The F5 is Apple MFi certified which enables the in-line remote controls on the 3.5mm single ended cable can be compatible with iOS devices and most Android devices. You can control your music (play/pause/switch tracks/volume adjustment) and your calls without missing a beat.
Included with the F5 is the HB1 carry case - The outer shell of the HB1 utilizes rugged polycarbonate, while the inside employs soft TPU (thermoplastic polyurethane). This combination of materials ensures that the case is virtually indestructible. When combined with waterproofing capability, you can be confident the HB1 will reliably protect your prized earphones in any situation.
Specifications:
Frequency Response: 20 Hz - 40 kHz
Driver Size and Type: (13.6mm) Dynamic
Impedance: 32 ohms
Sensitivity: 102dB/mW
Maximum Input Power: 100mW
Cord Length: 1.2m
Plug Type: 3.5mm TRRS, Gold plated
Weight: Approx. 21grams
The FiiO i1 is an Apple MFi certified, digital-to-analog converter (DAC) and headphone amplifier designed for the Lightning connector. The i1 is available for Rs. 2990 at www.fiio.co.in.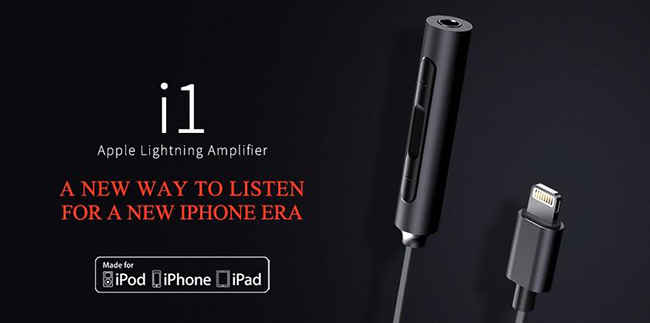 The digital audio signal enters through the Lightning connector end that can be connected to the Apple iPhone/iPod/iPad (and other Apple products), while the analog audio signals are pushed out through the 3.5mm output. The i1 also automatically detects if you are using a standard headphone or one with in-line controls. Built into the i1 is a high-sensitivity microphone that ensures your voice is clearly heard during calls and recordings – no more miserable conversations due to poor voice quality. The three-button design of the i1 allows you to effortlessly pause, play, and switch tracks, as well as answer the phone, adjust the volume, and a number of other operations.