GoPro has announced a new feature on their app GoPro (formerly known as Capture) that makes sharing and creating awesome videos a lot easier for GoPro Hero 5 and Session 5 users. The QuikStories feature automatically pulls footage from a paired GoPro into your phone, from which the app makes a complete story-like video. To transfer footage you need to turn on the Bluetooth and WiFi on your phone and launch the app. After choosing the 'Get It' option for new footage, photos and videos shot within two hours of each other in the last 72 hours are automatically compiled into QuikStories. This does not affect the originals in any way, nor does it use burst mode photos or time-lapse videos. Any new story stays on the app for 7 days so that you can share them with a couple of easy taps. And with a few other taps, you can pretty easily edit your QuikStories video until it is exactly the way you want it to be. Stay tuned for a detailed review of this feature.
Read the complete press release below
Sharing cool experiences is now easy thanks to QuikStories – a new GoPro app feature that automatically pulls footage from a HERO5 camera and creates ready-to-share videos on your phone. QuikStories are polished, shareable videos featuring customizable music, filters, and effects.
"QuikStories is our biggest leap forward since the invention of the GoPro itself," says GoPro founder and CEO, Nicholas Woodman. "QuikStories is the simple storytelling solution our customers have been dreaming about for years. It's an absolute game changer."
Making a QuikStory is as simple as pairing a HERO5 camera to your phone and launching the GoPro app. Then kick back as the app automatically copies your most recent GoPro footage to your phone and creates an exciting video for you.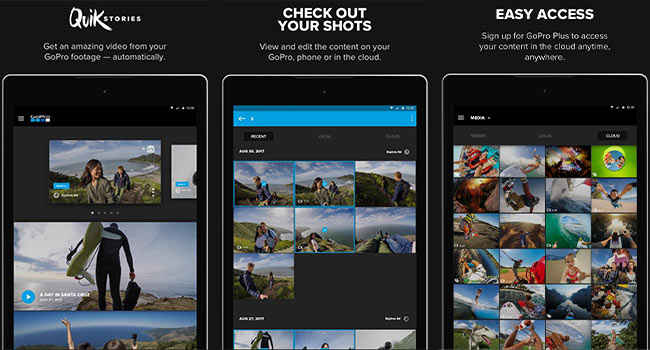 Customizing a QuikStory is also easy. Add text, slow motion and speed effects, change filters and music, adjust the total video length and more. Additionally, any footage on your phone can be added to a QuikStory video.
QuikStories is now available for HERO5 Black and HERO5 Session users. To get started, download the new GoPro app from the Apple App Store or Google Play. Learn more about QuikStories on our news page, The Inside Line.