The upcoming Xiaomi smartwatch is expected to look a lot like the Apple Watch.
Realme may be bringing a fitness band to India sometime soon but Xiaomi has bigger plans globally, namely, an Apple Watch-rivalling smartwatch. Xiaomi recently confirmed plans to launch this smartwatch along with the Mi Note 10 (CC9 Pro in China) on November 5. But we're already getting our first look at the new wearable from renders released by Xiaomi CEO Lei Jun through a report published by Gizmochina. And by the looks of it, the new Xiaomi smartwatch scarily resembles the popular Apple Watch to a great length.
Just by looking at the renders from the report filed by Gizmochina, it's easy to tell that Xiaomi's new smartwatch bears a design that's very similar to that of the Apple Watch. In fact, it wouldn't be outrageous to call the new wearable a slightly taller Apple Watch, in terms of appearance alone. We say this because it appears to sport the same type of rounded rectangle frame with a single crown on the top-right edge and a power button just below it.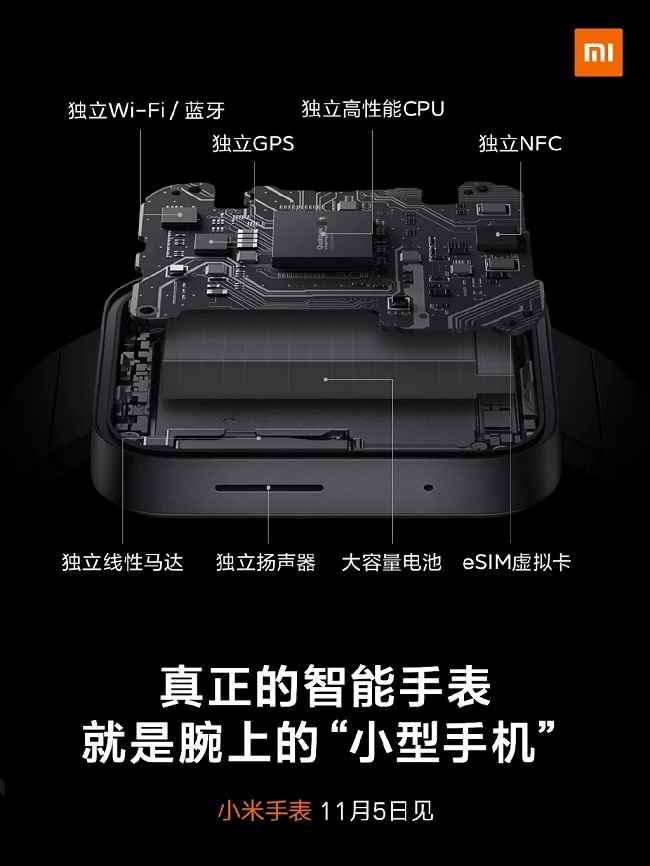 The renders from the report also give us a quick look at what's inside the new Xiaomi smartwatch: radios for Wi-Fi, NFC, and GPS. We also find a Qualcomm-developed chip in the middle of the mainboard, which is most likely based on the Snapdragon Wear 2500 Platform. There's also an internal battery of unknown capacity, a card slot (for either storage or physical SIM), and a module for eSIM support. We're not entirely sure at the moment if the watch will support only eSIM or a physical SIM as well.
The Apple Watch Series 5, which is the current crop of Apple's smartwatch, currently sells in India at a starting price of Rs 40,900. The Apple Watch lookalike from Xiaomi, however, is expected to cost a lot less when it goes on sale in the coming weeks. Realme, on the other hand, is expected to bring a Xiaomi Mi Band-rivalling fitness band to the country sometime soon. You can read more about that here.
Inline and cover image courtesy: Gizmochina