Snap Inc, the parent company of photo and video sharing platform Snapchat, has launched Spectacles 3, an upgraded version of its Augmented Reality (AR) sunglasses with two cameras. Unlike in the previous versions, these glasses have a second camera to shoot images and videos in 3D. Snapchat Spectacles 3 are basically sunglasses and can be used to record 10 second videos of whatever the wearer is seeing, and post the same on Snapchat.
The spectacles are compatible with devices running iOS 8 and above, and Android 4.3 and above. Priced at 330 pounds ($380 or approx Rs 27,000), the Spectacles 3 will go on sale on Spectacles.com in November. The wearable is bundled with a charging case which can store up to 4 full charges at a time. It has a full-grain leather texture on the outside and microfibre interiors, and folds flat when not in use. Unfortunately, the case is not water resistant.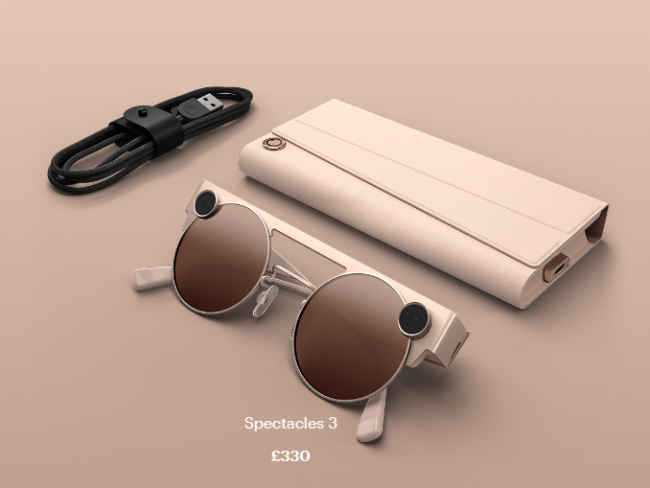 When it comes to the design, the Spectacles 3 is made from a single sheet of "lightweight" and "high-strength" stainless steel, and the glasses feature dual HD cameras placed on either side of the circular lenses, and they capture both photos and videos in 3D. All photos and videos from the glasses get stored on the 4GB onboard memory, which has space for 100 videos or 1200 photos. The media can then be transferred on to a phone and viewed in the Snapchat app by tilting the phone.
These glasses, which come in Carbon and Mineral colours, can capture images in 1642x1642 resolution and videos in 1216x1216 resolution. It is touted that on a single pair, the Spectacles 3 can let a user record up to 70 videos or over 200 photos. The wearable takes 75 minutes to recharge.