Apple retook the lead in the wearable segment in Q3 2017 after dropping to third place in the last quarter. According to Canalys, Apple shipped 3.9 million units of the Apple Watch in the third quarter and the growth was primarily led by the release of Apple Watch Series 3. This is the strongest sales so far for Apple in 2017 and helped the company overtake Xiaomi and Fitbit to regain the leadership position.
While Apple's wearable sales improved last quarter, the industry as a whole recorded a decline of 2 percent to reach 17.3 million units. Xiaomi and Fitbit are the second and third major wearable brands globally, with shipments reaching 3.6 million and 3.5 million units respectively. Both the companies posted quarter-on-quarter growth in shipments and managed to buck the trend in which the sales are generally weaker in the third quarter.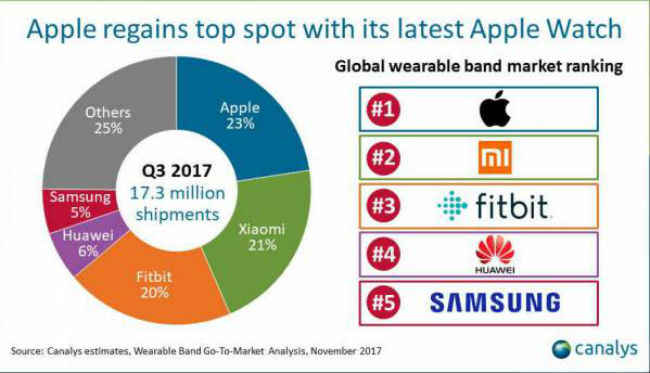 "Strong demand for the LTE-enabled Apple Watch Series 3 has dispelled service providers' doubts about the cellular smartwatch not appealing to customers," said Canalys Analyst Jason Low. Canalys notes that Apple Watch Series 3 did not reach its full potential in Q3 due to limited availability and demand underestimated by service providers. Canalys estimates Apple would have shipped 8,00,000 units of Apple Watch Series 3 with cellular connectivity in the third quarter.
At the end of third quarter, Apple had a market share of 23 percent followed by Xiaomi and Fitbit with 21 percent and 20 percent share respectively. Huawei and Samsung chipped in with 6 percent and 5 percent market share respectively to take fourth and fifth place.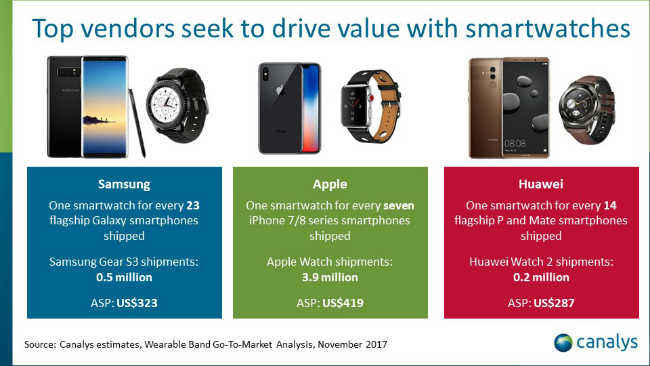 Apple, Samsung and Huawei are pitching smartwatches as complementary devices to their premium smartphones. Canalys observes that health features remain core focus among wearable band vendors, while design and key features don't add much value to the product. "Apple and Samsung are increasing user stickiness and brand loyalty by adopting an ecosystem strategy, which includes wearables and audio accessories. Smartphone vendors must reevaluate their respective smartwatch strategies to derive more value beyond smartphone growth," said Canalys Research Analyst Mo Jia.
The top five wearable vendors are expected to see strong growth in the fourth quarter with wider availability of new models that highlight new health features and enhanced battery life. However, Google seems to have lost out in the race with Huawei being the only brand managing to Google must show a stronger commitment to helping Android Wear vendors, which are now mostly watchmakers and fashion brands, to further improve the user experience and app ecosystem," added Low.
The fourth quarter performance of wearables will also show the reaction of consumers to the segment where traditional watchmakers are also joining with their own fashionable wearables. The wider consensus seems to be that Apple, Samsung and Fitbit will further consolidate the strengths of their smartwatch platforms in the next quarter.