Want to modernise your banking loan application?
Build an application that analyses credit risk with #IBMCloud Pak for Data on #RedHat #OpenShift
Click here to know more
Advertisements
If you own a 2019 LG OLED or a NanoCell TV (series SM9X and SM8X), then there is good news for you. LG has announced that in addition to supporting AirPlay 2, the TVs will now support the Apple TV app natively. So if you want to enjoy Apple TV+ shows on the LG TV, till now you would have to AirPlay them from your phone. But now, you can watch them comfortably from the native app available on the TV. India is one of the 80 countries where app support for the TVs have been rolled out. LG's press statement reads, "LG TV customers can now enjoy Apple TV in addition to AirPlay 2 and HomeKit on all of LG's 2019 OLED TVs, NanoCell TVs (series SM9X and SM8X) and later this month, the Apple TV app will roll out on select UHD TVs (series UM7X and UM6X). The Apple TV app and Apple TV+ will be available on 2020 TVs at launch and on LG's 2018 TVs later this year via an over-the-air firmware upgrade."
So, if you have a 2018 LG TV, then you may have to wait for a little longer to get access to the Apple TV app. If you are planning on getting a 2020 LG TV, then know that the app will be natively supported on the TV.
"LG continues to offer the best home entertainment experience through technological innovations that support the delivery of high-quality viewing and user convenience," said Park Hyoung-sei, president of the LG Home Entertainment Company. "By bringing the Apple TV app and Apple TV+ to even more TV models, we are once again demonstrating our determination to meet consumers' needs and add value to our products."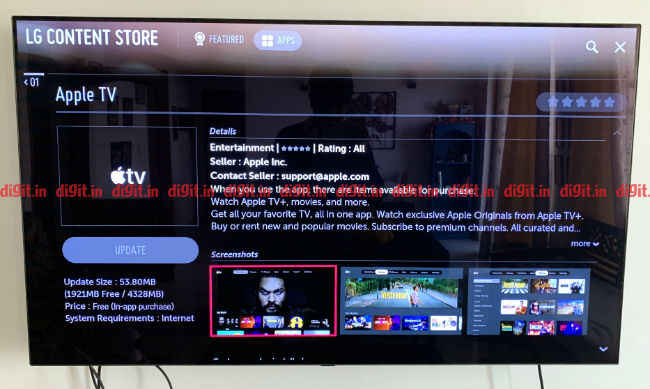 We downloaded the Apple TV app on our LG B9 OLED TV. The app showed up as an "Update" in the app store and was a mere 53.80MB in size. Fire up the app and you are greeted by the Apple TV logo and a UI that is very familiar to Apple TV users. If you have purchased movies from the Apple TV store, they are ready for consumption. The app also has Apple's Apple TV+ portfolio of shows to be consumed. Content which is available in Dolby Vision has the Dolby Vision tag. However, the Dolby Atmos tag is missing from the display of the content. For example, we fired up Aquaman on the Apple TV app and it showed us the Dolby Vision tag but the Dolby Atmos tag was missing. Seeing the description of the movie on our iPhone, we saw that it has the Dolby Atmos tag as well. This is a little strange as one of the highlights of the LG OLED TVs is the support for Dolby Atmos.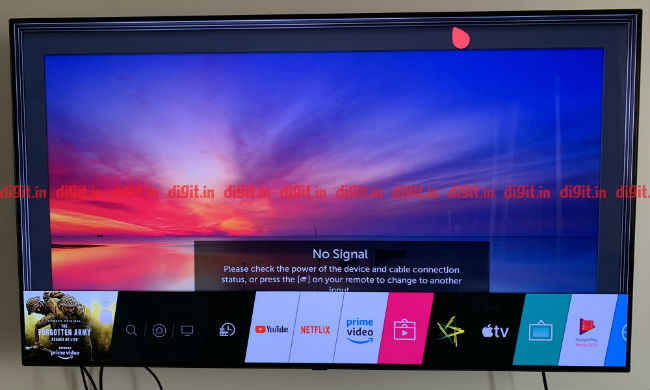 If you don't own an LG TV then know that the Apple TV app is available as a native app on a number of Samsung TVs. From Samsung's flagship QLED TV to 4K UHD TVs launched in 2019 and even their 2018 TVs, the app is available natively. If you have a Fire TV stick, then know that you can get the Apple TV app on that as well. However, know that the Fire TV stick only supports the Apple TV app and does not support AirPlay.
Sony, on the other hand, has no TVs that support the Apple TV app. However, they have a small catalogue of TVs that support AirPlay 2. You can take a look at the complete list of supported devices here.