Highlights:
TRAI has launched a new web-app that is aimed at helping users select TV channels.
The app shows how much channels cost.
The app has free-to-air, paid, HD and SD channels, along with bouquet packs.

The Telecom Regulatory Authority of India's (TRAI) new regulations will soon come into effect helping users save money by subscribing only to channels that they want to watch. To help users understand how much one needs to pay under the new pricing scheme, the regulatory authority has published a new web-app that serves as a mock practice for selecting channels and figuring out how much they will cost. Do note that this new web app is only for seeing how much the selected channels will cost you but one will have to contact their cable operator and select the same plan for actually implementing it.
As TRAI mandated, all television channel networks have created 'Bouquets' that users can subscribe to. These packs make it easier for consumers to select channels offered by the network, instead of selecting every channel individually. For example, Disney Broadcasting (India) Limited offers four bouquet's - Universal, Kids, Hindi Entertainment, and HD Bouquet. The Universal bouquet consists of all channels offered by the company, except the ones that are in HD. One will also find free-to-air, paid, HD and SD channels, all categorised within the web app, along with filters that will help users choose whatever channels they need.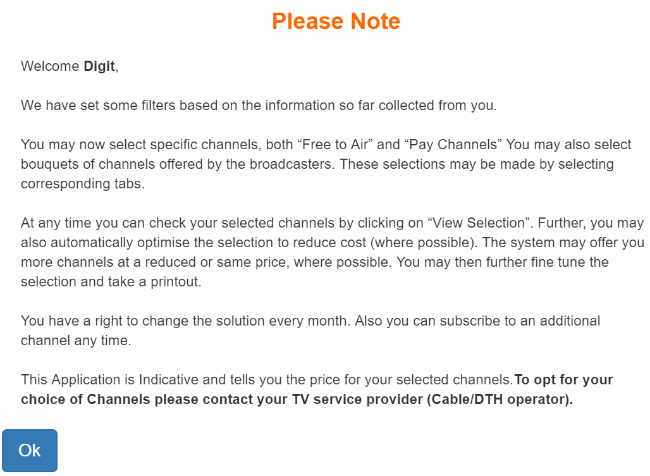 This prompt shows up when one logs into the web app.
You can access the web app here. Do note that there are now two components in the bill being paid for a TV connection. First one is the Network Capacity Fee (NCF) that can be a maximum of Rs 130 per month. NCF can be considered a rental charge of the TV connection and at Rs 130, it accommodates 100 channels. In case you want to watch more channels, you will need to pay an additional Rs 20 for an additional capacity of 25 channels and another Rs 20 for accommodating 125-150 channels. The second component is the price of pay channels that a user selects.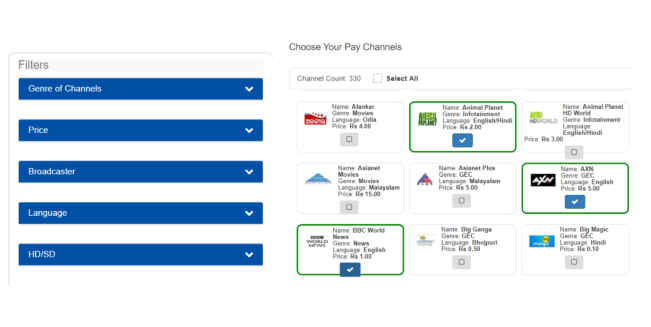 The different filters are on the left while channels to choose from are on the right window pane.
The MRP of paid channels is shown in rupees per month in TRAI's web-app and as one selects more channels, the updated price will be reflected in the top-bar. There are also free channels to select from and one can add both free and paid channels for their current NCF. After adding the required channels from the categories, one can view selected channels and the pricing by selecting the "view your selection" tab. The app also tries to optimise your bill by "checking if there are bouquets on offer which will reduce your total monthly bill without reducing the channels you have selected." We tried the option but it didn't really optimise the pricing for us. One can also download their selection of channels or take a print out.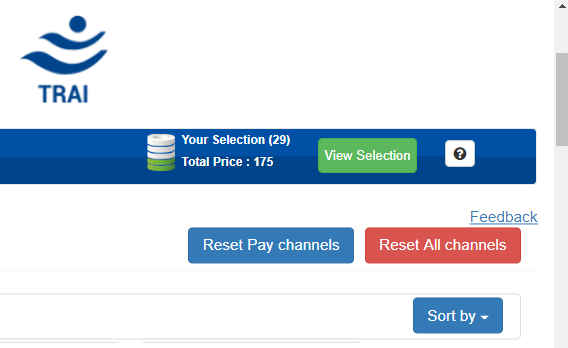 On the upper-right corner, one can see their total channel selections and the price.
Related Reads:
Here's how much TV channels will cost from January 1 as per new TRAI price regime
Dish TV, Airtel Digital TV, Hathaway, Siti and Den Networks release new channel prices under new TRAI regulations